Continental Won't Finish At a Young Age - Or Will They?
Young cattle can be finished cost-effectively on concentrate, providing management is good, Teagasc advisers have revealed.

It has often been said that it is difficult to finish continental cattle at a young age, write the Irish researchers.
The Teagasc beef team got an interesting piece of work back from one of the Teagasc/Farmers Journal BETTER Farms in the last few weeks where one of the farmers actually finished a batch of heifers at 12.5 months of age.
The farmer in question took five of his heifers to the mart in the middle of August 2013.
The heifers on the day averaged 344.8kg and he was offered an average of €732/hd or €2.12kg liveweight. Not happy with the price he decided to take the heifers home and try and finish them. Once back on the farm the heifers were put back to grass and offered 1-2kg of meal until October 15.
From October 15 to November 7 they were offered 6kg of meal per day. From November 7 until December 3 they were given ad lib meal via a creep feeder at grass before they were slaughtered on December 4.
The heifers consumed approximately 540kg of meal per head from mid August at a cost of €140/head. Grass costs were estimated at €15, bringing total feed costs to €155/head. The average carcass weight of the heifers was 266.4kg so they were around 490kg/LW.
All heifers graded fat score three or better and the conformation ranged from one O,One R and three Us. Assuming the heifers were 40kg at birth and were slaughtered at an average age of 380 days the heifers gained approximately 1.18kg/day from birth.
The heifers came in to €1,149/hd, which equates to around €4.31/kg. When you deduct the total feed costs of €155/hd the heifers had a margin of €265/hd over selling as weanlings on August 15.
Although this is only one small trial it highlights several points:
Young animals are hugely efficient when managed well on concentrate;
Animals that are attaining a good level of thrive throughout their lifetime can be slaughtered at a young age and attain an adequate fat cover;
It is important to know the value of your stock on the day of sale.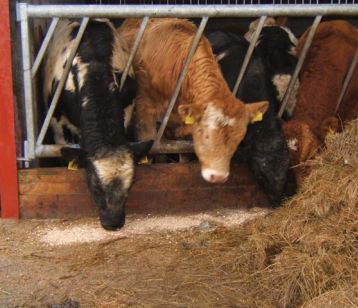 Teagasc Advise that stock value is known on the day of sale