Low Fertility Could be Down to Genetic Deletion Killing Embryos
A team of European geneticists has summarised that genetically selecting for milk yield has a detrimental impact on fertility.
A joint study published in Plos genetics on a Nordic Red herd identified a gene deletion as a 'causative variant' on fertility, killing embryos.
The discovery addresses an assumption that lower fertility is primarily due to the negative energy balance of high-producing cows at peak lactation.
The team concluded a 660-kb deletion of four genes was responsible, postulating a loss of RNASEH2B to the deletion, or 'recessive embryonically lethal mutation', known to cause embryonic death in mice.
Across Denmark Sweden and Finland, a significant proportion of cattle carry the deletion; 13 per cent, 23 per cent and 32 per cent respectively.
Favourable effects on other traits resulted from the deletion, including a strong positive effect on milk yield.
Naveen Kumar Kadri and Goutam Sahana of the Center for Quantitative Genetics and Genomics, Department of Molecular Biology and Genetics, Aarhus University, Denmark held major roles in the research.
The team concluded: We report the identification of a large deletion encompassing four genes and the demonstration of its negative effect on fertility in Nordic Red dairy cattle. We show that this deletion is recessively lethal (homozygous embryos die) and therefore, when carrier cows are mated to carrier bulls, there is a high risk of embryonic mortality.
"As a result, chances of insemination failure are higher for such matings. Surprisingly, despite its negative effect, the deletion is frequent in Nordic Red cattle. We show that this high frequency may be a consequence of the fact that the deletion is associated with increased milk production and therefore selected for.
"Due to increased levels of inbreeding resulting from the widespread use of artificial insemination, such recessive lethal alleles may account for a non-negligible fraction of the reduction in fertility observed in cattle."
Increased reproductive failure rate in mating types sorted according the genotype of sire and maternal grand-sire for the 660 Kb deletion (I for non-carrier x non-carrier, II for non-carrier x carrier, III for carrier x non-carrier and IV for carrier x carrier matings defined as in the main text), at 35, 56, 100 and 150 days post-insemination.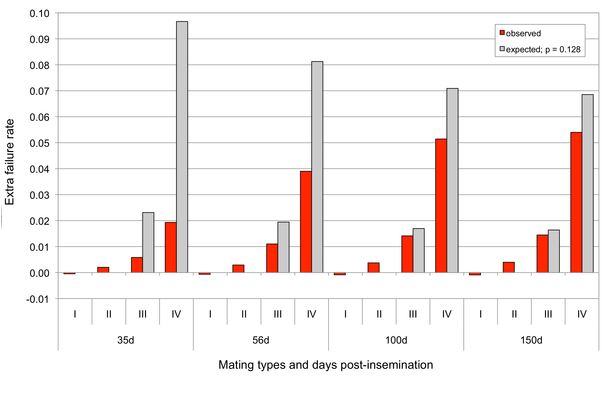 The team stated the research answers questions about the use of artificial insemination in dairy cattle, resulting surges in productivity and a severe decline in fertility that is visible across many intensive dairy farms.
The paper concluded: "This study demonstrates that embryonic lethal mutations account for a non-negligible fraction of the decline in fertility of domestic cattle, and that associated positive effects on milk yield may account for part of the negative genetic correlation.
"Our study adds to the evidence that structural variants contribute to animal phenotypic variation, and that balancing selection might be more common in livestock species than previously appreciated."