Grassfed Beef Has Bright Future in US
Producers wanting to maximise the potential of grass fed beef should note the importance of only removing 25-30 per cent of the plant, according to a South Dakota specialist who attended the Annual Grassfed beef conference.

Grassfed and grass- finished beef are enjoying an increasing share of the consumer beef market, writes Pete Bauman, Range Field Specialist at South Dakota University.
While direct marketing to customers is the primary outlet for smaller grassfed producers, larger operations are finding success in marketing their product through more traditional chain grocery and restaurant outlets.
These were key concepts shared by industry leaders at the annual Grassfed Beef conference held in Bismarck, ND in August. This year's conference, titled "Grassfed Rising" was hosted by the North Dakota Grazing Lands Coalition and the Grassfed Exchange, a non-profit group organized to promote the grassfed livestock industry.
Proof of a growing industry was evident through the more than 400 attendees representing 37 states and 4 countries. Grass-finishing operations seeking connections to grassfed growers were on hand, and several South Dakota cattlemen were in attendance. Understanding emerging grassfed cattle and multi-species grazing markets may be a real opportunity for South Dakota's grass-based producers.
Picture Courtesy of NDSU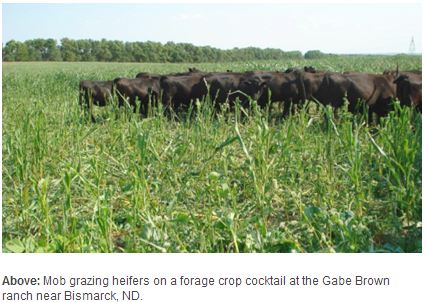 As reflected in the diverse panel of speakers and presenters, the organizers of this annual event did not limit their message of grass-based products solely to cattle on pasture. Livestock producers Ken Miller, Gabe Brown, and Paul Brown hosted tours of their operations, giving conference attendees a firsthand look at their management and marketing strategies for cover crops and mob grazing systems.
Many of the attendees ran multi-species grazing operations, and the tours exposed the group to the benefits of managing soil health on native rangeland as well as to grazing management of perennial forage and annual cover crops fields. Tour topics also included discussion and demonstration of alternative grassfed beef compatible products such as chickens, eggs, vegetables, and lamb – all of which have proven profitable and sustainable for the producers through reduced input costs and direct marketing. Approximately
Beyond these core themes were several key points gleaned from presenters.
Economist Bill Helming discussed the trends in the American consumer diet, indicating that 56 per cent of all beef consumed in US is in the form of ground beef. He went on to project that ground beef sales could go as high as 70 per cent over the next 25 years. Helming suggested that within the current ground beef supply, carcass quality is not the primary driver. To illustrate this point, Helming provided information on the current sources of ground beef as 60 per cent from grain fed/finished, 25 per cent from culled beef cows and dairy cows, and 15 per cent from imported beef trimmings.
Livestock management consultant Dr. Allen Williams discussed current industry trends including a recent decision by USDA-FSIS to offer a "Non-GMO" meat label for organic or grassfed growers. Williams also discussed the growth of grassfed beef in urban markets, stating that grass-fed beef accounted for 3 per cent - 6 per cent of beef sales in major US metro areas in 2012. Overall, the US grass-fed beef industry has grown 25 per cent annually in last 10 years, and claims a place among 4 other beef sales sectors in the US. These sectors include: commodity grain fed, all-natural organic grain fed, lean grass-fed (targets ground beef market), high quality grass fed, and specialty grain fed/Non-GMO and/or small grain fed.
Beef producer and production consultant Abe Collins reminded the audience to think critically about the health of the grazing vegetation. He discussed basic range management principals of removing only 25-30 per cent of the plant, providing the most nutritious portion of the plant for the grazing animal, while also achieving the most efficient defoliation for building plant and soil health. Collins discussed the role of carbon in the grazing cycle, stating that grazing vegetation to the point that roots die in order to capture carbon is not a preferred grassland management strategy. Rather, grazing to stimulate shoot and root production is a much more efficient way to capture carbon through root exudates, allowing the soil to build glomalin (the 'glue' that holds healthy soils together).
Several other presenters challenged the audience to embrace the opportunities of this emerging industry. Topics varied and included discussion of grassroots organizations that are being launched to connect potential grassfed growers with landowners interested in grazing and/or converting to multi-species forage and cover crops.
Others warned that traditional use of chemicals in these systems can be counterproductive to system health and often economically unnecessary.
Beyond the core concepts of farm-based marketing was the vision of an industry primed to go 'mainstream' through strategic marketing of desirable alternative beef products. Presenters challenged participants to study and understand current consumer trends.
Those trends clearly point to a populace that increasingly demands quality ground beef and chicken products. The challenge presented to growers was embracing a paradigm shift that allows for alternative grassfed beef products that need not necessarily mimic the current USDA grading system.
Overall, SD livestock producers should welcome this emerging market as yet another option for growing and distributing their products, while grassland managers should explore the benefits of working with grass-based producers to form partnerships that will help sustain the viability of South Dakota's rangelands.