Milk Quality: Improving Your Pre-Milking Routine
Avoiding mastitis and maintaining milk quality starts with a good parlour routine says, Keith Engel, dairy farm hygiene and supplies specialist from GEA Farm Technologies.
Calf scours (neonatal calf diarrhea, or NCD) is a common disease affecting newborn calves.
An interaction of several factors such as lack of colostrum, poor nutrition and environmental distresses can cause diarrhea and other clinical signs of NCD. Diarrhea or scouring occurs when the capability of the intestine to absorb fluid is impaired.
This interference may be due to damage to the cells lining the intestine and other infectious agents that are producing toxins that cause the cell lining of the intestine to produce fluid rather than absorb it.
In the beginning stages, the animal is alert; however, as neonatal calf diarrhea progresses, the animal may begin to refuse feed and become depressed and weak to the point where he or she is unable to stand. Soiling of the hindquarters and tail are common. Dehydration is also a result of severe diarrhea.
Common causes of neonatal calf diarrhea include:
Bacteria – Escherichia coli, also referred to as E. coli, and Salmonella

Viruses – Rotavirus, which appears suddenlyand spreads rapidly through the calf herd, andCoronavirus, which affects calves more than one week of age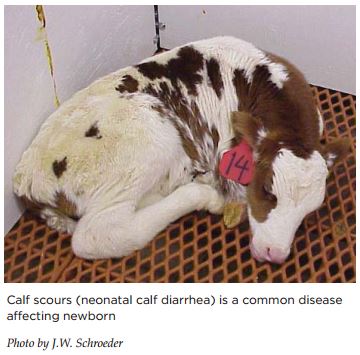 To Read More From Dairy Connection Vol. 23, No. 2 - Click Here
July 2013