Effect of Breed, Diet and Temperature on Ammonia Emissions from Bovine Slurry during storage
With increasing concerns about the role that livestock production plays in regard to climate change and global warning, research by Teagasc, in Ireland, looks at how breed, diet and temperature can affect ammonia emissions from cattle slurry.

Introduction
Agriculture is responsible for 98 per cent of Ireland's total ammonia (NH3) emissions, with land-spreading and housing/storage of these manures contributing the majority of these emissions (Hyde et al., 2003).

Currently, national NH3 inventory calculations do not account for animal type, diet or climatic conditions. The objective of this experiment was to quantify the effect of animal type, diet and temperature on NH3 emissions from bovine slurry in storage.
Effect of Diet and Animal type on NH3 Emissions from Bovine Slurry in Storage. (Letters indicate differences at P<0.05)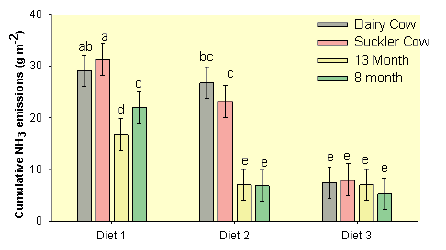 Materials and Methods
Slurry was collected separately from two bovine animals of four different age groups: dry dairy cows, dry suckler cows, 13 month steers and 8 month heifers.

The animals were fed three different diets ad-lib over a two to three week period or until approximately 200 litres of slurry had been collected. This was then divided up into 25 litre batches and frozen until incubation. The three diets were chosen to represent different C: N ratios of typical Irish livestock diets. Diets were:
ad-lib grass silage;
50 per cent grass silage and 50 per cent concentrates, and
ad-lib concentrates and straw.
Slurries were incubated in 5 litre cylinders, at 80 per cent relative humidity and at temperatures of 5, 10, 15, 20 °C. The experiment was conducted as a randomised block design with four replications. Ammonia emissions were measured on days 0, 5, 9, and 14 of incubation, using a static chamber coupled to an Innova 1412 Photoacoustic Field Gas Monitor (LumaSense Technologies, Inc.). Fluxes were calculated based on concentration accumulation within the chamber over a five minute period. The effects of diet, animal type and temperature and their interactions on cumulative emissions were analysed by Analysis of Variance using Proc Mixed in SAS.
Effect of Temperature and Diet on NH3 Emissions.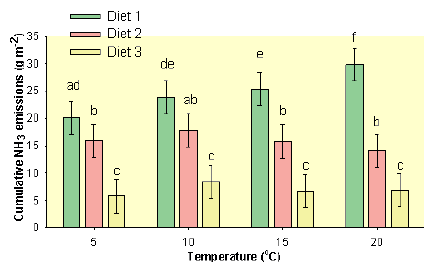 Results and Discussion
Ammonia emissions were significantly affected by animal type (P<0.001), diet (P<0.001) and temperature (P=0.05). All two-way interactions were also significant (P<0.05). The effect of the interaction of animal type and diet is shown in Fig. 1. Manure from the older animals fed diets 1 and 2 had the highest emissions. Diet 3 resulted in the lowest emissions, with no significant variation amongst animal type. The effect of the interaction of diet and temperature is shown in Fig. 2. Emissions increased significantly with temperature only in the case of diet 1. The interaction of the effects of animal type and temperature on emissions is shown in Fig. 3. Manure from the older animals had higher emissions compared to the younger animals across all temperatures. However, there was no clear effect of temperature on emissions from each animal type, except in the case of dairy cows at 15°C, and 8 month old heifers at 20°C.
Effect of Temperature and Animal Type on NH3 Emissions.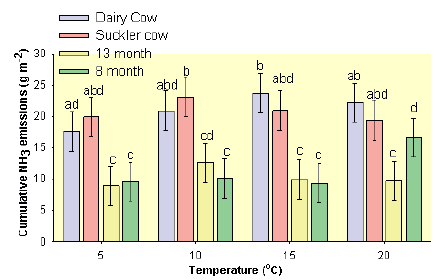 Conclusions
Animal type, diet and temperature had a significant effect on ammonia emissions during manure storage, indicating that the inclusion of these factors may increase the accuracy of ammonia emission inventory calculations. Further work is required to relate these emissions data to varying manure characteristics and farm-scale housing systems.
Acknowledgements
The authors greatly acknowledge funding from the Atlantic Area Programme 2007 – 2013, the European Regional Development Fund and the Teagasc Walsh Fellowship Fund.
References
Hyde, B.P., Carton, O.T., O'Toole, P. and Misselbrook, T.H., 2003. Atmospheric Environment, 37(1): 55-62.
May 2012