Flat rate versus Feed-to-Yield Concentration Allocation
Concentrate allocation strategy has no effect on cow performance, according to research by AJ Dales, CP Ferris and S McGettrick, from Agri Food and Biosciences Institute, Northern Ireland.
Introduction
In order to meet the nutrient requirements of high yielding dairy cows while grazing, concentrate supplementation is normally considered essential. However, concentrate feed costs represent a significant proportion of variable costs on most farms, and as such, concentrates should be used efficiently. The efficient feeding of concentrates at farm level is made more difficult in herds with a spread calving pattern, and on many Northern Ireland dairy farms cows now calve for at least nine months of the year. Thus most herds comprise cows in early, mid and late lactation. As there is relatively little information available on optimum concentrate allocation strategies for herds with a wide range of milk yields, this study was designed to compare the effects of two allocation strategies, namely 'flat rate' and 'feed-to-yield', on the performance of grazing dairy cows.
Material and methods
Two concentrate allocation strategies ('flat rate' and 'feed-to-yield') were compared in a continuous design study involving fifty-six Holstein Friesian cows (20 primiparous, 36 multiparous). Multiparous cows had a mean calving date and pre-experimental milk yield of 27 November (s.d. 65 days), and 33.2 kg/cow/day, respectively, while the respective values for the primiparous cows were 8 January (s.d. 22 days) and 26.7 kg/cow/day. Concentrate feed levels with the 'flat-rate' treatment were calculated based on the difference between the assumed milk yield potential of grazed grass as the sole feed (25.0, 20.0, 20.0, 16.0 and 12.0 kg/cow/day (multiparous cows) and 20.0, 16.0, 16.0, 12.8 and 9.6 kg/cow/day (primiparous cows), during May, June, July, August and September), and the average yield of cows on that treatment, with concentrates offered at 0.6 kg/litre milk to make up the difference. Feed rates were determined separately for primiparous and multiparous cows, with concentrates being offered on a 'flat rate' basis (Table 1). The same total quantity of concentrates offered within the 'flat rate' treatment was also offered within the 'feed-to-yield' treatment. This was achieved by firstly calculating the difference between the milk output of each cow within the 'feed-to-yield' group and the milk potential of grass, and summing this difference for all cows (separate calculation for primiparous and multiparous cows). The total concentrate input within the 'flat rate' treatment was then divided by this total milk yield 'difference' to get a concentrate requirement per litre of milk being produced above what grass alone could sustain. This value was then used to calculate concentrate requirements for individual cows, subject to a minimum (1.0 kg/cow/day) and a maximum daily allocation (8.0 and 10.0 kg/cow for primiparous and multiparous animals, respectively). All concentrates were offered through the milking parlour, divided between two equal feeds. Concentrate feed levels were reviewed monthly throughout the study. The study commenced on the 12 May and concluded on 11 September with the cows grazing full time throughout. Both treatments involved rotational paddock grazing systems, with fresh herbage offered after each evening milking. Average stocking rates (5.7 cows/ha) and fertiliser nitrogen inputs (165 kg/ha) were constant across both treatments. Cows were milked twice daily with milk yield recorded at each milking. During two successive milkings each week, a milk sample was collected from each cow and analysed for fat and protein content. Average live weight was recorded at the beginning and the end of the study. All data were analysed by REML component analysis, with parity and appropriate pre-experimental data used as covariates within the model.
Concentrate Feed Levels During the Study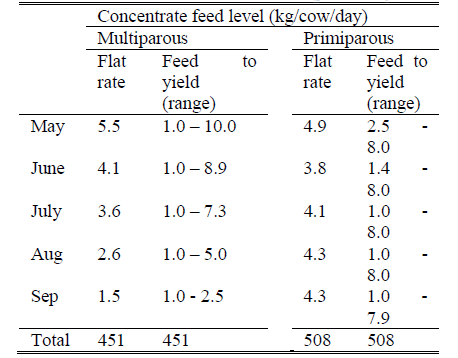 Results
Total concentrate inputs were equal within each concentrate allocation strategy. Concentrate allocation strategy had no effect (P>0.05) on average milk yield, milk composition or milk fat + protein yield (Table 2). End of study liveweight of the cows on the 'flat rate' treatment (560 kg) was not different (P>0.05) from that of cows on the 'feed-to-yield' treatment (559 kg). These results suggest that with moderate yielding cows in mid lactation, a simple flat rate concentrate feeding strategy is as effective as a more complex 'feed-to-yield' strategy. However, within this study concentrates were fed to match the requirements of the 'average' animal within the 'flat-rate' treatment, thus concentrates were not being overfed, in contrast to practise on many farms.
Effect of Concentrate Allocation Strategy on the Performance of Grazing Dairy Cows

Conclusions
Concentrate allocation strategy had no effect on cow performance demonstrating that a simple 'flat-rate' concentrate feeding strategy is as effective as a more complex 'feed-to-yield' strategy.
April 2012