Dairy Market Update - Jan 2012
As wholesale markets move into the new year, latest information suggests that the coming months will be volatile. World markets show butter returns continuing to fall as available global supply increases, reports the UK levy board, Dairy Co.
Butter returns fall as global supply expects to rise
As wholesale markets move into the new year, latest information suggests that the coming months will be volatile. World markets show butter returns continuing to fall as available global supply increases. With lower WMP exports to China, New Zealand (NZ) has more milk available for butter production. In addition, the difference between EU and world prices is now great enough to allow exports from NZ, inclusive of the EU import tariff of €700/tonne. Powder markets, particularly for SMP, have remained fairly stable with general parity in global prices.

The spectre of NZ butter imports into the EU may explain why private storage aid stocks were eroded further in December, falling 27 per cent compared to November to 35,000 tonnes. EU powder prices remained stable, helped on world markets by a weakening euro.

UK markets went through the usual December fluctuations in the run up to Christmas, although prices generally reflected what has been happening elsewhere. Market commentators suggested that the expected increases in EU butter imports had already been taken into account for the new year with butter prices falling by £150/tonne (4.8 per cent) between November and December to £3,000/tonne. SMP fell slightly compared to November from £2,150 to £2,100/tonne. Cheddar markets remained unchanged.

In context
With the falls in butter and SMP, AMPE fell by 1.2ppl (3.8 per cent) between November and December to 29.9ppl. This is the first time that AMPE has been below 30ppl since January 2011 and with whey powder prices increasing, the difference between AMPE and MCVE has increased to 2.83ppl.
How current events will continue to affect the market is unclear. Historically, markets do ease in the new year as the effects of southern hemisphere production peaks are absorbed. Key will be how the northern hemisphere emerges from its production trough and progress towards the spring.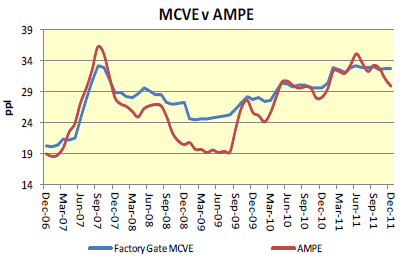 Company Review: Arla
An updated review of Arla's strategy and performance is available to download from the DairyCo website. This review provides information to aid understanding of the business environment that Arla operates in, the direction Arla is taking and the risks and opportunities it faces. The review aims to inform producers whether Arla has the potential to pay a price for your milk which will allow producers to obtain a sustainable margin over the long term.

To fund investment in the business, Arla has agreed with its direct suppliers (AFMP) to increase the investment levy to 0.5ppl from January 2012. This investment provides them with a small stake in the company as part of a joint venture with Arla Foods amba.

Most investments provide a return in the form of a dividend (in the case of shareholdings) or an interest payment on invested capital (in the case of co-ops). Arla's situation is unique as the return on investment is through a higher milk price and therefore cannot be clearly measured. To retain current members and attract new suppliers however, the milk price received will need to be sufficiently high to ensure that members realise a return on their investment.

Investments into more efficient production facilities, extended product ranges and marketing of branded products are aimed at improving the value of the milk it processes, which ultimately should allow the company to pay improved milk prices. Examples of how Arla aims to pass the benefit of adding value to its milk supplies are the fat incentive and the Cravendale premium, which were introduced during 2011.

Dairy Supply Chain margins: Liquid Milk
The average retail price for liquid milk in multiple retailers increased to 56.6ppl in the first half of the 2011/12 milk year (Apr to Sep 11), up from 56.0ppl in the preceding six month period. The increase was largely due to the reduction in multi-buy promotions.

Nevertheless, the average retail price for liquid milk remained low compared to averages over the last four years as a result of 'price wars' among large retailers that started in the second half of 2010/11.

Despite this fall, retailers have used their power in the supply chain to increase their margins for liquid milk by putting pressure on processors. According to an updated analysis of dairy supply chain margins, DairyCo estimates that average processor selling prices also fell over the six month period, from an average of 37.3ppl in the second half of 2010/11 to 37.1ppl for the first half of 2011/12. Average processor selling prices have fallen steadily since peaking at 47.0ppl in the second half of 2008/09.

Processors have become squeezed, with their milk buying price increasing while under pressure from retailers. At 27.0ppl, the average Defra farmgate price was approximately four per cent higher compared to the second half of 2010/11, against a period of increasing input costs.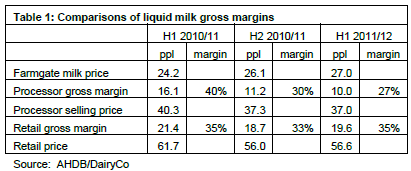 In context
The recent fall in processor gross margins reflects the inability of processors to pass on higher input costs to retailers, who are faced with maintaining their competitiveness during the economic downturn. Also impacting on processor gross margins was the upward pressure on raw milk prices arising from strong commodity markets.
Yogurt drinks market update
Latest Kantar Worldpanel data shows that the volume sales of yogurt drinks reached over 100 million litres in the 52 weeks to 27 November 2011. This represented a decline of four per cent YOY. This decline has been driven by the fall in sales of branded yogurt drinks which declined 7.9 per cent compared to the previous year. In contrast, private label volume sales have shown healthy growth.

Part of the reason for this growth may be due to the growing price differential between private label and branded products, with the average branded price some £0.75/litre (32.9 per cent) more than private label. Manufacturers of branded products may be looking to respond to this. In December 2011 the Grocer reported that Muller is relaunching its 'Vitality' yogurt drinks with the aim of better differentiating from competitors. McNeil Nutritionals has also announced new variants to its Benecol brand to widen its appeal to consumers.


Feed market—2011 review
The arrival of the 2011 wheat harvest revealed a record global crop of 689Mt (USDA Dec-11) due to a rebound in production in the Former Soviet Union following the 2010 drought. As a result, UK Nov-11 feed wheat futures fell from £198.50/t to £141.30/t between May and November. However, this is still above the historical sub-£100/t level. Underlying price support in grain markets is coming from the maize market, which in contrast to wheat is experiencing tight supplies.

The US is by far the world's largest producer and exporter of maize. In mid-2011, the USDA expected the 2011 US maize crop to hit a record 335.3Mt. However, due to poor growing conditions, the USDA have now reduced the estimate by 22.6Mt – equivalent to the entire UK grain crop. Due to tight supplies from the US, the world feed grain market has been looking forward to fresh maize supplies from South America. Late in 2011, dry weather concerns were starting to emerge, giving support to maize and soyabean prices. Until the South American harvest gets under way in February, markets are likely to remain nervous of availability from the region.

January 2012