FAO Food Outlook: Milk & Milk Products
Since reaching a peak in the first quarter of 2011, the FAO international dairy products price index (2002–2004=100) has trended downwards, dropping by 13 per cent between March and October to stand at 204.
PRICES
International dairy product prices fall back from first quarter highs
The product most affected was whole milk powder (WMP), although skim milk powder (SMP) and butter prices also fell. WMP dropped by USD 1 100 per tonne, or 24 per cent, from its March peak. Since March, butter has declined by USD 800 per tonne, or 17 per cent, SMP by USD 500 per tonne, or 13 per cent and cheddar cheese prices by USD 400 or 9 per cent. The price slide of dairy commodities overall reflects a rise in export availability and a fall in the value of the Euro in relation to the US Dollar since July.

After an extended period of favourable international prices, publically financed inventories of dairy commodities are at minimal levels in the EU and the United States. Consequently, international dairy quotations for the coming year will be particularly sensitive to climatic conditions in relation to pasture growth and availability and price of fodder and feed, and to their effect on milk production.
PRODUCTION
World dairy production forecast to grow by 2 per cent in 2011, supported by gains in Asia
World milk production in 2011 is forecast to grow by 2 per cent to 728 million tonnes. Much of the anticipated expansion is likely to accrue in Asia, where India, the world's largest milk producing country, is expected to witness an output rise of 5 million tonnes to 121.7 million tonnes. Rising domestic demand is the main engine stimulating growth in the country, as India is largely absent from the international market for dairy products. Substantial increases in production are also anticipated in China and Turkey, spurred by brisk consumer demand. The milk sector in China, recovering from the 2009 tainted-milk scandal, rebounded by 10 per cent in 2010 and despite rising costs, is expected to grow a further 7 per cent in 2011, a reflection of the consolidation of the industry. In contrast, Japan may experience a limited contraction, in part as a result of the aftermath of the earthquake which struck the country this year.

In Africa, milk output may stagnate or even contract this year, as feed costs have been rising and pasture conditions have deteriorated from last year's excellent conditions. The lingering drought in the Horn of Africa and the ensuing high cattle mortality rates are expected to depress production in Ethiopia, Kenya and Somalia. In the rest of the region, Egypt looks set to produce 6 million tonnes, little changed from 2010.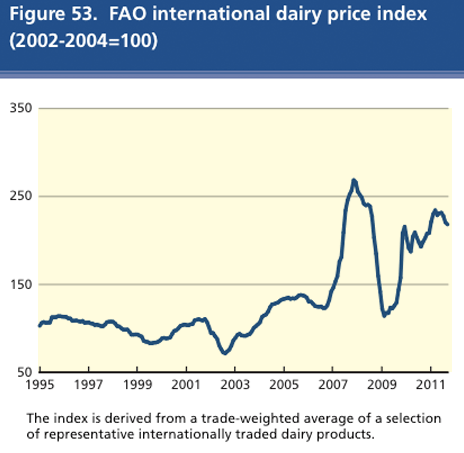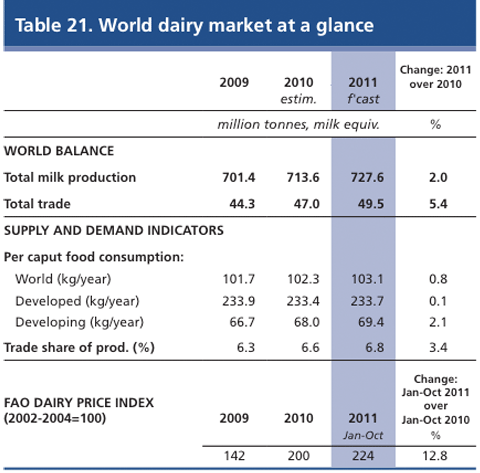 WMP prices rose in the first months of the year, amid uncertainty about export supplies associated with low stocks and an extended period of very dry weather in Europe at the start of the production season. After reaching a high of USD 4 592 per tonne in March, prices fell to USD 3 475 per tonne by October. The decline accelerated during the second half of the year, when it became clearer that supplies would be adequate. World exports of WMP in 2011 are projected to be moderately higher than the previous year: at 2.2 million tonnes. Purchases rose with strong demand exhibited by the principal importers, Algeria, Mexico and Venezuela. For the exporters, Argentina and New Zealand will meet most of the additional sales associated with increased trade, as supply limitations and more profitable alternative uses are expected to curb exports from Australia and the EU.
SKIM MILK POWDER
SMP prices also declined during the second half of the year, although more moderately than those of WMP. From a peak of USD 4 000 per tonne in June, they dropped to USD 3 346 per tonne by October. World SMP exports are anticipated to rise for the fourth consecutive year and could reach 1 694 000 tonnes in 2011. Three-quarters of world exports are supplied by the EU, New Zealand and the United States. While all three are expected to increase shipments, the EU is anticipated to experience the largest gain, as the fall in value of the Euro against the US Dollar has opened up new opportunities for European traders. Furthermore, SMP exports play an important role in maintaining the EU milk market in balance, as overall internal demand is biased towards milk fat (for both butter and cheese production) rather than milk protein. Exports of SMP by the United States have grown substantially in recent years as domestic production milk has been stimulated by favourable international prices. As a consequence, the United States is currently the second supplier of SMP to the world market. Australia and New Zealand, which are respectively ranked third and fourth, are also expected to see exports grow. On the import side, SMP is central to the milk processing industry in many countries and, as such, market demand is widely spread. The principal markets are Algeria, China, Egypt, Indonesia, Malaysia, Mexico, the Philippines, Singapore and Thailand. Demand is expected to remain firm in these markets, overall. In the first half of the year, import figures showed particularly strong growth in purchases by Algeria and Mexico.
BUTTER
Butter prices also weakened in the course of 2011. From a record of USD 4 883 per tonne in March, prices fell to USD 4 075 per tonne in October, similar to the level of decline of its co-product, SMP. Trade in butter is forecast to be marginally higher in 2011, to stand at 884 000 tonnes. This is a consequence of increased trade by New Zealand and the United States being largely counterbalanced by a fall in sales from Australia and the EU. In the case of the EU, lower profitability for butter has led to more emphasis on using milk for cheese production. EU domestic prices of butter are, in any event, currently higher than international levels, limiting potential for exports. Furthermore, intervention stocks, which have in the past supported exports, are exhausted. In contrast, exports from New Zealand, which now supplies close to 50 per cent of the international butter market, are expected to increase by 8 000 tonnes, mainly as a result of meeting the requirements of its traditional customers. Exports by the United States also grew, reflecting the profitability of converting surplus domestic milk supplies into butter (and SMP) for external markets. Demand for butter imports comes principally from Southeast Asia and Middle East countries and the Russian Federation and is expected to remain firm.
CHEESE
Among the dairy commodities, only cheese prices were stable during 2011, staying around the USD 4 400 per tonne mark throughout the year, easing only in October to USD 4 029. Trade in cheese is forecast to grow by 5.5 per cent in 2011, to 2 336 000 tonnes, sustained by robust import demand. The main markets are high income or oil exporting countries such as Algeria, Japan, Mexico, the Republic of Korea, and the Russian Federation.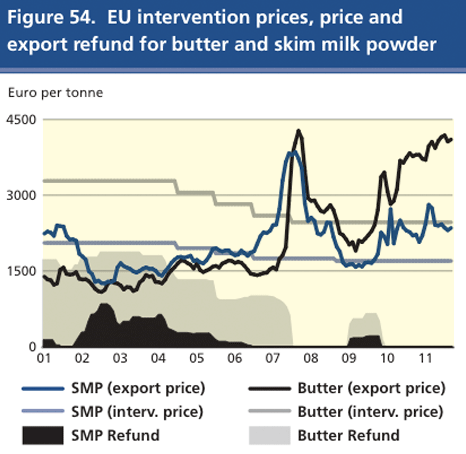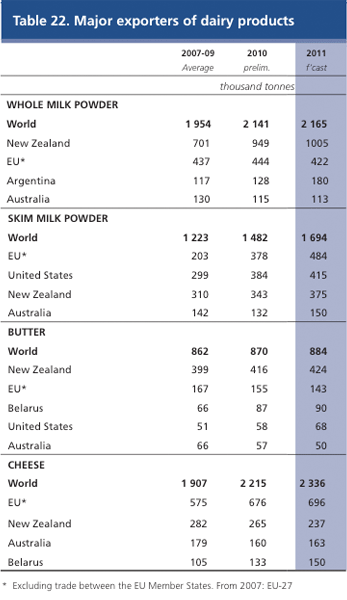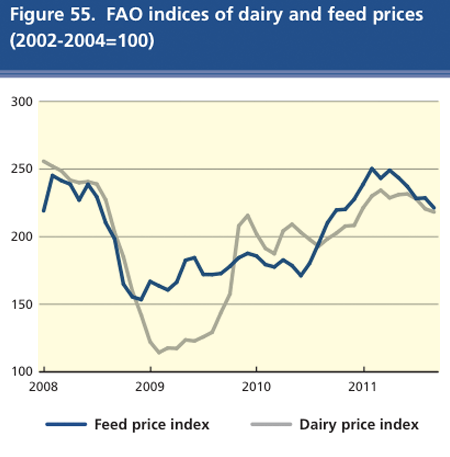 Supplies to the world market come principally from the EU, followed by New Zealand, Australia and Belarus. In contrast to other dairy commodities, which are uniform products, cheese is traded in a wide variety of types, each with its own characteristics and in some cases, there are geographically specific limitations on its production. Therefore, it is more difficult to generalize about trends in trade and prices for this product. In fact, the prices quoted above refer to cheddar, which is just one type of cheese among the many traded. In the EU, higher profitability of cheese production compared with other dairy export commodities continues to lead to a steady growth trade, with the Russian Federation being a particularly important market. Sales from Belarus have also risen. In contrast, New Zealand, the second largest supplier to the market, has focussed more on supplying dairy processors with inputs (powder and butter fat) and, as a consequence, its exports of cheese have fallen.
November 2011