Russian Federation Dairy and Products Annual Report 2011
Russia's dairy industry is recovering in the second half of 2011 and milk production is poised for 0.3 per cent growth in 2012 while the dairy herd continues to shrink, albeit at a slower pace than historical rates, according to the USDA Foreign Agricultural Service.

Summary
Russia"s dairy industry is recovering in the second half of 2011 and milk production is poised for 0.3 per cent growth in 2012 while the dairy herd continues to shrink, albeit at a slower pace than historical rates. Milk production and herd sizes are and will be supported by foreseen strong milk prices through 2012. However, as a result, cheese and butter production is expected to slip as more factory use is likely destined for milk powder production. In turn, cheese and butter imports are forecast higher while milk powder imports are likely to be lower than 2011 levels.
Fluid Milk
Cows in milk inventories will decrease 0.2 per cent in 2012 and fluid milk production should increase by 0.3 per cent. Poor feed supplies reduced cow inventories and milk production in the last half of 2010 and the beginning of 2011. According to the Russian Statistic Agency (Rosstat), Russia increased milk production in January-August 2011 by 1.8 per cent over the same period in 2010. Imports through July 2011 were 9.7 per cent higher (Russian Union of Milk Producers). Milk production began to rebound strongly in August and growth should be maintained throughout the second half of 2011 and into 2012.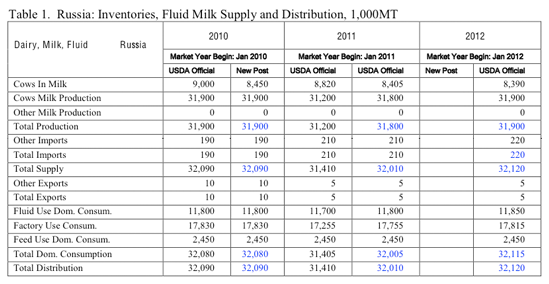 Dairy Products
Cheese production is forecast to decrease 1.2 per cent in 2012, responding to decreased demand for domestic varieties and their prices. Imports are expected to grow 4.8 per cent as they are competitively priced and are the dairy product perceived to be the most threatening to the Russian dairy industry. Estimates in 2011 reflect production through August 2011 and trade through July 2011. Belarus cheese trade is currently excluded as most is cottage cheese.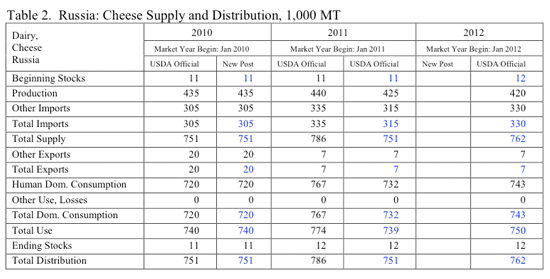 Lower butter production will be backfilled with imports to stabilize demand. Estimates in 2011 reflect production through August 2011 and trade (including Belarus) through July 2011.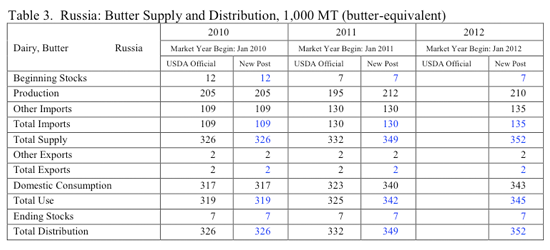 Whole milk powder (WMP) and non-fat dry milk (NFDM) production are forecast to increase 4.6 per cent and 5.9 per cent, respectively, in 2012 as the food processing industry continues to grow and increase their utilisation. They, along with cream, are the most likely products to increase production as a result of increased factory use fluid milk consumption. Estimates in 2011 reflect production through August 2011 and trade (including Belarus) through July 2011.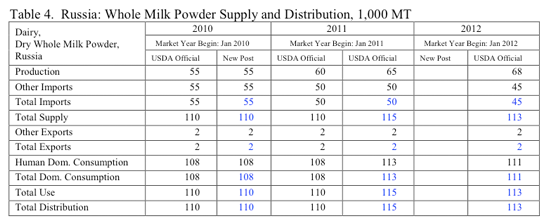 Production
FAS Moscow forecast cow inventories to decrease 0.2 per cent in 2012 with fluid milk production increasing 0.3 per cent on higher yields. Trending higher milk yields continue as a relatively smaller share of cows are located at private households. Agricultural enterprises specifically have relatively better and improving genetics, better management, and will have more available feed supplies than experienced mid-2010 to mid-2011. These entities were the hardest hit by feed shortages. Growth in the share of cow numbers are also being witnessed at private farms. Continued development of agricultural enterprises (as opposed to support for private households) is heavily supported by the Ministry of Agriculture. Support for private farms is also available but its impact to production is minimal.
Cow Inventory
FAS Moscow adjusted "cows in milk" numbers to reflect a definitional change on milking cows. Previously available data did not differentiate between dairy cows and milking dairy cows. According to Rosstat, cow inventories decreased 0.6 per cent, compared to the same period of 2010.

The Ministry of Agriculture reported inventories of pedigree cattle in the dairy herd accounted for 12 per cent in 2010 and are forecast to reach 13 per cent in 2011.
Milk Production
Russia produced 22.2 MMT of fluid milk in January-August 2011, which is 1.8 per cent less compared to 2010. Production started to rebound in August and will remain strong throughout the year to improve on this comparison, especially considering milk production suffered in the last half of 2010 as a result of short feed supplies that persisted through the first half of 2011.

The most recent Russian Government forecast for 2012 is 31.1 MMT, according to the Ministry of Economic Development (MED). However, such an estimate would require a significant reduction in cows and/or milk yield. The Ministry of Agriculture forecast, according to the Target Program for Dairy Development 2009-2012, is 37.0 MMT. MED"s economic forecast through 2014 foresees milk production lower through 2013 and rebounding in 2014 (yet still ending lower than 2010 levels). According to the Ministry of Agriculture"s new draft Federal Programme for the Development of Agriculture until 2020, milk production should increase to 32.6 MMT by 2014.
Dairy Products Production
According to dairy industry experts, production of dairy products, including cheese and butter, will struggle in 2012 as processors battle high prices for raw milk. In exchange, industry sources indicate they will shift to produce more cream and milk powders.

Resulting from current high milk prices, during January-August 2011, production of cheese and whole milk products (milk, kefir, sour cream and other) decreased by 3.5 per cent and 3.4 per cent.
Consumption
Consumption growth of dairy products remains largely constricted by high prices as well as import controls, which limit supply even while production is flat or declining.

According to an examination of dairy products in the retail market by the Russian Union of Milk Producers (Soyuzmoloko), many continue to include vegetable fats of tropical origin without indicating such contents on the product"s label, in violation of Russia"s dairy Technical Regulation. Inspections deemed more than 30 per cent of butter samples, 50 per cent of sweetened condensed milk, over 50 per cent of sour cream, and 20 per cent of cheese spread as "fake" products. According to Soyuzmoloko, such products "bring harm to dairy producers and consumers' health." While Soyuzmoloko underscored their point as unfair price competition, some retail chain representatives noted it was more important to ensure the product availability for the poorest citizens who cannot afford to buy expensive dairy products.
Milk Prices
Prices have remained steadily high for farm-gate, processor, and retail milk prices throughout 2011. To some extent, the situation of escalating prices was softened by an agreement among producers and processers that agreed mutually acceptable minimum and maximum price levels for raw milk. Lack of quality fluid milk will continue to make domestic dairy products less affordable for Russian customers.
Chart 1. Russia: Farm-gate, Processor, and Retail Prices for Fluid Milk, 3.2 per cent Fat, RUR/kg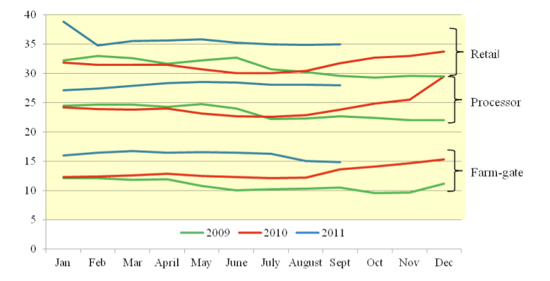 Trade
Imports of dairy products, especially cheese and butter, should remain steady with upside growth in 2012 until Russia again enhances border protection. Border protection has and will continue to be strengthened with the influence of Belarus in Russian dairy policy. Belarusian fluid milk and dairy products will continue to take a larger share of Russian market as they maximise bilateral preferences and an absent border control.
Policy
Development of Dairy Cattle Husbandry, 2009-2012
The Ministry of Agriculture allocated RUR1.55 billion ($48.4 million) for a "Family Dairy Farming Project" for 2012 as an extension of the state programme "Development of the Pilot Family Dairy Cattle Farms for 2009-2011." The programme will co-finance 30 per cent of all construction costs and intends to launch 150 family dairy farms. Since its launch in 2009, the Ministry reports 300 dairy farms have been created. Interest incurred on loans from the Russian Agricultural Bank (Rosselkhozbank) will be fully subsidised by the State. Rosselkhozbank will also provide the beginning farmer with the calculation of profitability and documents needed to start the project. Since 2009, the Rosselkhozbank has granted loans for RUR738 million ($25 million) for the creation of family dairy farms. The credit can be issued for a period of two years (to form the initial working capital) and 15 years for construction, renovation and modernisation of a family farm.
The Draft Programme "Development of Agriculture in 2012-2020"
The program envisages the following regulations in order to increase competitiveness of Russian dairy products:
Import duties should compensate for foreign country government support for the production of milk and dairy products.
Introduction of a traceability system for livestock products to promote Russian dairy products to foreign markets.
Support for the certification of livestock and processing enterprises to increase exports to third countries outside the Customs Union.
Application of government procurement and trade interventions in respect to dairy products (milk powder) as a mechanism of price regulation for the milk market. The list of products for government intervention to vary with changes in the production and consumption of milk and dairy products.
Creation of a special financial fund to purchase products for the government intervention. Formation of logistics procurement for processing, storage, and sale of products for government intervention.
Dates and amounts of government intervention to be determined based on the need for seasonal adjustment of prices in the domestic market.
November 2011
Further Reading