Russian Federation - Livestock and Products Annual Report 2011
Government measures and improved feed supplies have positively reversed pork production expectations. However, production gains are not likely to replace 30 per cent lower TRQ quantities in 2012.

Report Highlights:
Meanwhile, beef production continues to follow the path of the downsizing Russian dairy industry. Lower annual production provides more room for increased imports as Russia will seek to maintain unchanged supply.
Summary
Swine and Pork
In 2011, sow stocks reflect newly available data. The stronger pig crop demonstrates pork producers' reaction to easing feed prices, expectation of increased government support, and a larger-than-expected share of agricultural enterprises controlling swine stocks. While live swine imports for slaughter is relatively flat, imports of feeder pigs and breeding stock is up. This results in a reversed outlook for 2011 production. The swine industry's resurgence in 2011 should carry over to 2012 as government policies become even more favorable.

Despite Brazil's current absence from the market, significant over-quota trade and a strong increase in quota-exempt pork drive FAS/Moscow's increased import estimate. In 2012, a 150,000-MT reduction in TRQ will severely limit available supply and prices will rise; however, these conditions may only mildly stimulate increased over-quota and quota-exempt pork trade.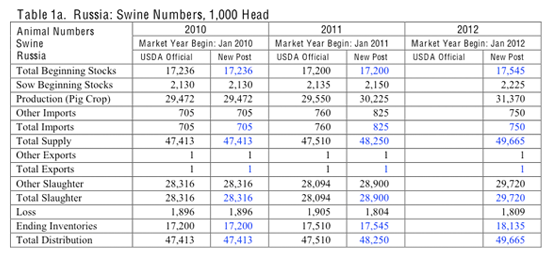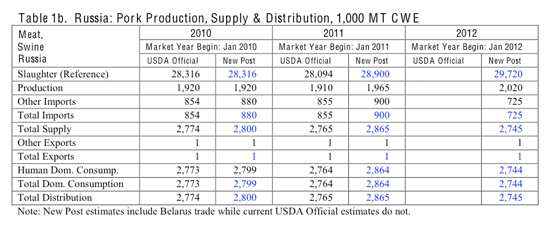 Cattle and Beef
Cattle inventories will continue to shrink in 2011 and 2012 as the dairy industry continues restructuring; however, improved feed supplies from the second half of 2010 should slow the decline. Lower dairy stocks mean less beef production. Excitement over a rapidly increasing beef cattle herd remains a drop in the bucket by comparison.

While the beef TRQ quantity remains unchanged in 2011 and 2012 from 2010, imports will balance lower production to maintain supply levels. While a significant amount of beef should again be imported over-quota, Russia will almost unquestionably allow Belarus to export additional beef if prices start to escalate due to a supply shortfall.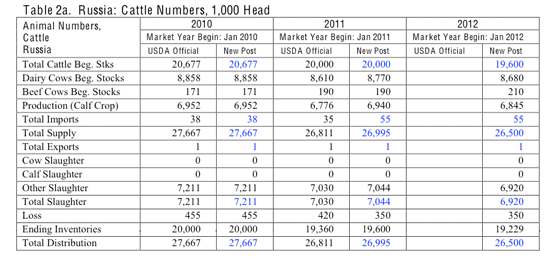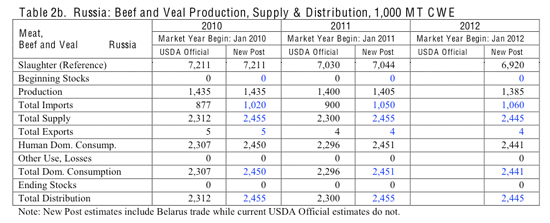 Production
According to the Russia's State Statistical Service (Rosstat), producers of all types produced about 5.3 MMT of poultry and livestock for slaughter (live weight) in January-July 2011 which is 3.9 per cent more than in January-July 2010 (107.4 per cent 2010/2009). Agricultural enterprises increased production by 7.4 per cent during the same period. The Russian Ministry of Agriculture (MinAg) reported in the middle of July 2011 that Russia will increase production of livestock-origin products by 2.8 per cent in 2011.
Swine and Pork
Swine Inventory
Russia's swine inventory will likely grow about 2.7 per cent to 17.545 million head at the end of December 2012 from 17.2 million head at the end of December 2011, supported by lower feed prices in the second half of the year and increased state support.

In accordance with the latest Russian Federal Statistic Service (Rosstat) report, FAS/Moscow increased its estimate of sow beginning stocks for 2011 from 2.135 million head to 2.150 million head. State support of swine husbandry in the first half of 2011 and a positive outlook for the 2011 crop harvest stimulated the Russian swine industry beginning in May 2011, following lower feed prices. As a result, the pig crop should increase to 30.225 million head, which is 2.3 per cent higher compared to the previous FAS/Moscow estimate. According to Rosstat, the swine herd increased 0.1 per cent at the end of July 2011 from the year-ago level to 18.8 million head.

The share of private households in total pork production continues to decrease as support is directed toward agricultural enterprises. Households accounted for 34.2 per cent of total swine stocks at the end of July 2011 (in 2010 - 36.2 per cent).
African Swine Fever
The continual spread of African Swine Fever (ASF) across European Russia remains a growing concern to the security of the Russian pork industry. Russia's Chief Veterinary Officer (CVO) acknowledged at a press conference this August that the ASF situation in Russia continues to deteriorate. According to him, an ASF endemic situation has been observed not only in the South and the North-West of Russia, but almost throughout the country. The CVO considers protection of domestic pigs from wild boars in Russia's Northwest as a priority measure. The ASF situation in the South (specifically Krasnodar kray and Rostov oblast) remains unfavorable. In many cases, the uncontrolled transportation of goods is blamed for the spread of ASF. The CVO noted that a veterinarian has no authority to stop and check trucks transporting goods. He also said a program to combat ASF is being currently developed.

According to Russia's Federal Veterinary and Phytosantiary Surveillance Service (VPSS), ASF outbreaks have resulted in more than 500 deaths and more than 12,000 head being slaughtered during stamping-out activities in 2011. However, VPSS forecasts that continued spread of ASF could result in an economic impact as high as RUR8 billion ($267 million) by year's end – RUR700 million ($23 million) in direct losses (culling 200,000 head) and RUR6.7 billion ($223 million) in indirect losses.

In order to prevent the spread of ASF, Russian regions have started to develop programs to transfer small swine farms to alternative types of livestock production (cattle, sheep, goats, poultry, etc.).
Pork Production
Russia should produce 2.02 MMT of pork in 2012, 2.4 per cent higher than 2011, resulting from improved conditions for swine rearing. FAS/Moscow also increased its 2011 pork production estimate by 2.8 per cent for the same reasons.

Rosstat reported agricultural establishments increased pig production 7.5 per cent in January – June 2011, compared to the same period in 2010. MinAg also reported in its 2010 National Report that most of the production growth in 2010 came from 78 new, reconstructed, and modernized pig farms. These facilities produced 67,800 MT of pork, valued at RUR4.7 billion ($162 million).

Six regions of the Russian Federation – Belgorod, Lipetsk, Orel, Tambov, Volgograd, and Sverdlovsk regions produced 139,700 MT (75.8 per cent) of the 184,400 MT increase in pork production for slaughter, obtained in 2010.

According to MinAg reports, average daily weight gain increased in 44 regions from 350 to 395 grams (by 12.9 per cent) in 2010.
State Support
The GOR issued Resolution #1247-R on July 20, 2011, approving RUR9.0 billion ($300 million) of State financial support to Russian poultry and pork producers as compensation for increased feed costs in 2011. Initially announced by Prime Minister Putin in March 2011, the Resolution amends the 2011 federal budget allocations to regional authorities for poultry and swine industries.
Cattle and Beef
Cattle Inventory
Total cattle inventories should shrink 1.9 per cent in 2012 as the dairy industry continues to downsize. In 2011, total cow stocks will fall 0.8 per cent (-1.0 per cent for dairy cows and +10.5 per cent for beef cows) after the sharp decline in the second half of 2010. FAS/Moscow increased the 2011 dairy cow estimate by 1.9 per cent after Rosstat published data through June. By the end of July 2011, cattle inventories amounted to 21.1 million head, 2.0 per cent below July 2010.

Rosstat reported the share of private households in total cattle inventories continues to decrease. At the end of July 2011, they raised about 48 per cent of cattle which is one per cent less compared to 2010.
Beef Production
FAS/Moscow forecasts beef production will fall 1.4 per cent in 2012, reflecting smaller dairy cattle numbers available for slaughter. Beef production in 2011 is adjusted slightly upward, reflecting January-June 2011 Rosstat data. Beef cattle (excluding beef-dairy crosses) account for less than three per cent of total beef production.

Russia's Minister of Agriculture reported in her 2010 National Report on Agriculture that cattle breeding continues to be the most challenging industry and production of beef remained one of the most complicated and labor-intensive areas of livestock production. The Minister noted two factors will allow Russia to achieve its production targets set for forth in the program "Development of Beef Cattle in Russia 2009-2012".
Intensification of cattle feedlot utilization – 57.7 per cent of targeted growth. The focus is to increase daily weight gain, thereby increasing slaughter weights and shortening slaughter age to not more than 24 month.
Growth of cattle inventories for slaughter – 42.3 per cent of targeted growth.
Together, MinAg with the Russian regions selected 57 new investment projects in 2010 for beef cattle breeding with the total amount of requested loans valued at RUR31.4 billion ($1.05 billion).
VneshEconombank signed loan agreements for at least one investment project – "Bryansk Meat Company" – for RUR 20.4 billion ($680 million).
OAO "Rosselkhosbank" signed loan agreements for 35 investment projects totaling RUR4.53 billion ($151 million).
JSC Sberbank of Russia signed loan agreements for 14 investment projects totaling RUR596 million ($20 million).
MinAg reported that in 2009-2010, beef breeds and crossbred cattle increased by 409,100 head. During these two years, Russia built and modernized 168 establishments for beef cattle production. In these locations, beef cattle breeders raised more than 60,000 head of cattle and produced more than 8,000 MT of beef cattle in live weight. At the same time, beef production from beef breeds and crossbred animals increased 72,200 MT, including in the Republic of Kalmykia (13,400 MT), Altay Kray (7,700 MT), Republic of Bashkortostan (7,100 MT), and Bryansk (9,200 MT).
State Support
MinAg reported Russia will subsidize livestock in the amount of RUR1,300-1,500 ($43-50) per cow in 2011, and the total sum of subsidies will reach RUR20 billion ($67 million) in 2011.

In 2010, under the program "Development of Beef Cattle in Russia 2009-2012," the State co-financed 22 regional programs in 2009-2010 and allocated RUR6.67 billion ($222 million), including RUR4.59 billion ($153 million) from the federal budget and RUR2.1 billion ($7 million) from the regional budgets. Most of the federal budget has been allocated to regions with traditional beef cattle breeding – Republic of Kalmykia (RUR910 million), Krasnodar Kray (RUR 427 million), Republic of Bashkortostan (RUR426 million), and Saratov oblast (RUR374 million).
Trade
NOTICE: Higher FAS/Moscow trade estimates compared to previous reports and official USDA estimates reflect the formal accounting of Russia's trade with Belarus. This trade has long been excluded from Russian Customs data and formal PS&D estimates.

FAS/Moscow forecasts Russian beef imports will grow one per cent in 2012 to maintain relatively stable supply. However, significantly reduced market access for pork will constrict trade and ultimately reduce overall supply available for consumption.
Tariff-rate Quotas
Meat imports remain highly regulated by tariff-rate quotas (TRQs) for suppliers outside the Commonwealth of Independent States. GOR Resolution #616, signed July 27, 2011, maintains TRQ quantities for chilled beef (30,000 MT) and frozen beef (530,000 MT) but sets new marks for pork (320,000 MT) and pork trimmings (30,000 MT), representing a 150,000-MT reduction from 2011. FAS/Moscow has confirmed with Russia's Ministry of Economic Development that the GOR has no current plans to issue country-specific allocations in 2012. However, Russia's World Trade Organization accession talks are ongoing and could result in changes for 2012 before the end of the year.
Russian-Belarusian Trade
Russia and Belarus have not yet established plans for 2012, but FAS/Moscow expects a 2012 agreement will closely resemble 2011 with the strong potential to increase bilateral trade in beef and pork in order to maintain stable supply.

The agreement for 2011 allows Belarus to export to Russia 130,000 MT of beef; 20,000 MT of pork; 15,000 MT of poultry; and 45,000 MT of other meat products. However, since border control was removed at the beginning July 2011, Russian-Belarusian trade should be more difficult to regulate and tabulate for official authorities. According to Rosstat, Belarus exported 48,400 MT of frozen beef to Russia in January – May 2011, compared to 56,100 MT in January May 2010. Belarus exported 125,000 MT of beef to Russia in 2010.

Press reports and GOB actions confirm Belarus is having difficulty balancing supply and demand. Retail meat supplies in Belarus have become scarce, and reports insist that reduced retail supplies have resulted from consumer trafficking of meat from Belarus to Russia. In August alone, the Belarusian Ministry of Economy increased the regulated meat prices three times – 5 per cent, 10 per cent, and 10 per cent – "to compensate for growth in the cost of raw meat, eliminating the disparity between the prices of foreign and domestic markets and market saturation of the Republic with meat in the required volumes" (Ministry of the Economy, Resolution #139, August 26, 2011). The current maximum price for beef and pork carcasses in Belarus are $2.98/kg and $2.87/kg, accordingly.
SPS Barriers
Meat imports remain volatile throughout the year due to Russian sanitary barriers. Effective June 15, 2011, VPSS restricted effectively all Brazilian pork, citing a lack of trust in the Brazilian veterinary service for alleged violations of Russian requirements discovered during plant audits. Market experts recognize the restrictions extended to Brazilian beef facilities, while also significant in number, is not as crippling an impact on supply. Nonetheless, alternative suppliers such as Australia (beef) and Canada (pork) are expected to continue benefiting.

Reassuring trade will continue uninterrupted in 2012, the Customs Union recently published Decision #726, which extends the validity of existing bilateral veterinary certificates between Russian and third parties through the end of 2012. Starting in 2013, the Customs Union will require all third countries to have renegotiated all veterinary certificates consistent with Customs Union requirements.
Beef
Excluding Customs Union partners, Russia imported 21 per cent more beef by volume in January-June 2011, compared to the same period of 2010. The major suppliers were Brazil, Uruguay, the European Union, Australia, and Paraguay. Brazil's share was about 40 per cent – lower than 2010 but still higher by over four per cent in volume. Beef sourced from the European Union more than doubled to 39,000 MT, and sources from Australia increased from 8,000 MT to 35,000 MT. While the United States' country-specific quota for frozen beef increased to 41,700 MT, imports through June were slow but are increasing.

Through June 2011, 45 per cent of the beef TRQ was utilized, representing 84 per cent of total trade. The remainder was imported at the over-quota rate (13 per cent), to special economic zones (2.6 per cent), and as "high-quality beef" (0.2 per cent).
Pork
Excluding Customs Union partners, in the first half of 2011, pork imports increased 6.5 per cent to 336,004 MT. The major suppliers were the European Union (50 per cent), Brazil (27 per cent), Canada (13 per cent), and the United States (7.0 per cent). Year-to-date trade includes more imports from Canada (24 per cent), the United States (48 per cent), and the European Union (9 per cent), while imports have declined from the top supplier – Brazil (-18 per cent). Current restrictions on Brazil will soon put into question whether Canada can maintain their pace in order to fulfill the "other countries" TRQ allocation in 2011.

Through June 2011, 47 per cent of the TRQ was utilized. In-quota import volumes represented 73.8 per cent of total pork imports; 15.9 per cent came as over-quota pork, and 10.2 per cent were shipped to special economic zones.
Consumption
The Draft "State program of agricultural development and regulation of agricultural products, raw materials, and foodstuffs for 2013-2020" envisages growth of per capita meat and poultry consumption from 68.2 kilograms in 2010 to 72.0 kilograms in 2020.

Red meat prices – especially beef prices – continue to increase at the retail level, rising faster than poultry and general consumer prices. Rosstat reports consumer inflation through August has slowed to 4.7 per cent since the beginning of the year, versus 5.4 per cent over the same time period last year.
September 2011
Further Reading