Growing Global Market For Offal
Global exports of offal are worth about £140 million - about eight per cent of the total global meat product market, writes TheCattleSite senior editor, Chris Harris.
Speaking on the market opportunities for the edible fifth quarter at the Fifth Quarter Conference in Kenilworth, the EBLEX and BPEX head of export, Jean Pierre Garnier said that offal exports together with the non-edible products represent about 25 per cent of the total livestock exports, that are worth about £1.738 billion.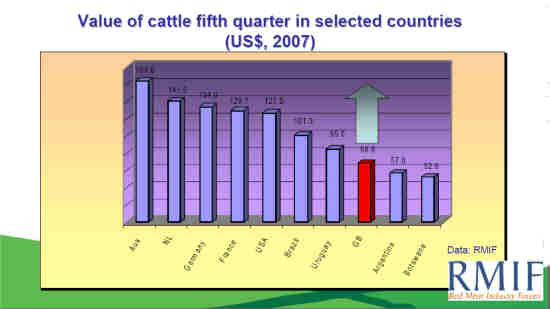 For the UK, China is the key market for pig meat offal although at present there is just one abattoir and one cold store licensed to export there.

Mr Garnier said that the main Third Countries open for pig meat and offal are Singapore, Hong Kong, Japan, Philippines, Malaysia, Brunei, UAE, South Korea, Taiwan (processed), Bahrain, Qatar, Turkey, Hong Kong, Algeria, Benin, Ghana, Mayotte although the market to these countries is small.

The main third countries open for beef offal are Hong Kong (UTM), Bermuda, Benin, Ghana, French Polynesia, Gibraltar, Qatar, Norway, Switzerland and Philippines.

He said that central and eastern Europe - in particular Poland - offer a tremendous opportunity for tripe and ox livers and pig offal especially heads.

France and southern Europe offer an opportunity for tripe, sweetbreads, skirt, cheeks tails and tongues.

He said that while the Caribbean in particular Barbados, Antigua & B., St Kitts and Nevis., Bermuda, British Virgin Islands, Grenada, St Lucia, St Vincent, Trinidad & T., Dominica are already open markets for offal, they are countries where the UK needs to increase its exports. Canada, USA, Switzerland, Norway, Faeroes and Gibraltar are also open markets to the UK.

"The UK is in a good position with regard to exchange rates compared to the US and the EU," Mr Garnier said.

"And during the recession, beef offal prices went down and have not risen to any great extent. Now there is a better market than before for offal such as tripe."

Mr Garnier said that the pig offal market is increasingly reliant on the Far East and the closure of the Chinese market recently hit pig offal prices.

"The closure of the Chinese market has affected world pig offal prices during 2010," he said.

"Due to a glut of product, prices remain depressed.

"The partial reopening of the market has rekindled some interest for pigs' trotters and to some extent paunches. However, there is little demand for pork bones.

"This has helped Danish exports to China and highlights the need of exporting directly," Mr Garnier said.

"Quality is paramount in determining price and export market access," Mr Garnier said.

"If you want premium prices then you have to ship premium products.

"There's a need for commitment from management to generate value from the fifth quarter."

In the UK, the recent trends on the domestic market for offal are down.

"There are few current opportunities on the UK market," he said.

"According to Mintel domestic offal consumption is up by 67 per cent from 2003 to 2008 with a market value of £ 62 million.

"According to AHDB, GB offal consumption is stable at around 16,500 tonnes with a market value of £ 40 million."

Pig liver consumption is up. Kidneys and other offal are down slightly. Pig and lamb liver make nearly half of UK consumption.

However, he said that it is still imperative need to 'educate' consumers and raise the level of cooking skills.

In the beef and sheep offal markets there are in all 110 different products that can be sent to the market and it is a market that is growing.

"Exports are developing fast but there are many more opportunities to be grasped," Mr Garnier said.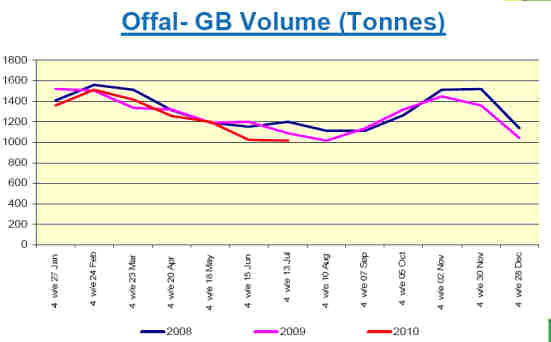 Source: AHDB Market Intelligence
September 2010