The Brazilian Beef Industry
Brazil is the world's largest exporter of beef and the second largest beef producer after the United States. The Brazilian beef industry has grown strongly over the past decade, with production increasing by 36 per cent to 8.9 million tonnes in 2009.
The Brazilian beef industry
Exports have grown at a much faster rate, increasing by 227 per cent to 1.6 million tonnes over the same period. The domestic market of 195 million people in Brazil consumed around 83 per cent of total beef production in 2009. The strong growth of Brazil's beef industry has been the result of considerable new investment in cattle genetics and infrastructure, and this is expected to drive further growth in the foreseeable future. Brazilian beef has a strong competitive position in world markets to which it has access, largely as a result of the industry's lower cost structure.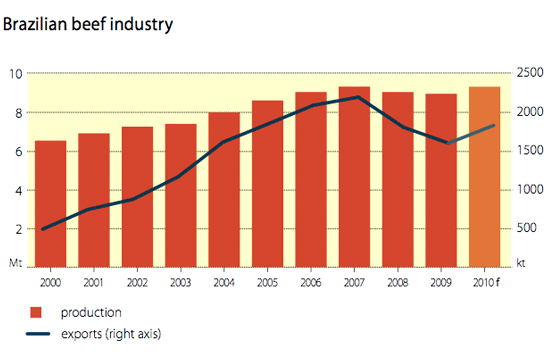 Concerns about foot-and-mouth disease (FMD) in a number of Brazil's provinces have limited the export potential of Brazilian beef. Precautionary vaccinations against FMD are regularly carried out in Brazil, although some regions, such as Santa Catarina, are widely accepted as being free of FMD. The Russian Federation is Brazil's major beef export market, with 304 000 tonnes shipped in 2009–10. Iran is Brazil's second largest export market, with imports of 159 000 tonnes in the same year. Other markets in Asia and the Middle East are significant, particularly Hong Kong and Egypt, with imports from Brazil of around 99 000 tonnes and 68 000 tonnes, respectively.

The European Union provides Brazil with its highest unit export returns for beef. However, shipments have declined markedly in recent years, from 291 000 tonnes in 2005–06 to 47 000 tonnes in 2009–10, as a result of food safety concerns. At present, Brazil is not a competitor for Australian beef in Japan, the Republic of Korea and the United States because of its FMD risk. Nevertheless, if Australia were to expand its presence in other markets, particularly in the Russian Federation, Asia and the Middle East, it would face significant competition from Brazil.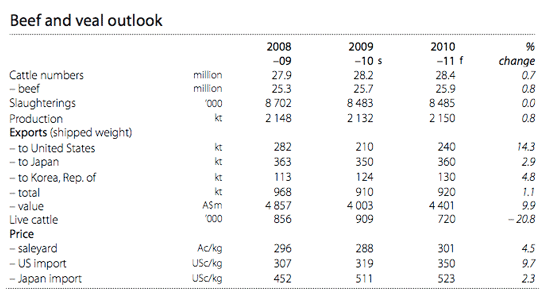 September 2010