Is Dairy Cow Fertility A Lost Cause?
A sea of change in farmers' attitudes is needed if the problem of poor fertility is to be solved in the modern dairy cow population, says Marco Winters, head of genetics for DairyCo Breeding+, in an article written for Dairy Farmer.
This message from Mr Winters reflects the fact that although daughter Fertility Index has been regularly published for bulls for over five years, there are many farmers who still disregard this index when selecting their AI sires.

This could mean they are positively breeding against good fertility.

"Every individual's breeding policy is clearly a matter of personal choice, but I'd say to any farmer who complains about poor cow fertility that he has the tools to change it within his grasp," says Mr Winters.

"Of course, it's well known that management plays a big part in a herd's overall reproductive performance, but there's no question that you can stack the odds in your favour by bringing in fertile genetics."

This argument is based on two pieces of clear and unambiguous evidence.

"The first is illustrated in a new graph which shows that as farmers have used bulls with higher and higher Predicted Transmitting Abilities (PTAs) for milk production, their PTAs for Calving Interval have got worse - in other words, they've got longer," says Mr Winters.
Graph 1 - which shows the genetics of the AI sires farmers have used over the past 20 years - clearly illustrates this effect.
Graph 1: PTA for Milk Production and Calving Interval for AI sires used on British farms over 20 years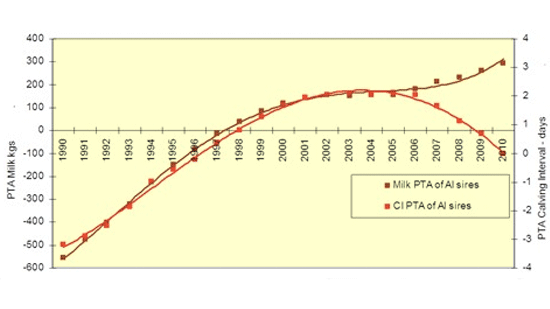 But something different clearly happens in 2005," he says. "The lines very strongly diverge to indicate that while selection has continued in favour of milk production, genetics for calving interval have started to improve.

"This is excellent news - not just because it tells us that since 2005, when Fertility Index was introduced, some farmers have been considering fertility when selecting their AI sires," he says.

"But perhaps more importantly it tells us it's possible to continue to breed for better production, without sacrificing fertility."

This is extremely encouraging for the future fertility of the UK dairy cow population as it offers the realistic hope that we can make future improvements through better breeding.

This is corroborated in the second piece of compelling evidence, which is illustrated in graph two.
Graph 2: PTA for Calving Interval of UK dairy cows and the AI sires used on British farms
This graph shows the genetics for calving interval only, firstly in the cows in the national herd (blue line); then in the choice of AI sires (red line). The cows are referred to by year of birth; the AI sires by their year of use.

As the lines go up, so the genetics for calving interval gets worse - and it's worse in the sires (and therefore future generations) than the cows.

"What's also clear is that had there been a continuation of the trends of the 1990s, poor fertility would be an even greater problem today than is actually the case," says Mr Winters. "But that's hardly surprising as we had no Fertility Index at that time and farmers were selecting completely blind.

"But the introduction of Fertility Index in 2005 is immediately reflected in farmers' choice of sires, which is followed, a year later, in the genetics of the cows.

"And if we follow the choice of AI sires through to the animals that will be born in 2010 and 2011 (which we already know from inseminations recorded), we can see that these animals will have markedly better genetics for fertility.

"Those farmers who have adopted this strategy and are paying attention to Fertility Index are to be congratulated," continues Mr Winters. "And those AI companies who have embraced this index have played an important role in the process.

"But unfortunately, anecdotal evidence tells us that some AI companies do not readily publish this information and many farmers fail to request or take note of the index.

"I would urge these people - especially if they have a fertility problem - to use Fertility Index within part of a balanced breeding strategy.

"Screen on Profitable Lifetime Index [PLI] in the first instance, and then check those fitness indexes important to your herd and ensure you are using bulls which have strengths in the right areas. For many herds, the area which will need particular improvement is fertility, and today, it's possible to find more bulls on the market than ever before which will transmit good fertility on to their daughters."
June 2011