Beef Production In Finland
In 2009 a total of 81 million kilograms of beef was produced in Finland. It was 15 million kilograms (–16 per cent) less than in 1996 but one per cent more than in 2008. Beef production has been falling rapidly so that in the past 15 years our self-sufficiency in beef has decreased from 100 per cent to 84 per cent.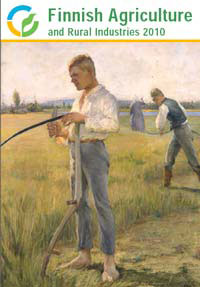 The number of slaughtered animals fell by 32 per cent in 1996–2009. The number of slaughtered bulls decreased to 145,000 (–27 per cent). Due to the decrease in milk production the number of slaughtered cows fell to 85,000 (–36 per cent).

The increase in the average slaughter weights of bovines has slowed down the decrease in beef volumes. In 2009 the average slaughter weight of bulls was 338 kg (+ 63 kg since 1996), that of cows was 275 kg (+ 45 kg) and heifers 244 kg (+ 40 kg).

The number of suckler cows has grown to 52,500 in 2009 (+ 80 per cent since 1995).

In 2009 a total of 93.5 million kg of beef was consumed. In 1995–2009 the consumption fell by three per cent. Except for two years during the period the consumption exceeded the domestic production. Consumption has shifted to poultry meat and game, as well as preserved meats and prepared meals. According to a forecast by the Gallup Food and Farm Facts, in 2010 beef consumption will be about 91.5 million kg and about 81.7 million kg will be produced.

Beef exports and imports have varied from one year to another. In 2009 beef exports totalled 1.4 million kg (two per cent of the production), which is 5.7 million kg less than in 1995. Beef imports totalled 14.8 million kg (16 per cent of the consumption), which is 9.4 million kg more than in 1995.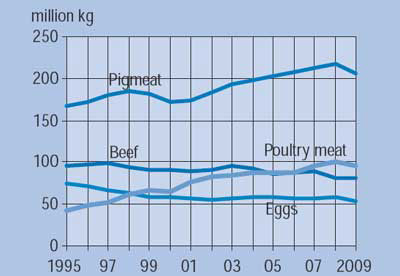 Production of beef, pigmeat, poultry meat and eggs in Finland from 1995 to 2009.
(Information Centre of the Ministry of Agriculture and Forestry)
Beef has been exported from Finland almost exlusively to Sweden and Norway, while most of the imports come from Sweden, Denmark, Brazil, Germany and, in 2009, Poland. A large share of processed meats imports come from Sweden.
Further Reading
July 2010