Livestock And Products Annual Report - Canada
The Canadian Livestock and Products annual report published by the USDA Foreign Agricultural Service reports that cattle face continued pressure from drought conditions, low sales prices, fluctuating feed costs, and soft domestic and export markets. However, if the overall economic recovery continues and no other major shocks occur, 2009-2010 should see the industry start to rebuild.

Production:
Cattle and Beef Production
The cattle herd is forecast to decline into 2010 due to continued low calf prices and a lower calf crop in 2009, a reflection of general market uncertainty. The total beef cattle herd is forecast to reach 12.8 million head at the end of 2009, down 2.7 per cent from 2008 end. Drought conditions in parts of western Canada is another factor wrecking havoc on feeding operations. Total herd numbers are projected to continue a moderate decline into 2010 but flatten out by late 2010 with economic recovery and a moderate rebound in prices fed by tightened supply.

In August of 2009, Statistics Canada published the latest cattle inventory for July 1, 2009. The data show the total beef cattle and calf inventory fell to 12.9 million head, a decline of 2.4 per cent compared to one year ago. Steer and beef heifer inventory have increased by five per cent as more cattle are kept on feeding operations in Canada.

The market and trade disruption associated with the detection of bovine spongiform encephalopathy (BSE) in Alberta in May 2003 resulted in a forced retention of the Canadian cattle herd which peaked in mid-2005. Since that time, Canadian cattle numbers have declined steadily reflecting fewer breeding cattle on fewer cattle farms.

The number of farm operations reporting beef herds for 1 January 2009 was 86,520, or a 3.8 per cent reduction from one year earlier. However, reduced North American inventories have implications for lower utilization rates in the feedlot and packing sectors. With excess capacity at both levels over the last several years, demand for feeder cattle may rise as feeders look to fill their feedlots despite weak profit margins.

Reduced cow numbers will translate into a reduced calf crop in 2010 however 2010 should show signs of rebuilding and reduced cow slaughter. There has been some shift in slaughter from the east to the west. Eastern Canadian slaughter has declined eight per cent due to reduced packing capacity and stronger feeder exports from the region. Slaughter in the Western Region has increased five per cent with reduced demand among US finishing operations.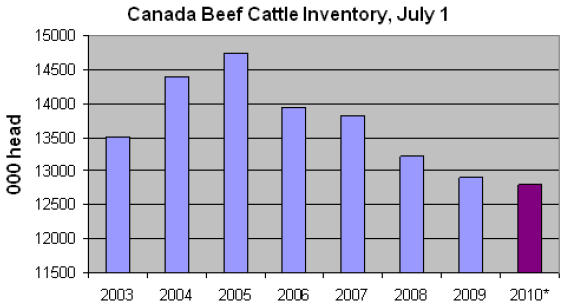 Source: Statistics Canada, *Post estimate.
Cattle Market Prices
With tighter supplies due to the smaller herd and consumption forecast for a modest return in 2009 and into 2010, fed steer prices can be expected to increase moderately into 2010.

In 2009, cattle market prices by mid-year were virtually unchanged since January, with an April 2009 high of 98.85 C$/cwt/live. As illustrated below, prices remain well below pre-BSE levels but many producers are optimistic that lower Canadian cattle inventories will lead to stronger market prices for the remainder of 2009.

While there have been some year-over-year price increases attributed to the smaller herd size, they were not as high as expected due to softer demand and larger than anticipated production. Canadian feeder prices in 2008 were pressured by higher feed grain prices which peaked in June of 2008 at C$270/MT for corn and $259/MT for barley.
Confirmed Cases of BSE
In May 2009, Canadian Food Inspection Agency (CFIA) confirmed bovine spongiform encephalopathy (BSE) in an 80-month-old dairy cow from Alberta. No part of the animal's carcase entered the human food or animal feed systems. The animal's birth farm has been identified, and an investigation is underway. The age and location of the infected animal are consistent with previous cases detected in Canada. In November 2008 CFIA confirmed a case of BSE in a seven year old dairy cow from British Columbia. These were the 15th and 16th cases detected since 2003 through the national BSE surveillance programme. No part of the animal's carcase entered the human food or animal feed systems. These cases were detected through the national BSE surveillance programme, which continues to play an important role in Canada's strategy to manage BSE.
Consumption:
Beef and Veal Consumption
Domestic per-capita beef consumption is expected to rebound moderately by late 2010 prompted by the economic recovery and soft prices. Total consumption is forecast at 1.09 MMT in 2010. Beef has been the favored red-meat for consumption given some effect of H1N1 on consumer perceptions of pork although lower pork prices coupled with shoppers seeking increased value puts downward pressure on beef prices. Total CY 2009 consumption forecast to rise 2 per cent, or 31.0 kilograms carcase weight basis per capita.

In 2008, per capita beef consumption declined to 30.32 kilograms carcase weight basis, a 4.7 per cent decrease from 31.68 kilograms in 2007 and the fifth decrease in six years.

Beef consumption increased moderately in 2003 after the BSE-related market disruption resulted in additional beef supplies on the Canadian market at reduced prices.

Detections of 16 BSE cases in Canada have not caused great concern among Canadian consumers who have shown a high degree of confidence in the country's food inspection system. Canada's cattle industry and Canadian food safety officials have been successful in reassuring beef consumers that the human health risk associated with BSE is extremely small and that Canada's feed ban policies and BSE surveillance programme help mitigate the health risk to the food supply.
Trade:
Cattle Trade
Feeder cattle exports are forecast to flatten out in 2010 following a considerable decrease projected for 2009 due to reduced demand from US feedlots and a Canadian dollar that has strengthened over the first half of 2009. In 2008 Canadian feeder cattle exports were supported by a smaller US calf crop and strong demand from US feedlots during the first half of the year. However, by the second half of 2008, US finishing operations and packers reduced purchases of Canadian cattle. The reduction coincided with COOL implementation and followed a 13 per cent increase in live cattle exports to the US; live exports are on pace for a 30 per cent decrease in 2009 to 1.12 million head.

Canadian imports of live cattle are projected in 2009 and 2010 to continue grow modestly if the Canadian dollar remains strong. A forecast of 50,000 head for 2009 and 60,000 head for 2010 remains well below the peak in 2000 of over 350,000 head.
Beef and Veal Imports
Canadian total beef and veal imports are expected to rise in 2010 to 290,000 MT as attributed to the growing strength of the Canadian dollar and ample availability from overseas suppliers. Canada has seen increased imports of beef from Australia and New Zealand during the January – June 2009 period with supplies from those countries rising 93 per cent and 69 per cent, respectively, compared to the same period of 2008. Nearly all beef imports from Oceania are frozen, with New Zealand consistently taking 50 per cent share in that market sector.

As the value of the Canadian dollar strengthened into the summer, total Canadian imports of beef and veal, carcase weight basis, advanced strongly during the first six months of 2009, and are expected to reach an estimated 270,000 MT for the year, well above the 2008 level of 230,000 MT.

Imports of beef from the US are expected to rebound modestly in 2010 due to higher disposable income for high-end fresh beef and a rebound in the food service sector, as well as a stronger Canadian dollar. Canada imported 40,747 MT of fresh beef in the January – June period, with the US supplying 96 per cent. Canada remains an attractive value for US exporters with a stronger Canadian dollar and strong demand for high-end cuts. Beef and veal import data on the accompanying PS&D are comprised of fresh and frozen beef and veal and prepared and/or preserved beef and veal, converted to carcase weight equivalents.

Imports from the US declined 8 per cent in the first half of 2009 in part due to reduced demand from the high end restaurant trade. However, the trade is picking up with the stronger Canadian dollar and slow economic recovery. In the first six months of 2009, total imports of beef from the US reached 78,101 MT CWE, on pace to reach approximately 150,000 MT CWE for the year.

Until 2008, Canadian imports of beef from the US, comprised roughly of 75 per cent fresh and frozen and 25 per cent prepared (i.e., luncheon meats, sausage, other prepared beef) had risen steadily in the post-BSE era for a number of reasons. Stronger demand for US beef in Canada was related to the changes in the slaughter and beef marketing pattern in Canada that was profoundly disrupted by BSE. Also, the stronger Canadian dollar increased the purchasing power of Canada's HRI sector, which appreciates high quality US beef (especially the higher end restaurant and hotels in Ontario).

Canada operates a tariff rate quota (TRQ) on beef but it does not apply to imports from the US, Mexico, and Chile under free trade agreement provisions. The global minimum access commitment for beef and veal is 76,409 MT within which there are two country-specific reserves: 29,600 MT reserved for imports from New Zealand and 35,000 MT reserved for imports from Australia. The balance of the TRQ, 11,809 MT (known as the MFN reserve), is reserved for imports from all other eligible suppliers, including those from New Zealand and Australia once their country-specific allocations are filled. Beef imported in excess of the minimum access commitment incur the higher "over access commitment" rate of 26.5 per cent. For the purpose of administering the beef and veal TRQ, the quota year is the calendar year. Following the detection of BSE in Alberta in 2003, the Government of Canada moved to restrict the issuances of supplementary beef imports from non-NAFTA suppliers because of beef surpluses in Canada. As a result, imports from these suppliers have been lower since that time.
Beef and Veal Exports
Total Canadian beef and veal exports are projected to increase in 2010 to 490,000 MT due to a low US herd size and further re-opening of global markets. Exports may be restricted by a higher-value Canadian dollar reflecting relatively high prices of Canadian beef in the US as three-quarters of Canadian beef exports are fresh or chilled cuts shipped to the US market and the exchange-rate acting as major determinant of exports. Any increase in Canadian beef exports is most likely to come from Canadian efforts to regain access to lost international beef markets rather than from increased exports to the US. For 2010, an increase of beef exports to Hong Kong is projected following the loosening of restrictions on Canadian beef in that market. Greater shipments to other Asian destinations such as Taiwan and Japan may be the result of ongoing market-access negotiations.

Total Canadian beef exports have not recovered to their pre-BSE level and Canadian shipments are down 6 per cent during the January – June 2009 period as compared to the same period one year earlier. The decline of Canadian beef export trade since BSE has been shared relatively equally between lower exports to the US and to the rest of the world. The US share of total Canadian beef exports has remained relatively constant, 81.5 per cent during 2008 versus 82.7 per cent of total in 2002. Among former major destinations that currently accept Canadian beef, Japan has proven to be the slowest export market to recover. Despite a 50 per cent increase between CY 2007 and CY2008 Canadian beef exports to Japan in 2008 were only one-quarter of their pre-BSE peak reflecting increased competition and the stronger Canadian dollar. As of the first six months of 2009 however, Canadian exports to Japan had increased 37 per cent over the same period a year earlier.

Other significant increases indicating an aggressive approach to opening markets include Canadian exports to Hong Kong and Taiwan, with significant increases to both during first six months of 2009 over the same period of 2008. As market access to other countries increases, the proportion of exports going to the United States is expected to decrease.

In 2008, Canadian fresh and frozen beef and veal exports totaled 493,819 MT CWE, up 8 per cent from 2007 but still 25 per cent below the 647,067 MT CWE exported during 2002, the last full calendar year of beef trade unaffected by the first detection of BSE in Canada in May 2003.

Although Canada was categorised by the World Organisation for Animal Health (OIE) in May 2007 as a Controlled Risk Country for BSE, many trading partners continue to maintain partial or complete bans on Canadian beef, mostly notably, South Korea which was the fourth most important export market for Canadian beef in 2002.
Further Reading
January 2010