Solving mycotoxin related problems in dairy cows
Although ruminants are known to be less susceptible to mycotoxins than monogastric animals, extensive literature details the negative impacts of these hazardous substances on the health, reproductive and production parameters of dairy cows.
It is true that some mycotoxins (mainly trichothecenes) are detoxified to some degree by rumen microorganisms; however, metabolites from others (i.e. zearalenone) can be equal or more toxic than the parent mycotoxin. High yielding dairy cows are fed high energy rations often containing higher levels of concentrates, and they have greater dry matter intakes. This may lower rumen pH and will increase the rate of passage of digesta through the digestive tract. Obviously, this will diminish the time available and conditions for ruminal detoxification of mycotoxins. Reproductive performance and milk yield are related parameters; therefore, getting cows bred back, maintaining a normal lactation cycle, and maintaining normal milk production are important to milk yield and the economic success of dairies. Factors disrupting reproductive cycles and factors which depress milk production have a negative economic impact. Zearalenone negatively impacts reproductive efficiency and trichothecenes adversely affect rumen microorganisms, depress feed intake and feed efficiency, and reduce milk production. Measures which counteract these mycotoxins are available as shown in the results of the field trial reported in this publication.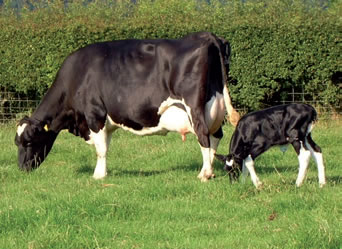 The objective of this trial was to study the effect of Mycofix® Plus on dairy cows fed naturally contaminated feed in terms of performance and health parameters. A dairy herd located in Côtes d'Armor, France, was experiencing multiple problems including reduced productive performance and poor health status which led to the mycotoxins analysis of the feed. The problems registered in the herd prior to the treatment included high incidence of diarrhea in calves, lowered feed intake, poor body condition scoring, poor fertility and high abortion rate, high mastitis incidence, high somatic cell count (SCC) in the bulk milk and reduced milk production. The analysis of the feed was performed at a certified laboratory and showed the following results:
To continue reading this article
click here