Tackling Lameness Efficiently
Preventing and managing lameness in the dairy herd was up for discussion at the Dairy Event this year, reports TheCattleSite Junior Editor, Charlotte Johnston.
The mobility of cows refers to the ability of the cow to walk with a regular gait, without factors of lameness having an adverse effect on the walking pattern.

Poor mobility in cows can cost farmers an average of £180 per case through lost milk sales, treatments and productivity according to research by DairyCo. It is estimated that 25 per cent of the national herd are lame at various levels at any one time. Simon Hopcraft, a foot trimmer in Northampton believes that the incidence of lameness is twice what it was when he started trimming feet back in 1992.

Mobility scoring allows stockmen to assess the levels of lameness of individual animals in the herd and allows for early intervention and treatment if necessary.

DairyCo have set up a mobility score card as below.
DairyCo Mobility Score
Category of score
Score
Description of cow behaviour
Suggested action
Good mobility
0
Walks with even weight bearing and rhythm on all four feed, with a flat back. Long, fluid strides possible.

No action needed.
Routine (preventative) foot trimming when/ if required.
Record mobility at next session.

Imperfect mobility
1
Steps uneven (rhythm or weight bearing) or strides shortened; affect limb or limbs not immediately identifiable.

Could benefit from routine (preventative) foot trimming when/ if required.
Further observation recommended.

Impaired mobility
2
Uneven weight bearing on a limb that is immediately identifiable and or/ obviously shortened strides (usually with an arch to the centre of the back).

Lame and likely to benefit from treatment.
Foot should be lifted to establish the cause of lameness before treatment.
Should be attended to as soon as practically possible.

Severely impaired mobility
3
Unable to walk as fast as a brisk human pace (cannot keep up with healthy herd) and signs of score 2.

Very lame.
Cow will benefit from treatment.
Cow requires urgent attention, nursing and further professional advice.
Cow should not be made to walk far and kept on a straw yard or at grass. In the most severe cases, culling may be a possible solution.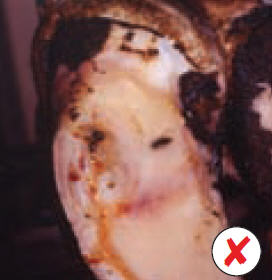 Costs of lameness
When mobility scoring, it is important to be honest, only then will you have an idea of how big the problem is." He carried on to explain that recording lesions, allows stockmen to see where the problem is and take note of any monthly trends that may arise. Canadian research has shown that mobility scoring allows ulcers to be found up to four weeks earlier, preventing the situation deteriorating.

Mr Smith, said that costs to producers of lesions such as sole ulcers, white lines abscesses, bruising and digital dermatitis included reduced milk yields, cows that lie down for longer periods of time resulting in them eating less and consequently losing body condition.

Research has also shown that fertility is reduced. Lame cows have 10 per cent lower pregnancy rate and it can take them up to 40 days to get into calf. Due to the cows being in pain, they show a less intense display of oestrus, and the stress affects fertility hormone release and interferes with ovulation.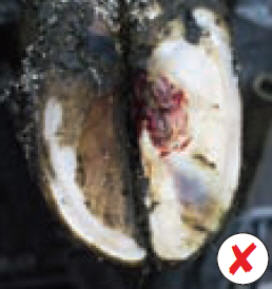 Mr Smith, recommended that stockmen should lower the threshold of acceptance regarding lameness and act when mobility scoring moves from scores 1 -2, instead of as many farmers do, treat when mobility moves from scores 2-3. By treating the lesions earlier, by simple procedures such as trimming and regular footbathing, the costs associated with lameness should be reduced.

Although extensive research hasn't been abe to find a cure for digital dermatitis, studies have proved that it can be prevented with the top 25 per cent of dairy farms in the UK only reporting 2.4 per cent of their herd being lame. Whilst the worst 25 per cent have 41.5 per cent of their lame at any one time.

Veterinary practitioner, Matt Dobbs from Westpoint Veterinary Group, went on to discuss how mobility can be improved. Measuring mobility and keeping records allows the problems to be identified. Following on from this management such as foot trimming, foot baths and modifying cows environment can prevent or control the problems. Research carried out abroad, showed that when cows feet were power washed down once a day the levels of lameness significantly reduced. Through improving hygiene, making passages wider and keeping feet clean, significant savings could be made.

Mr Dobbs said that all information should be monitored regularly to keep on top of the situation.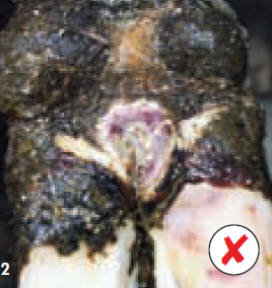 One form of digital dermititis
Footbaths
Footbathing is one of the most successful methods of reducing lameness and the development of lesions in cattle, said Mr Dobbs. Many producers may use zinc, copper sulphide and parlour washings but, he stressed, these must be used daily to be completely effective as they are not as strong as other purposefully designed products.

Using a proprietary product will reduce the regularity of footbathing. When footbathing stockmen should consider what size the foot bath should be. All four feet of the cow must be medicated above the hoof where sensitive tissues are located and so a depth of 10cm is recommended. Width would be satisfactory at one metre and length should be three metres to allow all feet to contact the solution. A footbath this size would hold 200 litres of liquid.

The location of the footbath will most likely be when cows are exiting the milking parlour, it is important to ensure it is not too close to the parlour exit, recommends Mr Dobbs so as to keep the animals moving. However, the stockman may want to also consider footbathing dry stock and young stock.

Mr Dobbs recommends two of the three metre baths, the first containing only water so as to wash the cows feet before entering the footbath.
Further Reading
| | | |
| --- | --- | --- |
| | - | Find out more information on lameness including sole ulcers and digital dermititis by clicking here. |
September 2009