The State of the US Beef Industry Through R-CALF'S Eyes
The US cattle industry is contracting and its international market competitiveness has been weakened. Producers and consumers suffer at the hands of corporate industrialisation, but R-CALF USA believe it has developed a plan that will turn this whole situation around - Adam Anson reports for TheCattleSite.
In a presentation to the Honorable Kathleen Merrigan, Deputy Secretary, United States Department of Agriculture, R-CALF USA CEO, Bill Bullard, described the nation's beef sector as an industry in immediate need of solutions.

"In order to preserve the viability of the hundreds of thousands of remaining independent US cattle producers, USDA must first restore the integrity of the US cattle industry by restoring the health of our domestic cattle herd and the safety of the beef produced from our cattle," he said.

He also spoke of the the competitiveness of the industry. Highlighting the need for enforced antitrust laws, prohibition of anticompetitive practices.
---
*
"Unless USDA makes the immediate fundamental changes that we are requesting, our cattle industry will lose its critical mass"
R-CALF USA CEO Bill Bullard
---
Using statistics to describe the state of the current US cattle industry, Bullard showed that 88 per cent of all fed cattle in the US were slaughtered by only four beef packers. 2, 170 feedlots fed approximately 90 per cent of all fed cattle in 2008, whilst the remaining 80,000 farmer feeders fed only ten per cent.

In 2008, there were 956,500 remaining total cattle operations, including 757,000 beef cattle operations, but US cattle operations have been exiting the industry at a rate of 19,000 per year since 1996. In the same year corn overtook cattle to become the largest segment of US agriculture

Bullard's presentation argued, "US cattle prices have been broken for the past two decades." Using information collated by Dr. Robert Taylor, Auburn University, he showed that cattle prices have fallen consistently in the last twenty years, whilst retail beef prices have increased over the same period.

According to a data attained by the USDA Economic Research Service, US beef retail value has soared in this last twenty years, from just under 250 cents per pound in 1989 to just under 450 cents by January 1989. This marks a 200 cent rise in retail beef value. Over the same period the net farm value of cattle rose approximately 50 cents. In the last 5 years these prices have held steady around the 2 dollar mark - where they remain today.

According to R-CALF USA the result of these inadequate prices is a shrinking industry. Using figures gathered by USDA NASS, the presentation highlighted this fact by showing the decline in beef operations from 1998 (97,000) to 2008 (757,000). The US herd size has also shrunk over this period, but the numbers fluctuate much more severely. Still, the figures show a general trend of decline, falling to a low point in 2009 at roughly 95 million head of cattle. Over the last ten years the amount of beef produced from US cattle has remained stagnant between 24 and 25 billion pounds.
Feeder Returns vs Choice Beef Prices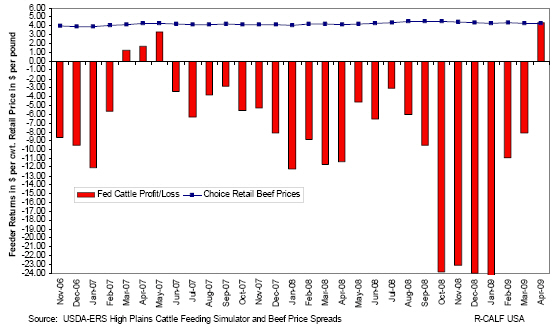 These trends have resulted in long-term, increasing losses for cattle feeders, exceeding $300 a head. Fed cattle have made a profit only four times out of the last 30 months, peaking at approximately $4.00 per cwt. Between Oct 2008 and January 2009 each month saw losses at over $22.00 per cwt. According to Bullard, losses to cattle feeders equate to higher beef packer margins and now consumers are also paying record prices for beef, peaking in August 2008 at over $4.50 per pound.

The long run value deficit in cattle and beef trade has exacerbated broken market problems, explained Bullard. The export value of US beef has been less than the import value since 1998. In 2004, due to BSE contamination of US beef stock, export figures fell away. Whilst they have recovered in each following year since, they are still well below import value at approximately $2.8 billion - compared to approximately $4.4 billion.

Cattle and beef imports are capturing domestic beef supply says Bullard. In 2007, 17 per cent of all available beef was imported. According to R-CALF USA there has been a historic underproduction of domestic beef in recent years. The increased number of cattle imports coincides with a long running price depression.

He made another stand against US import policies by claiming that they have the weakest standards against the introduction of mad cow disease by comparison with all the main globally trading companies. Traceability has been touted as key for producers to benefit from international sales and market expansion, but Bullard claims that packers, USDA and ear tag companies are forcing international trade compliance costs on all U.S. producers.

It is Bullard's belief that the U.S. cattle industry is on the same path toward corporate industrialisation that devastated the independent structure of the hog and dairy industries, turning them into highly concentrated and highly vulnerable corporate production systems.

In response to these trends R-Calf asked Agriculture Secretary Vilsack to take three initial actions to halt the ongoing contraction of the U.S. cattle industry:
Restore previously weakened U.S. disease protections by reversing the over-30-month (OTM) rule.


End the anticompetitive marketing practices of concentrated packers by initiating a rulemaking to end captive supply use.


Restore APHIS'mission to prevent –rather than manage –foreign animal diseases by ceasing all agency efforts to implement the National Animal Identification System (NAIS).
"Unless USDA makes the immediate fundamental changes that we are requesting, our cattle industry will lose its critical mass as has already happened in the U.S. dairy industry where 80 percent of U.S. dairy farms that were in operation in 1980 have exited the industry, leaving only 67,000 dairies in the entire U.S. in 2009," said Bullard.

R-CALF USA say that after the industry's "misguided trajectory" is stopped, it must then be "realigned", which will require a host of additional solutions. R-CALF USA say they have a comprehensive blueprint containing solutions designed to overcome the myriad of challenges the industry will face during its realignment phase.

June 2009