UK Organic Market Report 2009
The Soil Association has released their organic market report for 2009, which shows promising indications for the beef and dairy sectors.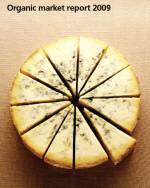 Statistics published in February and March 2009 show no let-up in the financial downturn that has gripped the UK economy since last summer. In the past year GDP has fallen by 1.9 per cent, unemployment has increased by 1.3 per cent, and retail sales have dropped by 1.8 per cent.

Against this background it is encouraging to report that sales of organic food increased by 1.7 per cent last year – in marked contrast to the prophecies of doom made by some. This growth points to some underlying resilience in the organic market, suggesting that it has the potential to grow dynamically once the economy picks up.
Milk
It has been a year of many changes in the organic dairy sector. The beginning of the year saw a continuation of the supply shortage that started in late 2005, requiring milk to be imported from mainland Europe to meet UK demand. During 2008, however, the flow of international trade was reversed. New UK supplies became available from producers who had started organic conversion in 2006.
Demand for and supply of UK organic milk, 2003–10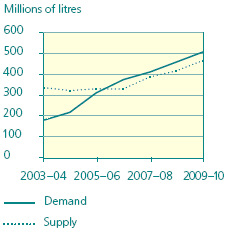 This, coupled with favourable movements in the sterling/euro exchange rate, led to organic milk being exported from the UK to cover supply shortages in mainland Europe. This turnaround highlights the perpetual difficulty of matching supply to demand when demand needs to be forecast up to three years in advance.

Volatility was not confined to supply and demand volumes, but also extended to prices. There were variations in milk prices and the cost of inputs such as feed and energy of a magnitude that has not been seen for many years. The organic farmgate milk price rose in 2008 to around 34p/l from 28p/l in 2007 and 25p/l in 2006. Unfortunately a large proportion of the increase in farmgate prices has been absorbed by higher input prices – especially feed costs, which rose to £420/tonne for a typical dairy feed.

Fortunately for dairy farmers, organic and non-organic cereal prices have fallen post-harvest in 2008. Organic concentrate feed prices have remained stubbornly high, however, ending the year at around £350/tonne. This has resulted in a resurgence of interest in farm-to-farm trading of straights and mixing rations on farm.

The relative attractiveness of organic and non-organic production is demonstrated by the amount of production that starts organic conversion in a particular year. In 2006, when organic prices rose against static non-organic ones, production capacity equivalent to 90 million additional litres of organic milk per year started conversion. This reduced to 53 million litres in 2007 as non-organic returns improved, and has now virtually stopped – only 5 million litres are starting conversion in 2008. This sends a clear signal that organic farmgate returns are not sufficient to attract the new entrants that will be required if the market continues to grow.

On the demand side organic dairy has been a bright spot within the organic market in 2008. Both milk and cheese sales increased, by 10.6 per cent and 11.5 per cent respectively, according to TNS Worldpanel data. The reason for the resilience of organic dairy in difficult trading circumstances can be attributed in part to successful communication of the nutritional differences between organic and non-organic milk. Comparatively low price premiums are also a factor, as the difference between the retail prices for organic and non-organic milk can be as little as 15 per cent.

The recent resilience of demand, combined with the fact that organic dairy products still only command a 3 per cent share of the dairy market, could provide a positive outlook for existing and future organic dairy farmers. Much will depend, however, on the duration of the current economic downturn.
Beef
Average farmgate price for organic livestock in the UK, 2006–08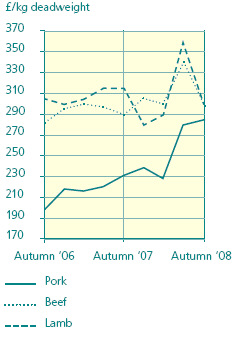 According to TNS Worldpanel data, beef accounts for 2.7 per cent of take-home sales of organic products in the UK. On the basis of this, the Soil Association estimates that multiple retail sales of organic beef were worth £41.7 million in 2008. The year began with good demand and increased prices (£3.40/kg), offering some profitability to organic beef farmers.

In July, however, prices fell to £2.80/kg as demand started to falter. By the early autumn demand was falling further as supermarket shoppers 'traded down' to cheaper cuts or away from organic altogether. One welcome impact of this was a reduction of organic beef imports practically to zero, and an increase in demand for organic cull cows to the point where the price of culls was close to that of prime beef.

By the end of the year demand had stabilised slightly, and farmgate prices were generally over £3/kg again. This improvement has continued in 2009. Total volume demand in 2008 was similar to that of 2007 for most supermarkets, although one or two retailers saw a significant overall reduction. However, for all retailers, demand for cheaper cuts such as mince and stewing beef increased at the expense of steaks and more expensive cuts. The range of cuts available, particularly online, has reduced over the year for some retailers, reflecting a reduced demand.

Supply increased modestly overall, although a number of producers, particularly of store cattle, reduced production levels as profitability was squeezed. Industry attempts to increase the uptake of dairy beef was put on hold in 2008 as demand and prices fell in the latter part of the year.

Any downturn in demand has been felt most through supermarket sales, which still account for the bulk of organic meat sales. In most cases direct sales through farmers' markets and farm shops have been hit less hard.
Further Reading
May 2009