March Milk Production Down 0.2 Per Cent
March 2009 23 major dairy states milk production dropped 0.2 per cent. Production per cow was down 6 pounds from one year ago, says this Iowa State University, Iowa Farm Outlook report.

Milk cow numbers were 15,000 more than March 08 and 4000 less than Feb 09. Feb 09 milk production was revised down by 23 million pounds, a 0.2 per cent point decrease. Milk production in the US during the first quarter of 2009 totaled 47.3 billion pounds, down 0.6 per cent from first quarter 2008. Average milk cow numbers were 11,000 higher for the quarter compared to one year ago.

First quarter NE milk production totaled 284 million pounds up 19 million pounds. Cow numbers rose 3000 to 60,000 dairy cows. Iowa March 09 milk production was off by 0.5 per cent compared to one year ago. Cow numbers were down by 1000 compared to one year ago and milk production per cow was the same as one year ago. Feb 09 Iowa cheese production was 7.5 per cent higher than one year ago and 7.3 per cent less than Jan 09.


Milk Production: Selected Dairy States, March 2009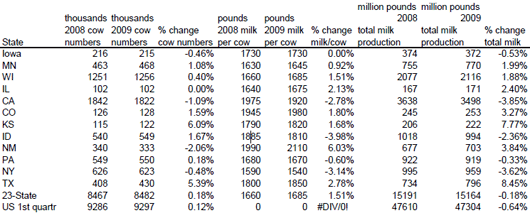 The April 2009 Livestock Slaughter reported 238,200 dairy cows were slaughtered in March. That number was down 11.7 per cent from Feb 09. USDA estimated that "23,000 more dairy cows were culled in March 2009 vs. March 2008; however, since January, the cull rate as a percentage of the total herd has dropped from 10.5 per cent to 8.9 per cent" observed a recent Valley Futures newsletter. The current reduced culling may be due to farmers waiting for their herd to go in the 7th round of CWT herd reductions.
Monthly Milk Production
23 States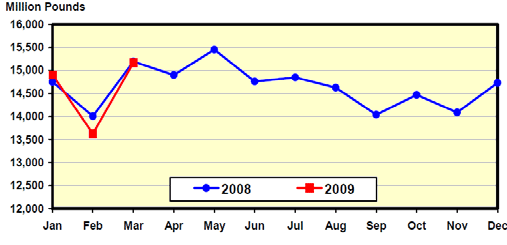 Source: Milk Production, NASS
Milk Cow Numbers - 23 Selected States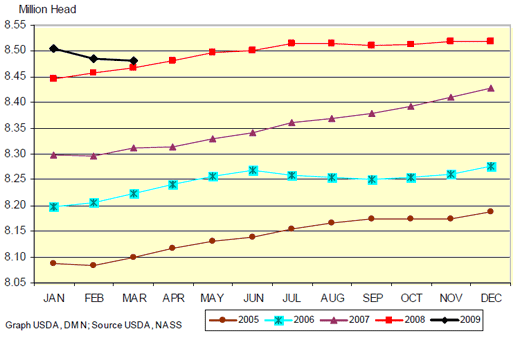 Source: Dairy Market News
Demand or Disappearance
For February total cheese output was 769 million pounds, down 2.1 per cent from one year ago and 6.7 per cent less than Jan 09. Butter production was 145 million pounds, 1 per cent less than one year ago and 16.7 per cent less than Jan 09. Fluid milk sales are improving. The CPI fell slightly for March 09 to the same as Oct 08. The dairy and related products decline was 2.4 per cent. This followed declines during the previous three months.
U.S. Total Cheese Production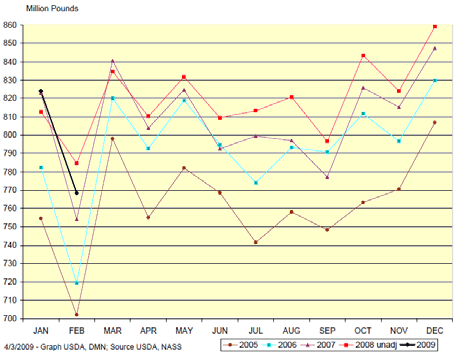 The Consumer Confidence Index for April increased to a five month high of 39.2, after the largest month over month rise since 2005. Another report indicated that 20 city home sale prices had the slowest rate of decline in February since 2007.
Analysis
April 28 CME traded barrel cheese prices were 1 cent below support price. Block prices fell 2.25 cents on the same day.

The weakest milk production has been in the west so far. California and Idaho has seen much weaker total milk production. Both AZ and ID have higher milk cow numbers but the lower milk per cow led to lower total milk produced. CA had lower cow numbers and milk per cow. Feed cost and low milk prices continue to lead to poor dairy farm financial conditions. Those herds who buy feed are at the most risk of financial stress.


Califonia Monthly Milk Production
(30-day months)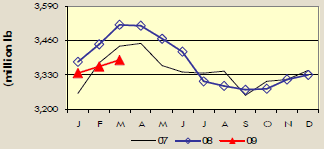 Source: Daily Dairy Report
A seventh round of herd retirements was announced by Cooperatives Working Together (CWT). However the chart below shows that effect of these retirements has been short-lived. It will be difficult to separate the effects of the current financial stress in the dairy industry and the CWT dairy herd removal.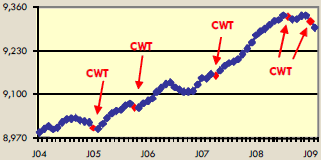 Source: Daily Dairy Report
Looking at current milk prices still offers little relief to stressed dairy operations. And the recent decline in CME cheese prices tends to lend concern for a longer period of weak milk prices than I had anticipated earlier this year. Pessimistic projections of milk prices put Class III milk prices at $11 through summer with 4th quarter Class III milk prices from $12-14.
Further Reading
May 2009