UK Beef Production on the Slide
UK beef production is expected to fall by about three per cent this year with a similar decline anticipated for 2010, writes Chris Harris, TheCattleSite senior editor.
The figures from the Agricultural and Horticultural Development Board show that the largest fall is expected in prime beef production where a four per cent fall is expected.

This will only be offset marginally by higher carcase weights.

The AHDB figures show that prime beef production is likely to fall from 685,000 tonnes last year to 665,000 tonnes this year and 645,000 tonnes in 2010.

In the year to date prime beef slaughterings are down by 3.4 per cent compared to the same period last year.

The numbers of cow beef slaughterings is also expected to decline following their peak in 2008. Numbers of cow slaughterings had risen sharply following the lifting of the ban on cattle over 30 months old into the food chain in 2005. In 2006 they rose to 117,000 and then 141,000 in 2007 hitting the high spot of 176,000 last year. This year the number of cows slaughtered is expected to fall to 170,000 and next year they will fall further to 160,000.

Overall beef production in the UK is slipping from a high point in 2007 of 882,000 tonnes, when the amount of cow beef entering the market was strong to 863,000 tonnes last year. This year the forecast is for a production of 835,000 tonnes and next year there will be a further slip to 805,000 tonnes.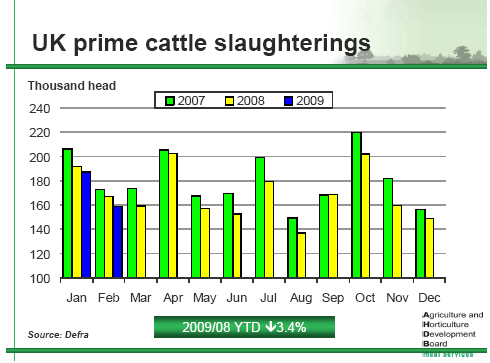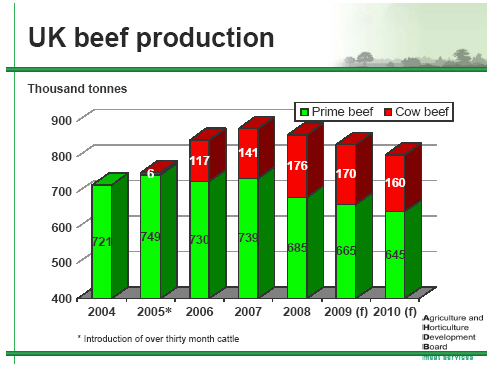 Market prices for cattle throughout 2008 showed a steady rise up to the middle of the year, when they fell slightly and only gradually regained their height at just under £2.80 per kilo deadweight. For the first part of 2009 prices have been hovering between £2.80 and £2.90 per kg, according to the AHDB meat services figures.

However, steer prices and even cull cow prices are higher in the first quarter of this year and retail prices for beef have also increased sharply to more than £8.40 per kilo.

In the autumn of last year the slide in the value of the pound against the Euro and most other currencies, affected most trade operations. In the first quarter of this year, sterling recovered a little but it is still about 12 per cent weaker than it was a year ago.

This weakness in sterling against the Euro has helped to keep export volumes stable, having risen from 46,000 tonnes in 2006 to 92,000 tonnes last year.

Beef exports for 2008 recorded a 32.4 per cent rise on the 2007 trade.

They are expected to remain at this level for 2009 and 2010, according to the forecasts given by Mark Topliff, the Economics Manager for beef with AHDB meat services to the recent Outlook 2009 conference in London.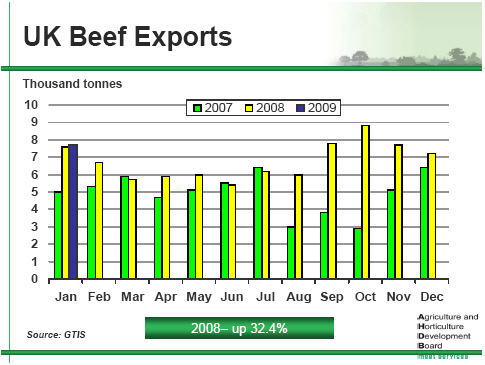 The January figures for 2009 have already shown a small increase on the January 2008 figures.

The UK is finding a growing number of destinations for its beef, with Ireland becoming a growth market taking 38 per cent of British exports.

The Netherlands is the next largest destination taking 32 per cent with France taking nine per cent, Denmark and Belgium seven per cent each Italy five per cent and Germany three per cent.

Imports of beef are expected to change only marginally this year rising from 308,000 tonnes, a 2.8 per cent increase on 2007, to 310,000 and recording a further rise to 315,000 tonnes next year.

While imports have risen across the board with a five per cent rise from the UK's largest supplier, Ireland, the most marked drop was from Brazil. In 2008 imports fell from Brazil by 75 per cent largely because of concerns over foot and mouth disease and the sanitary controls in the country. The imports from Ireland account for more than 50 per cent of the Irish total exports with shipments in 2008 valued at more than €800 million.

The UK breeding herd continues to decline with a drop of more than three per cent recorded in the December 2008 livestock survey. Within this, beef cows were three per cent lower while dairy cow numbers fell by almost four per cent.

Where the British dairy herd was 2.339 million in 2000, it is expected to have fallen to 1.856 million by the end of this year and fall again to 1.805 million next year. For the beef herd the slide is not quite so dramatic, but the decline is from 1.783 million in 2000 to 1.580 million this year and 1.540 million next year.

The decline is starting to hit the availability of finished cattle. A further decline of around two per cent is anticipated for December 2009.
April 2009