Dairy: World Markets and Trade
Global dairy prices have been falling sharply in recent weeks as evidenced by the graph below tracking nonfat dry milk (NDM) prices, says a USDA Foreign Agricultural Service report.

The unprecedented run-up in prices of dairy commodities experienced during the past two years and the ongoing financial crisis have taken a toll on import demand. In Asia, the fear of melamine contaminated dairy products has been another unwelcome factor undermining consumer confidence in dairy products. On the supply side, a rebound in New Zealand milk production and to a lesser extent Australian output is ensuring the availability of ample exportable supplies. At present, import purchasers face uncertain domestic market conditions and have cut back sharply on purchases to only meet immediate needs. Consequently, prices are likely to remain weak until there are visible signs of economic recovery.
International Prices of Nonfat Dry Milk
1979-2008 Spring and Fall Price, EU FOB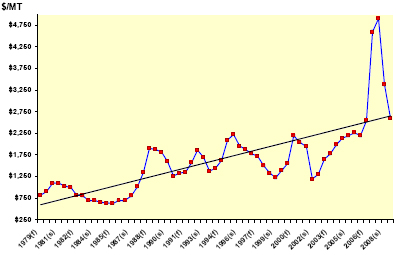 Summary
After a euphoric period of record prices and booming exports, dairy exporters now face weak and uncertain markets characterized by a dizzying drop in global dairy product prices. Nonfat dry milk which was priced at over $5,000/MT in mid-2007 can now be purchased for less than $2,000/MT – a startling decline of over 60 percent in less than a year. There are number of factors at play; world economic growth is forecast for 2009 at 1-2 percent down from the 3.8% registered during the 2005-2007 period, available exportable supplies in the EU, United States, and New Zealand have increased markedly, and import demand has faltered in the face of high retail prices and economic uncertainty. In the Asian region, the melamine issue in China, which continues to reverberate, has been a further factor undermining demand as consumers question the integrity of a broad range of products containing dairy ingredients.

The decline in dairy prices is not surprising. In late 2007, there were signs of weakness in dairy markets; however, as the severity of the drought in New Zealand became evident in late 2007, global dairy prices received a reprieve and prices strengthened into early 2008. As the 2008 season unfolded, spurred by high milk prices, it became evident that global milk output was set to rebound. In the United States, despite rising input costs, milk output is set to grow by over 2 percent. In New Zealand, milk production for the ongoing 2008/09 season is expected to jump by 8 percent while Australian milk production is likely to experience a more modest 2 percent rise. In the EU, milk production is expected to grow by 1 percent, although there are substantial supplies of butter and NDM weighing on the market.

The dairy market outlook for 2009 will largely hinge on the financial health of major economies. At present, prospects are not favorable with the United States, the EU, and Japan expected to be in a recession which will likely slow consumption rates for dairy products. In the critical Asian markets, China's GDP is expected to grow by 8 percent, while growth in other East Asian nations such as Korea and Taiwan is forecast to be below 3 percent. Emerging markets are expected to fare poorly with growth anticipated to drop from a three year average of 7.3 percent to 4.8 percent. For the U.S., this means dairy exports are anticipated to experience a drop in volume and value with U.S. dairy exports currently forecast to fall sharply from $4.0 billion in FY 2008 to $3.1 billion in FY 2009. There are, however, some positive signs. The U.S. dollar is expected to remain relatively weak providing a competitive boost to exports while oil prices – which have dropped dramatically from a high of nearly $150/barrel to around $40/barrel – are likely to have a stimulative impact on the economy.
Milk Production: 2009 Forecast Summary
Summary of Major Milk Producer Forecasts for CY 2009
(1,000 Metric Tons)
2007
2008
2009 (Dec. forecast)
Change 09-08
Argentina
9,550
10,100
10,400
3%
Australia
9,870
9,500
9,700
2%
Brazil
26,750
28,890
30,335
5%
EU-27
132,604
134,000
134,400
0%
New Zealand
15,640
15,141
16,350
8%
United States
84,188
86,026
86,817
1%
Note: Australia July-June, New Zealand June-May year
Argentina's milk production is forecast to expand by 3 percent based on lower expected feed prices in 2009 and – despite some dry conditions in early 2008 – a dairy herd that appears to be in good condition. Government policies, in an attempt to curb inflationary pressures, continue to play a prominent role in dictating dairy product prices destined for the domestic and export market. In early 2008, these Government price guidelines in effect translated to an export tax of around 27.5 percent. For 2009, most of the growth in milk output will likely boost exports of whole milk powder (WMP) which are forecast to jump by 22 percent to reach 150,000 tons.
Brazilian Milk Production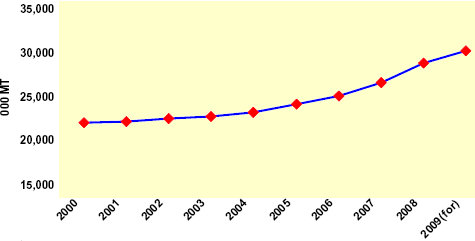 During the past several years, Brazil, which has normally been regarded as a net importer and more recently a minor exporter, is starting to become a notable competitor particularly in whole milk powder markets. Milk production in Brazil, has been expanding at an average of over 6 percent annually over the 2006-2008 period and is set to grow by 5 percent in 2009. Exports in 2009 are also anticipated to expand due to flat domestic consumption and increased competitiveness resulting from the expected further devaluation of the Brazilian currency.

In Australia, milk production is forecast to post a modest rebound following years of declining output due to drought. Widespread rains early in the 2008/09 (July-June) season improved pasture conditions in key dairy areas; however, the availability of livestock and constraints imposed by low irrigation water levels continue to limit expansion. Consequently, for the longer term, Australian milk production is expected to increase at an incremental rate.
Australian Milk Production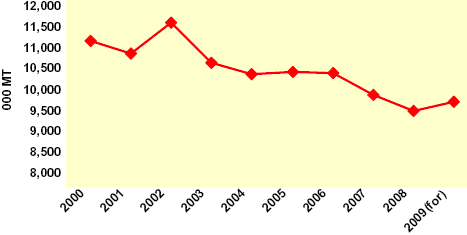 Due to an increase in EU-27 milk production quotas, milk output is estimated to increase by 1 percent in 2008; however, declining milk prices and lower returns from exports are forecast to result only in marginal milk production growth for 2009. The CAP Reform Health Check, which has been agreed to by the EU Agriculture ministers, essentially lays out a transition path to the complete removal of EU milk quotas by April 1, 2015. In essence, the agreement calls for a 1 percent annual increase between 2009/10 and 2013/14; however, Italy has been given an exemption to frontload its quota by 5 percent. The reforms also include adjustments to the milk fat coefficients used to measure the EU's milk production relative to milk fat content that may further increase the milk quotas for certain countries. There were no reforms affecting the intervention systems which are set to open on March 1, 2009 for the purchase of 30,000 tons of butter and 109,000 tons of skimmed milk powder (SMP) at € 2,464/ton ($3,280/ton) and € 1,747/ton ($2,325/ton), respectively. The EU, however, has decided to open the Private Storage Aid scheme, two months early in January 1, 2009 to support domestic butter prices.

Following a year of drought during which milk output fell by 3 percent, New Zealand milk production for the 2008/09 (June-May) season is set to rebound by 8 percent. Exports are also expected to recover with cheese and NDM shipments forecast to grow by 15 percent and WMP by 13 percent. Further, the high returns earned in the dairy sector and record payouts of last year NZ$7.90/kg milk solids (US $ 5.37/kg ms) have led to the addition of 330 new farms - 165,000 head – coming on line in late 2008. For 2009, Fonterra has announced a projected drop of 24 percent in the milk price payout to NZ $6.00/kg ms.

In the United States, a sharp drop in product prices – particularly for NDM - is expected to lower 2009 milk prices while feed prices, although lower, are forecast to remain relatively high resulting in a milk feed price ratio below 2. This is below the estimated 2008 level and well under the 2005-2007 average of 2.9. In principle, this signals a difficult period ahead for dairy farmers with limited prospects for expansion. Nevertheless, milk production is expected to grow by nearly 1 percent or 794,000 tons as higher milk per cow is forecast to offset lower cow numbers.
U.S. Milk Production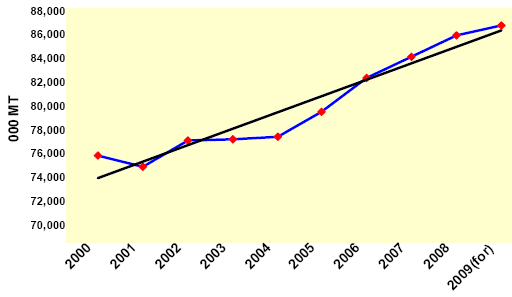 Cheese:
In Oceania, 2009 cheese production in New Zealand is forecast to jump by nearly 10 percent following a drought impacted year during which cheese output only grew by 2 percent. As a result, New Zealand cheese exports are expected to grow by nearly 15 percent. In 2008 (June-May), the leading export destinations for New Zealand cheese were Japan (22 percent), Australia (18 percent) and South Korea. Cheese exports to the United States have dropped sharply by 37 percent to reach 18,700 tons – well below the average of 39,000 tons registered during 2003-2005 (June-May) period - and continues a downward trend that began in 2006. Australian cheese production for 2009 (July-June) is expected to rebound by nearly 2 percent following a 4 percent decline in 2008. Given stagnant domestic consumption, the additional production will contribute to a forecast rise of 2 percent in cheese exports.

In the EU-27, cheese consumption is expected to grow absorbing most of the production increase anticipated for 2009. Exports and imports are not expected to change; however, lower cheese prices due to building inventories and competition from Oceania and the United States are pressuring processors and exporters to request the reintroduction of export subsidies. The EU authorities have so far declined.

U.S. cheese production for 2009 is slated to expand by two percent as an increasing volume of milk shifts from the production of butter and NDM to cheese. Cheese consumption is forecast to decline marginally in 2008 but is anticipated to grow by over 3 percent in 2009. For 2008, U.S. cheese exports are expected to hit a record 125,000 tons but are forecast to drop sharply by 19 percent in 2009 due to lower global demand. U.S. imports of cheese had been sliding since 2003, but recently the decline accelerated – in 2008 imports of cheese are expected to fall by 16 percent to 165,000 tons. This trend is forecast to continue in 2009 with imports of cheese likely to drop further by 3 percent.
U.S. Imports of Cheese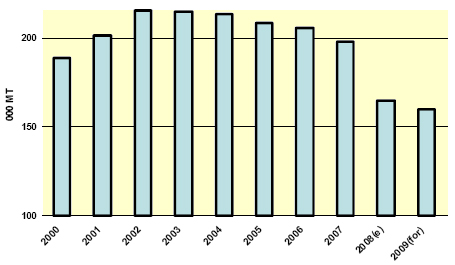 Butter
Among selected countries, butter exports are expected to grow marginally in 2009 with the biggest increases forecast for the EU-27, up 35,000 tons and the sharpest decline forecast for the U.S, down 45,000 tons. New Zealand butter exports are forecast to rise by 4 percent but Australian exports are expected to only grow slightly.

For 2008, butter production in the United States is expected to jump by 6.5 percent to 751,000 tons as strong demand from domestic and export markets drove prices up. For 2009, production is forecast to fall by 1.5 percent as sagging export demand and lower domestic prices will channel more fluid milk towards the production of cheese. Exports for 2009 are pegged at 60,000 tons – down 43 percent from 2008.
Skimmed Milk Powder
Total SMP exports among selected countries in 2009 are expected to remain steady as a decline in forecast U.S. shipments will likely be offset by increases in EU and Oceania exports. Nevertheless, the future outlook is difficult to define as markets are rocked by the rapid devaluation of a broad range of commodities and consumers react to an uncertain economic future. At present, import demand is weak as evidenced by the rapid fall in global prices which earlier in the year were in the range of $3,400/ton and are now around the $2,000/ton FOB level. Further, U.S. exports of SMP have fallen sharply and the Commodity Credit Corporation is accumulating surplus stocks currently expected to total around 43,000 tons in 2008 and nearly 70,000 tons in 2009. These purchases will effectively set a minimum global price until available exportable supplies from Oceania are exhausted.

A critical factor affecting prices in early 2009 will be the exchange rate between the U.S. dollar and the Euro. As the graph below demonstrates, SMP prices held steady and increased for most of the first half of the year due to the drought conditions that developed in New Zealand. However, starting in July, EU FOB prices plummeted as a combination of growing (EU) domestic stockpiles drove domestic prices down and the U.S. dollar started to strengthen. The U.S. dollar appreciated from around $1.57/Euro in July 2008 to $1.27/Euro in November 2008 giving EU SMP a significant competitive boost. However, the weakening of the U.S. dollar in early December has meant that EU SMP FOB prices have risen by nearly $200/ton in the space of a few weeks. If the U.S. dollar remains weak, then global prices will likely strengthen once EU intervention stores open on March 1, 2009 as the support price of € 1,746.9 currently equates to around $2,450/ton. This will effectively sideline the EU from export markets until the intervention limit of 109,000 tons is reached or the open period expires at end-August, 2009. This scenario, however, assumes that the EU does not invoke export subsidies which would effectively drive prices down. At present, neither the EU nor the United States is subsidizing dairy exports.
EU, US, and Oceania NDM FOB Price
US Dollars/MT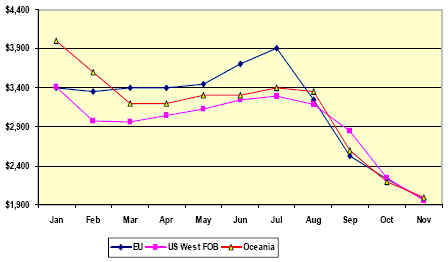 Summary of Major SMP Exporter Forecasts for 2009
(Million Metric Tons)
2006
2007
2008(est.)
2009(for.)
Australia
189
175
120
123
EU-27
88
201
180
200
New Zealand
243
327
251
288
United States
287
255
400
350
TOTAL
807
958
951
961
Note: Australia July-June, New Zealand June-May year
Among other countries, exports of NDM are not expected to change significantly in 2009 with exports from India expected to remain steady while Ukrainian shipments are anticipated to decline. In 2007, India imposed a ban on exports of milk powder; however, it appears that this may have had a limited impact since Indian processors may have simply switched production from SMP to casein. From 2006 to 2007, Indian exports of casein jumped dramatically by over 100 percent to reach over 15,000 tons. The Indian dairy sector appears to be flourishing in international markets as exports of dairy products have been growing rapidly from around $50 million in 2003 to over $299 million in 2007. Further, while U.S. dairy exports to India have been blocked due to a restrictive sanitary protocol, Indian dairy exports to the U.S. have boomed. This despite having a dairy sector characterized as having low productivity, lacking an effective quality and hygiene control system and a cold chain infrastructure (GAIN Report IN8131). In 2007, the United States was the leading destination for Indian dairy exports. U.S. trade data indicates that imports of casein from India have grown rapidly from 4,700 tons in 2003 to 12,300 tons in 2007 valued at $84 million. For 2008, this import value is expected to exceed $100 million.

Global imports of NDM are forecast for 2009 to remain relatively strong with little change expected for such major markets as Algeria and Mexico which are heavily dependent on imports of NDM to ensure the operation of subsidized food nutrition programs. Indonesian purchases are forecast to grow by 8 percent on the basis on continued economic growth, stable political outlook, and growing preference by consumers for dairy products.
February 2009