Animal Welfare Guidelines for Beef Cattle Farms
There is a significant body of national and EU legislation enacted relating to animal welfare. Here, the Irish Agriculture and Food Development Authority explain how compliance with welfare legislation is an important requirement for the National Beef Assurance Scheme and the Code of Good Farming Practice.

Introduction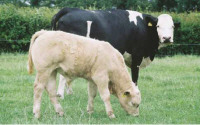 Many retailers and major food service chains will only purchase Irish beef that originates from assured farms. Animal welfare standards are a prominent feature of Irish and European farm assurance schemes.

The welfare of farm animals is an increasingly important issue for the Irish beef industry. Research studies conducted by the Teagasc National Food Centre (NFC) and various other researchers indicate that both domestic and foreign consumers of Irish beef are becoming more conscious of animal welfare issues. The NFC studies suggest that consumers may also view high animal welfare standards as an indicator that food is safe, healthier and of high quality. Thus, perception of animal welfare standards can affect the consumers' image of Irish beef.

Good animal welfare has always being an integral part of the husbandry content of Irish livestock production systems.

Irish beef production systems are grass based and extensive by nature. Nonetheless, there are aspects of beef cattle production such as the housing of animals during winter, castration, dehorning, transport, handling and slaughter that have the potential to cause stress, pain and injury if not managed correctly.

This booklet briefly summarises key animal welfare standards and best farm assurance practice that producers should be able to demonstrate to other stakeholders in the food chain.

The appendices detail sources of relevant animal welfare legislation.
The Five Freedoms Concept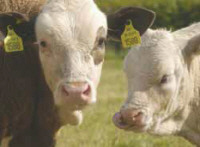 In essence an animal welfare Code of Practice is the application of sensible and sensitive animal husbandry practices to the livestock present on the farm. Animal welfare is concerned with the well-being of the animal and complements the objectives of beef assurance schemes that demonstrate the production of safe beef to consumers and food chain stakeholders

Welfare codes usually list five basic freedoms that should underpin on farm animal welfare best practice. The five freedoms are listed below and provides an overall concept of animal welfare.

One - freedom from thirst, hunger and malnutrition Two - freedom from discomfort Three - freedom from pain, injury and disease Four - freedom to express normal patterns of behaviour Five - freedom from fear and distress
Welfare Guidelines
Stockman
Stockmanship is a key factor in animal welfare. The stockman should have training and or the necessary experience in cattle husbandry. Without competent diligent stockmanship animal welfare will be compromised.

A competent stockman should be able to:
recognise whether or not the animals are in good health (signs of ill health include: loss of appetite, listlessness, cessation of cudding, discharge from eyes or nostrils, dribbling, persistent coughing, lameness, swollen joints, scouring, rapid loss of condition or emaciation, excessive scratching, abnormal skin conditions or other unusual conditions)
understand the significance of a change in the behaviour of the animals
know when veterinary treatment is required
implement a planned herd health programme (e.g. preventative treatments, vaccination programmes if necessary)
implement appropriate animal feeding and grassland management programmes
recognise if the general environment (indoors or outdoors) is adequate for the promotion of good health and welfare
have management skills appropriate to the scale and technical requirements of the production system
handle animals with care, avoiding undue stress
A good stockman will individually inspect all animals at least once per day. Particular categories of animals will require more frequent inspection e.g. young calves or cows in late pregnancy etc. Formal training and/or experience working under the supervision of a competent stockman is strongly recommended where inexperienced persons are taking over responsibility for animal husbandry on a farm.

Common veterinary type activities (e.g. dosing, injecting, castration) should not be attempted without direct appropriate supervision until the stockman is competent to carry out these activities. People already involved in animal management/husbandry should keep themselves updated in technological developments that can prevent or correct welfare problems.
Husbandry Practices and Relevant Records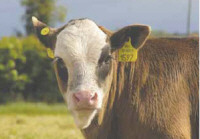 Husbandry practices should minimise stress to the animal. All farms must have proper animal handling facilities including pens and a crush where an animal can be restrained with minimum risk of injury or stress. Good handling facilities also benefit the safety of the personnel involved in handling the animals.

Early and frequent contact with competent persons particularly at an early age greatly reduces the stress to animals subsequently. Cattle are gregarious animals who will socialise with each other, when young calves are individually penned they should be able to see other calves.

Many assurance schemes and regulatory requirements require that key records are maintained on the farm. Some of these records help producers to demonstrate that best practice has been implemented in relation to animal health and welfare standards. Key records include:
Bovine Herd Register
Animal Remedies Record
Animal Feed Records
Some assurance schemes also require producers to maintain a Planned Herd Health Programme Checklist. Some retailer assurance schemes also require producers to document recommended operating procedures in the event of an emergency (fire in a livestock shed, operational guidelines for replacement stockperson in the event that the stockperson is away)
Further Reading
November 2008