Meat and Meat Products: A Global Market Analysis
World food prices have fallen farther and faster than can be explained through production gains alone. Underlying the price slide are other important factors, including the financial crisis, the halving of world crude oil prices. Here, the FAO Food Outlook market analysis describes how meat and meat products are performing on this global stage.

Prices
Prices strength showed signs of abating in September 2008
The FAO International Price Index of Meat Products has risen steadily from January to August 2008, when it stood 18 percent above its August 2007 level, reflecting a combination of firm demand and globally stagnant supplies. However, in September, prices started to show signs of weakening, amidst large supplies from increasing animal slaughtering and a faltering demand, particularly in developed countries. The September decline in prices is expected to continue over the coming months.

World meat prices have generally followed an upward trend between January and August 2008, as rising feed costs and firm consumer demand pushed the product prices upwards. The rise was particularly marked in the case of poultry meat and, to a smaller extent, ovine, bovine and pigmeat. Based on their indices, poultry meat prices have risen by 21 percent since January, followed by bovine, ovine meat and pigmeat, which have gained 19 percent, 11 percent and 9 percent respectively, over the same period.

Price prospects in the coming months point downwards. On the one hand, the sharp fall in cereal and meal prices are likely to translate in falling feed costs for livestock producers, particularly favouring the intensive poultry and pigmeat production systems. On the other, prospects for a general economic slowdown may have strong depressing effects on consumer meat demand and favour a shift of consumers towards poultry, which remains the cheapest source of meat protein. In the short term, the economic slowdown and cheaper feedstuffs could well result in an accelerating fall in meat prices.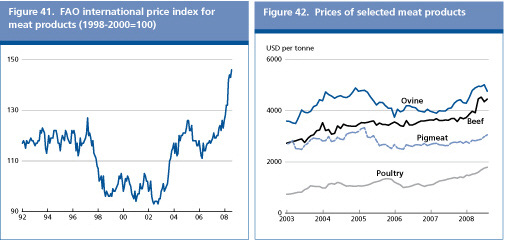 World meat markets at a glance

2007

2008

estim.

2009

f'cast

Change: 2009 over 2008

million tonnes

%

WORLD BALANCE

Production

278.5

277.8

280.7

1.0

Bovine meat

66.4

65.1

65.4

0.4

Poultry meat

89.0

92.3

94.6

2.5

Pigmeat

103.6

100.8

101.0

0.2

Ovine meat

14.0

14.1

14.2

0.5

Trade

22.8

23.9

24.5

2.5

Bovine meat

7.0

6.7

7.0

4.3

Poultry

9.6

10.3

10.6

2.3

Pigmeat

5.1

5.7

5.8

1.5

Ovine meat

0.9

0.8

0.8

-1.7

SUPPLY AND DEMAND INDICATORS

Per caput food consumption:

World

kg/year

42.1

41.6

41.6

-0.1

Developed

kg/year

82.3

82.3

82.0

-0.3

Developing

kg/year

31.2

30.6

30.8

0.5

2006

2007

2008

Change:
Jan-Sept 2008

over


Jan-Sept 2007

FAO Meat Price Index

%

(1998-2000=100)

114

120

137*

15
Bovine Meat
Bovine meat output to remain close to last year's level, sustained by output gains in developing countries
Global bovine meat production in 2009 is forecast around 65.4milliontonnes, a slight recovery from 2008. The developing countries are expected to record a 1percent increase in production, offsetting a likely reduction in the developed countries. Production is expected to rise in Africa and Central America, reflecting larger slaughter numbers, often associated with a shift of grazing land into crop cultivated areas.

In North America, output is foreseen to decrease somewhat in the UnitedStates and drop sharply in Canada where cattle numbers have been cut significantly as herd liquidation there began in early 2008. Among countries in Latin America and the Caribbean, Mexico's bovine meat production may increase by 1percent in 2009, reflecting larger opening cattle inventories, and by 2percent in Brazil, sustained by a strong domestic market and improved export prospects; the European Union recently recognized some major beef producing Brazilian states as free of FMD and lifted the import ban that had been in place since 2005. A decline of 1percent is anticipated for Argentinean beef output, where cattle stocks have been downsized, along with a conversion of pastures into croplands. In Asia, slow growth in beef production is expected to continue, largely to meet the needs of an expanding population. Throughout 2008, production in China was impacted by natural disasters and animal disease outbreaks which left cattle producers reluctant to expand their herds.

Barring any recurrence of such problems in 2009, production may rebound somewhat in the country, although not sufficiently to ensure full recovery to 2007 levels. Little change in production is currently forecast in the rest of the region. In Europe, high beef and dairy prices in the European Union have helped maintain cattle herds, which is expected to keep production in 2009 close to 2008 level. A decrease in bovine meat output of 1 and 3percent respectively is anticipated in Australiaand New Zealand, as producers retain cows and heifers to rebuild herds.

Trade in bovine meat is forecast to expand by 4percent to 7million tonnes in 2009. The rise is predominately due to the repeal of the European Union's beef import ban on regions of Brazil, which is expected to foster increased deliveries to member countries. Chilean and Russian Federation beef imports are also set to increase, as domestic demand remains strong while the local industry does not appear in a position to expand production in the short term. With the current economic slowdown in Western economies, consumers are expected to alter their meat consumption patterns towards less expensive products. Therefore, Canada, Mexico and the United States may step up their purchases from abroad, particularly of low-valued beef cut from Australia and NewZealand. Little change in imports is currently anticipated for the other major beef meat destinations.

On the export side, shipments from the United States are expected to increase in 2009, although the recent currency appreciation may limit the expansion.Sales from Argentina are forecast to decline for the third consecutive year, reflecting the depressing effects of the tax on beef exports in place since 2007. Uruguay's exports look set to continue to benefit from Argentina's beef export restrictions and expand by 7percent in 2009. However, this is still subject to much uncertainty, as the unconfirmed resurgence of FMD in the country's herds may hamper such prospects. Beef exports from Canada and Mexico are likely to be affected by new labelling requirements in the United States, their major beef market, applicable as of September 2008.The implications of the Country of Origins Labelling (COOL) requirements in the United States remain unclear, especially as meat processors may resort to multiple country labels to avoid the additional expense of segregating livestock.
November 2008