UK Cattle Disease Quarterly Surveillance Report (to March 2008)
By the Veterinary Laboratories Agency - This report monitors trends in the major endemic cattle diseases. The report is compiled using disease data gathered by the network of VLA Regional Laboratories.

Quarterly Surveillance Report Cattle: Vol.2
January – March, 2008
Published July 2008

Contents

OVERVIEW (here)

Introduction to GB Report

Overview

Factors influencing disease and submission rates

Notifiable diseases reported

Farm visit investigations

Chemical food safety incidents

Endemic disease surveillance

Unusual and new diseases

Syndromic disease surveillance – bovine respiratory disease

Scanning surveillance for new and emerging disease

OVERVIEW
Factors influencing disease and submission rates
Many factors combine to influence the patterns of disease in cattle, and the ability to detect changes to these patterns through scanning and active surveillance. They include:
Cattle Demographics
The cattle population in Great Britain (GB) consists of approximately 8,998,377 animals on 1st June 2007 (RADAR), making it one of the largest in Europe, and which for many disease risk constitutes a single epidemiological unit. The map below shows its distribution and the location of the diagnostic laboratories (present in all areas of GB with a large cattle population) that contribute data to this report.
Figure 1 Distribution of Cattle and location of Diagnostic Centres in Great Britain (2007)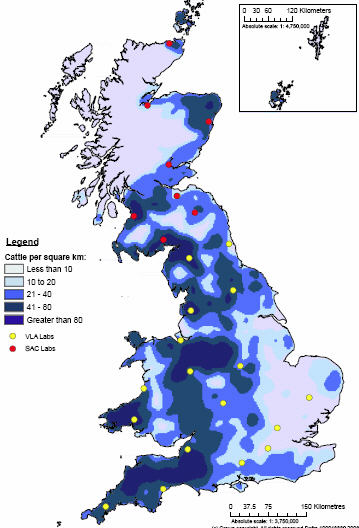 Weather and climate
GB temperatures in January and February were from 1 to 3 oC above average for the month and in March were close to average in northern GB and slightly above average in southern GB. There was significantly greater than usual rainfall throughout GB in January and March (the maximum deviation was 250% of normal rainfall in northern England and southern Scotland in January). There was less (68% of normal) rainfall in England and Wales but more in Scotland (150% of normal) in February.

These conditions would have been conducive for more than usual grass growth over the period and also for survival of parasite larvae on pastures.
Economics of the cattle industries
In general when profit margins of the industries are acceptable there is a greater tendency to use disease diagnosis in the health management of the individual herd. The effectiveness of the scanning surveillance carried out by the SAC and VLA can therefore be considered to be influenced to some extent by the financial health of the industry.
Dairy sector
After the steep rise in milk prices in the second half of 2007, the price in the first quarter of 2008 has remained approximately 10 pence per litre higher than during the same period last year. This is mainly due to a general shortage of milk in the EU. Figures for the quota year that ended in March 2008 suggest that UK milk output was 268.9 million litres below the previous quota year. Although the milk price has increased, the costs of production have also increased markedly, mainly due to feed, fuel and fertilizer costs. This has again seen margins squeezed particularly in this quarter compared to the latter half of 2007, with a potential effect on veterinary involvement and surveillance submissions.

However, individual cow and replacement values remain high with prices up to twice as high as 12 months ago. A higher proportion of inseminations have been with dairy semen. These conditions may prompt increased veterinary involvement to improve cow longevity and retention rates within herds.

Beef sector

Beef prices have risen steadily since the beginning of January, from 218 pence/kilo to 250 pence/kilo, by March, for finished cattle. This compares favourably with the price twelve months ago, which was 209 pence/kilo.

However, as with the dairy herd, increases in fuel, feed and fertiliser costs have increased the cost of production. Beef industry representatives predict that few beef enterprises will make a profit this year. This is occurring against a likely reduction in beef availability because of restrictions on import of beef from Brazil, and a shortfall in supply from Ireland - the biggest importer of beef to the U.K. It has been estimated that UK beef farmers are currently meeting 80% of UK demand. Despite this the gradual decline in suckler cow numbers, and of the UK beef industry in general, is predicted to continue.

Other influences

Animal movement restrictions in place from August 2007 to minimise Bluetongue spread have led to difficulties in trading. This has varied across the country as the zones have changed, but there is no evidence to suggest that this has significantly affected submissions to VLA/SAC.

In the first (January-March) quarter of 2008, there were 9,696 bovine diagnostic submissions and 850 carcases for necropsy (Table 1). The number of submissions was greater than in the first quarter of 2007, particularly in Scotland, but is close to the number of 2004-2006, suggesting that the reduction seen last year is, in some respects, temporary.
Table 1
Cattle Diagnostic Submissions in England and Wales and Scotland
January – March
Quarter
Total Submissions
Number of Carcases
E&W
Scotland
Total
E&W
Scotland
Total
2008
7,231
2,465
9,696
613
237
850
2007
7,007
1,930
8,937
641
223
864
2006
7,593
2,367
9,960
648
236
884
2005
7,366
2,370
9,736
527
193
720
2004
7,854
2,067
9,921
611
180
791
Further Reading
July 2008