UK Cattle Disease Quarterly Surveillance Report (to December 2007)
By the Veterinary Laboratories Agency - This report monitors trends in the major endemic cattle diseases. The report is compiled using disease data gathered by the network of VLA Regional Laboratories.

Quarterly Surveillance Report Cattle: Vol.1
October – December, 2007
Published March 2008

Contents

OVERVIEW (here)

Introduction to GB Report

Overview

Factors influencing disease and submission rates

Notifiable diseases reported

Farm visit investigations

Food Safety Incidents

Endemic disease surveillance

Unusual and new diseases

Syndromic disease surveillance – bovine mastitis in 2007

Scanning surveillance for new and emerging disease

OVERVIEW
Factors influencing disease and submission rates
Many factors combine to influence the patterns of disease in cattle, and the ability to detect changes to these patterns through scanning and active surveillance. They include:

Cattle Demographics
On the first of December, 2007, the total number cattle in Great Britain was 8,862,297(5,565,820 in England; 1,894,960 in Scotland; 1,171,425 in Wales and 230,092 animals with no recorded location). This is a reduction on the figure of 9.3 million cattle recorded in the census of June 2006 but the GB cattle population remains one of the largest in Europe. The map below shows the distribution of the GB cattle population, which for many disease risks constitutes a single epidemiological unit, and the location of the diagnostic laboratories (present in all areas of GB with a large cattle population) that contribute data to this report.
Figure 1
Distribution of Cattle and location of Diagnostic Centres in Great Britain (2006)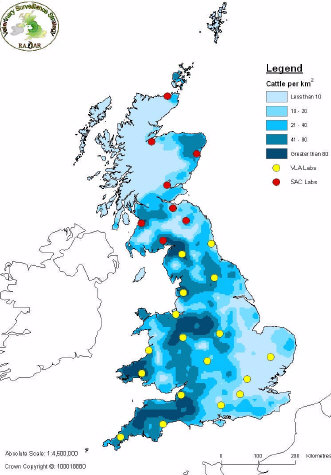 Weather and climate
All of GB experienced less than average rainfall in October (40-60%) and, to a lesser extent, in November (70-90%). Rainfall was close to the monthly average in December. Temperatures in all three months were above their monthly average, most significantly in November. This would have resulted in extended grass growth and the ability to keep cattle at grass for longer than usual – welcome to most farmers who experienced difficult conditions for grass preservation in the summer.
Rainfall

Temperature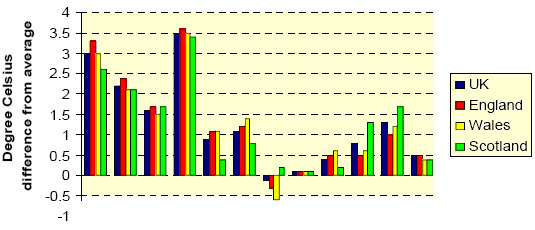 Economics of the cattle industries
Dairy sector
Average UK milk price has increased from 18.03p/l in January 2007 to 27.27p/l in November 2007 due to low world production and booming demand for dairy products from Asia. This coincided with a shortage of milk for processing in the UK.


Cull cow values peaked this year at 66p/kg, suffered significant reductions due to notifiable disease outbreaks in the autumn and have rallied back to 65p/kg at the end of the year.


Heifer replacement costs on average have increased to approximately £1000 with many quality heifers reaching prices in excess of £1500.


In contrast, wheat, soya and fertiliser costs have all increased by about £100 per tonne in 2007 and the cost of fuel has also risen. These are examples of the increased direct and indirect costs of feeding dairy cows. The high wheat and soya prices have led to the inclusion of more unusual by products in the rations.


Overall in UK dairy cow numbers have remained stable in 2007, with many of the cows sold at dispersal being purchased as part of herd expansion plans.


The price of dairy cross calves has remained low.
Anecdotal reports in Scotland suggest that the increased cost of replacement heifers has lead to increased numbers of imports of dairy heifers from mainland Europe, bringing with it the risk of imported notifiable disease. However, Bluetongue severely hampered import from Europe in the autumn in most of the UK, contributing to the high cow prices.

Overall, the increased financial returns to dairy producers has lead to increased opportunities for veterinary involvement, particularly with regard to improving cow longevity in the herd. Herd expansion with the absence of quota restrictions has lead to older cows being retained in herds for longer in some instances, with a consequent increased requirement for veterinary care. Both these factors should have lead to increased opportunities for passive disease surveillance.
Beef sector
The outbreak of Foot and Mouth Disease in Surrey meant closure of markets throughout England and Wales, and cattle finishers were unable to replace their store cattle while there were movement restrictions.


Prices of finished animals dropped in the summer but returned to about 210-220 p per kg deadweight by the end of 2007. The value of store cattle averaged £450 per head in the fourth quarter of 2007, higher than the previous quarter (£417) and close to that of the fourth quarter of 2006 (£445).
The number of beef suckler cows, declined by 2% in 2007 year compared to 2006.

Increasing costs of production, which includes the price of diesel, fertilizer (which has doubled since this time last year) and of concentrates, will have to be met by additional market income, if businesses are to survive.

Suckler cow numbers in Scotland continue to fall to a total of 470,000 at the last census in 2007. The most recent QMS figures indicate an average of £150 loss per head if subsidy payments are not taken into account.

To reduce fixed costs, out wintering of suckler cows is being practiced by some producers and this has the potential to cause changes in disease trends and presentations, particularly of parasitic disease.
Other influences
Although restrictions associated with the outbreaks of foot and mouth disease were lifted during the fourth quarter, the disruption and uncertainty associated with this incident, and the incursion of bluetongue into eastern England, continued to have a negative effect on disease surveillance during the latter part of 2007.
Submissions for scanning surveillance
In England and Wales, in the fourth (October-December) quarter of 2007, there were 9,930 bovine submissions and 590 carcases for necropsy. The former is very similar to the number received in 2006, while the number of carcases increased by 20%. This increases probably reflects increased economic confidence in the dairy sector.

The overall reduction in submissions since 2002 reflects the reduction in the size of the national herd and the number of cattle farms in this period. It may have also been influenced by an increase in the number of bovine samples submitted to commercial laboratories. The increase in the number of carcases received from 2002 to 2007 is probably due to awareness of veterinary surgeons and farmers of the value of information provided by necropsy information, and also possibly by the subsidy for this service and the increasing cost of other means fo carcase disposal.
Further Reading
March 2008