US Beef and Dairy Cattle Outlook Report - October 2007
By U.S.D.A., Economic Research Service - This article is an extract from the October 2007: Livestock, Dairy and Poultry Outlook Report, highlighting Global Cattle Industry data.
Dairy:
Increased milk production is expected for the balance of this year and into 2008. The increase will pressure prices. Domestic demand, though strong, is unlikely to take up the increased production and exports are falling off, most likely due to high prices.
Special section:
Rising Prices Reflect Growing Demands for Whey Products Traditionally, whey was a by product cheese producers wished to dispose of as quickly and cheaply as possible. That is not the case today, as whey products are used as ingredients in many food products and are a significant source of protein for energy foods and drinks.
Beef/cattle:
Spotty wheat pasture is developing slowly, setting up the potential for downward pressure on feeder cattle prices this fall. Relatively heavy cow slaughter has characterized the late-summer/early-fall period, ahead of the normal seasonal increase in cow culling in fall and winter.
Dairy
Higher Milk Production Will Likely Drop Prices from 2007 Highs

A higher number of milk cows and slightly higher output per cow will translate into higher milk production for both 2007 and 2008. Production is projected to total 185.4 billion pounds this year and rise to 190.2 billion in 2008. The higher milk production reported in the October Milk Production report is a result of both higher cow numbers and increased production per animal. The number of milk cows has steadily increased from the second quarter of 2006 and is forecast to continue to increase into 2008. The milk-feed price ratio has climbed since the first quarter of 2007 and is expected to average above 3 through early 2008. A ratio above 3 is thought to signal expansion. For most producers, having more cows has been profitable. Dairy herd replacement heifer prices have been high, and a resumption of heifer imports from Canada could add modestly to the national herd by early 2008. Estimated production per cow rose to 1,621 pounds by September 2007, 31 pounds above September 2006. Weather in most of the country has been good for milk production.

Higher retail prices for fluid milk have dampened consumption. Consequently, more milk will be allocated to manufacturing uses. As of August, cheese production is up 2 percent from 2006 and stocks, which had been above 2006 levels for the first 5 months of 2007, have remained below 2006 levels from June through August. Over the next few months, higher milk production could lead to higher cheese production and put downward pressure on cheese prices. Cheese prices are expected to average $1.705 to $1.715 per pound in 2007 and decline to an average $1.590 to $1.680 per pound in 2008. Butter production and inventories have been above those of 2006 levels throughout 2007. Although domestic demand has been strong and there have been some exports, higher production, both for the balance of this year and into the next, will pressure prices. The average butter price is expected to settle at between $1.330 and $1.360 per pound this year. Next year, prices are forecast to average $1.195 to $1.315 per pound.

The nonfat dry milk (NDM) and whey markets have also volatile this year. The October Dairy Products report placed August NDM inventories 152 percent above year-earlier stocks. Inventories were up 12 percent from July's already-high stocks. Global supplies of NDM remain tight and export demand will likely keep prices relatively firm compared with historical levels. However, NDM prices have declined from recent highs. NDM prices are projected to average between $1.725 and $1.745 per pound in 2007 and then trend lower, to average $1.645 to $1.715 in 2008. In the same report, stocks of whey for human use were reported 56 percent above August 2006. Whey prices have declined precipitously from their record highs in April. Exports are lagging, probably due to high prices. Production of dry products will likely remain above year-earlier levels and continue to pressure prices for the remainder of 2007 and into 2008. The whey price is projected to average 59.0 to 60.0 cents per pound in 2007, declining to 43.0 to 46.0 cents per pound next year.

The forecast decline in dairy product prices will translate into lower milk prices in 2008. Although higher than in recent years, prices should begin to decline from 2007 highs. The Class IV price is projected to average $18.50 to $18.70 per cwt in 2007 and to decline to $17.35 to $18.35 in 2008. Likewise, the Class III price is expected to average $17.65 to $17.75 per cwt this year and to soften to $15.60 to $16.50 per cwt next year. The all milk price will average $18.95 to $19.05 per cwt in 2007. A decline to between $17.70 and $18.60 per cwt is expected in 2008.
Special
Whey Price Decline Follows a Short Run-Up

Whey products have emerged in recent years as an important source of added returns for the U.S. dairy industry. Historically, butter and nonfat dry milk production have held the spotlight as "joint-products," the result of a single inputmultiple output production process, one of the core concepts of the economic analysis of firms. The emergence of whey products has highlighted another such production process in the U.S. dairy industry—the production of cheese and whey.

Milk (or a combination of milk and cream) is the main input for cheese production. Milk is composed mainly of water (about 87 percent by weight) and fat (milkfat) and nonfat solids (proteins and other nonfat components). Active bacterial cultures that produce acid and rennet (enzymes) are introduced into the milk. This causes the main protein in milk, casein, to coagulate into curds. The curds trap most of the milkfat and many of the minerals that were in the milk. Removal of the curd leaves whey, a watery substance that contains lactose (milk sugar) and traces of the other fat and nonfat solids that were in the milk.

The "take-home" point at this stage is two products, curds and whey, which emerge from the cheese production process. Here we note the distinction between joint products and byproducts, alternative categories of products from multiple output processes. A joint product is one that has significant economic value; byproducts have minimal economic value. Curd has economic value—after further processing it becomes the many varieties of cheese that are available for consumption. But, what about the whey?

Traditionally, most of the whey, with the exception of the amount used for animal feed, was a byproduct cheese producers wished to dispose of as quickly and as cheaply as possible. That is not so today, as whey products are used as ingredients in many food products and are a significant source of protein for energy foods and drinks. This economic value of whey has moved it into the joint product category. However, further whey processing can be costly and in some instances whey is still viewed as a byproduct. A short survey of recent historical trends in production, sales, and prices illustrates the growing importance of whey as a source of income for the U.S. dairy industry.

The fact that dry whey for human consumption has recently become a joint product is reflected in the graphs. Even though production and sales levels do not show any considerable trend from 2002 to 2007, the behavior of prices is completely different. From first-quarter 2004 to second-quarter 2007, prices increased from 18 to 77 cents per pound, or almost 428 percent.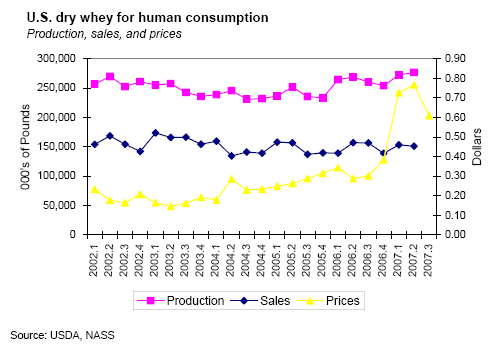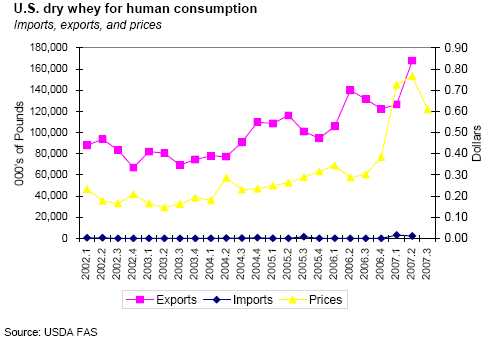 The rapid price rise is essentially demand driven—the development of new uses for whey and whey products and increased demands in international markets have been key factors. Moreover, there have been wide movements in U.S. imports and exports. Exports increased dramatically during 2006, as the effects of milk production problems in Australia and dairy policy changes in the European Union were felt in international markets.

However, adjustments in the whey markets are occurring. Exports have declined since June, stock holdings are building, and prices have declined from earlier peaks. In fact, according to USDA, the price for the third quarter of 2007 was 61 cents; this represents a 21-percent decrease from the previous quarter. Moreover, USDA forecasts the price of whey at between 40 and 42 cents for the fourth quarter of 2007, and between 59 and 60 cents for the year.
Beef/Cattle
Weather Remains a Cattle Market Factor

The 2007 corn crop is proceeding well ahead of both last year at this time and the 5- year average. On October 14, more than half of the crop had already been harvested, compared with 41 percent for the 5-year average at this point in the crop year. The soybean harvest is about equal with last year and the 5-year average. Forecast prices for feedstuffs are increased. On October 12, USDA raised the 2007/08 corn price to $2.90-$3.50 per bushel and the price for soybean meal to $220-250 per ton.

Wheat pasture is developing slowly, which, along with high wheat prices, is discouraging some wheat grazing out of fear that grazing now and this winter will damage the wheat crop next year. This could provide a dampening effect on feeder cattle prices for the fall and early winter. Pasture and hay are in relatively short supply in the Southeastern United States, which will play a role in culling rates for that area this fall. A similar situation exists in the Western States. Despite recent dryness and the slow start to wheat grazing, the Plains States, where most cattle are found, are in relatively good shape.

To the extent that higher corn prices and reduced wheat pasture exert downward pressure on feeder cattle prices, feedlot placements could become more attractive. Cattle feeders have maintained their marketings at a pace that has prevented a significant buildup of overly finished cattle in feedlots. Despite this, and somewhat contrary to what are ordinarily modest seasonal price increases into the winter, but that are fully consistent with last year's early fall price peak, fed cattle are selling for prices in the low $90s.

Lower prices for fed cattle will provide some limited relief for packers who have been sandwiched between declining wholesale prices and strong fed cattle prices. Another bright spot for packers is the continued high value of byproducts, which have been challenging record levels for most of the last year. Dressed weights, nearing periods in which they have reached seasonal peaks in past years, are at record levels. Weekly average dressed weights of all cattle slaughtered, Federally Inspected (F.I.), reached 793 pounds the week of October 6, 2007, which compares with 791 pounds the week of October 8, 2006. One result of the heavier weights is that beef production in early October has been running ahead of last year on both a weekly basis and a cumulative basis.

Retail beef prices were $4.23 per pound in September 2007—almost 8 percent above September 2006—pushing third-quarter prices to $4.18 per pound. Fourthquarter retail prices are expected to be somewhat lower, at $4.08 per pound, reflecting abundant supplies of pork and poultry and increased demand for these competing meats that typically accompanies the holiday season.

Live Import Forecast Increased on U.S. Regulation Changes, Strong Canadian Currency Value, and Declining Condition of Mexican Pastures

Forecasts of U.S. imports of cattle were raised to 2.4 million head in both 2007 and 2008. U.S. imports of Mexican cattle through August have been lower than a year ago because conditions encouraged producers to keep calves on pasture. However, September's lower precipitation should lead to declining pasture and forage conditions in Mexico and support increased exports. U.S. cattle imports from Mexico should ultimately be near last year's levels as winter closes in.

Imports from Canada are forecast higher for three main reasons. The strength of the Canadian dollar that has magnified the effects of already-higher feed costs, and problems in the Canadian slaughter sector have likely resulted in lowered value for finished cattle. As a result, 2007 imports of Canadian feeder cattle into the United States have been above year-earlier levels. In addition, the USDA announced a change in import regulations for cattle born before March 1, 1999, and for beef from animals over 30 months of age. Animals and products that are able to be age verified and meet USDA safety guidelines are scheduled to be allowed U.S. entry beginning on November 19, 2007. The new regulations are in line with the international standards of the OIE, the organization that sets world guidelines for animal health. The policy most directly impacts Canadian cull cows. U.S. imports of Canadian cull beef and dairy cows are expected resume in late 2007, and to increase in 2008.
Expected Implementation of Minimum Risk Region Rule Supports Increase of U.S. Beef Import Forecast; Exports Also Expected Higher
Lower U.S. cow slaughter due to cyclically modest cow inventories is expected to increase the demand for imported beef. U.S. imports of beef are expected to increase due to revised regulations of products from animals over 30 months old, allowing a resumption of imports of Canadian beef from older animals to cross the border. In addition, U.S. imports of Australian beef should also increase in the coming months as drought conditions have led to record-high slaughter levels there. This is expected to lead to U.S. imports of 790 million for the fourth quarter 2007. The 2008 forecast of U.S. imports of beef is increased to 3.42 billion pounds.

U.S. exports of beef were forecast to increase to 1.45 billion pounds in 2007 and 1.88 billion pounds in 2008. Again, due to foreign exchange rates favorable to U.S. products, U.S. exports to Canada are well above last year's figures. U.S. exports to Japan continue to increase at a gradual but steady pace. However U.S. exports of beef to Korea are constrained due to ongoing trade restrictions put in place by Korea.
Further Information
To read the full article please click here
October 2007