Choco… a lot - ice cream cravers choices revealed worldwide
With so many new food tastes and culinary experiences arising around the world, it is good to know that some tastes can still be depended on – good old chocolate ice cream.
New data shows that 113 out of 121 countries searched for chocolate ice cream more than any other flavor in the past year. In a single month 97,790 people across the world wondered where they could buy their favorite flavor which equates to over 1,173,480 a year for those cravers of ice cream.
Number two on the list was vanilla ice cream with more than one million searches (1,070,520) per year, followed closely by mint chocolate chip ice cream flavor at 713,520 searches per year.
The data was revealed in a recent story from Lexham Insurance, a leading insurance provider, who provide cover for ice cream vans across the UK.
In terms of global opinions, here's the top ten favorite ice cream flavors across the world:
● Chocolate ice cream = 97,790 monthly searches
● Vanilla ice cream = 89,210 monthly searches
● Mint Chocolate Chip ice cream = 59,460 monthly searches
● Cookie Dough ice cream = 54,850 monthly searches
● Buttered Pecan ice cream = 51,350 monthly searches
● Neapolitan ice cream = 45,280 monthly searches
● Banana ice cream = 35, 310 monthly searches
● Toffee ice cream = 30,810 monthly searches
● Caramel ice cream = 30,310 monthly searches
● Dark chocolate ice cream = 28,360 monthly searches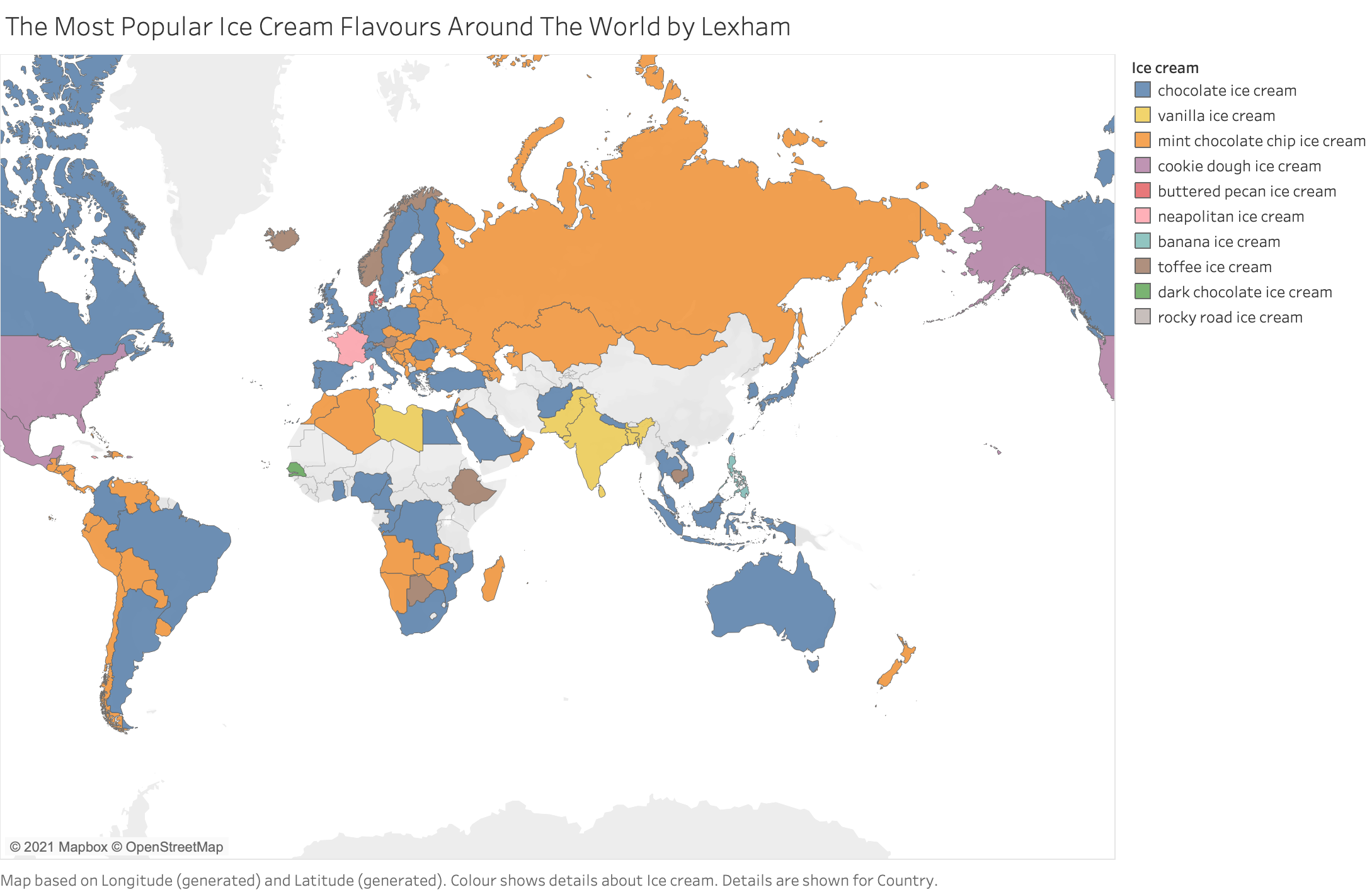 America's favorite flavor is cookie dough, with 40,500 monthly searches, while over in Europe, Germany is also in love with cookie dough with 480 monthly searches as ice cream lovers track down the sweet dessert.
Over the border in France they (perhaps unsurprisingly) love neapolitan with 500 monthly searches for the colorful ice cream.
Showcasing the difference in tastes, number one in Iceland was toffee flavored ice cream, which was also the favourite flavour of Austria and Bahrain in the Middle East.
If we take a trip to the Far East the picture changes again, seemingly people in the Philippines love banana flavored ice cream with 6,600 searches a month and residents of Singapore love rocky road with 1,000 people a month wanting a taste.
When ice cream cravings strike, it's good to know we all like different tastes, but back in the UK, the top UK ice cream flavors are:
● Chocolate ice cream = 6600 monthly searches
● Buttered Pecan ice cream = 6600 monthly searches
● Neapolitan ice cream = 6600 monthly searches
● Vanilla ice cream = 5400 monthly searches
● Dark chocolate ice cream = 5400 monthly searches
● Toffee ice cream = 4400 monthly searches
● Mint Chocolate Chip ice cream = 3600 monthly searches
● Pistachio ice cream = 3600 monthly searches
● White chocolate ice cream = 2400 monthly searches
● Rocky road ice cream = 2400 monthly searches
TheCattleSite News Desk