Register now for the 2021 Farm Business Innovation Show
The Farm Business Innovation Show is back and promises to deliver incredible features and exclusive opportunities to help diversify and boost your revenue.
The Farm Business Innovation Show is finally opening its doors, in person, at the NEC Birmingham on 10 and 11 November this year. This is the UK's most innovative event for farmers & landowners to make more money from their land. So if you are interested in finding new ways to do so, we highly recommend that you attend!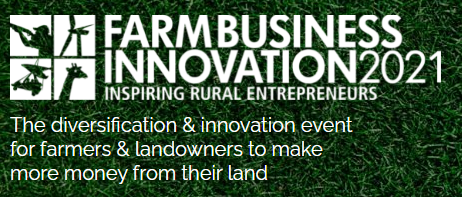 What can you expect to see at the show?
With over 1,000 exhibitors, 500 seminars, and an incredible schedule of keynote speakers and panel discussions, the show will tackle everything from boosting your offering to marketing and new business strategies. These invaluable insights will be delivered by some of the biggest names and associations within the industry, including the likes of CLA, Rural Solutions and Clear Sky Safari Tents.
Our speakers will be discussing the latest trends within the industry, sharing their experiences and tips and tricks, and answering your burning questions now that we can finally meet face-to-face, creating unparalleled networking opportunities.
You can discover the latest technology from the sector, receive exclusive offers on products from leading suppliers such as Canopy & Stars and the Rare Breeds Survival Trust, and demo the next generation solutions which are paving the way for the future of the industry. You do not want to miss this event!
Getting ready for the growth of the industry after COVID-19
After the tough year and a half that the industry has faced, our Business Growth Hub has been designed to provide specific products and services to help you prepare for the resurgence of the industry after COVID-19. Many rural businesses have utilised this time to upgrade and perfect their customer offering, which is why we are bringing you masterclasses, videos, news articles, podcasts and much more to support you along this journey. If you are interested in getting involved in the Business Growth Hub, contact [email protected] for more information!
Sustainability Matters
With sustainability becoming increasingly important to members of the general public, rural entrepreneurs are looking for new ways in which they can be sustainable. This is why we are introducing Green Route this year, recognising the sector's most sustainable suppliers who will be showcasing their amazing products and services, providing you with everything you need to go green ready for 2022. If you would like to be involved in our Green Route and showcase your sustainable product or service, then get in touch with [email protected] for more information!
We are so excited to finally be meeting in person again and to bring you a show bigger and better than ever before. Make sure you don't miss out and register for your free tickets now!