CME update: cattle futures ease on pressure from feed prices
US live cattle futures settled lower on 28 April, as higher grain prices push producers to sell cattle early to avoid feed costs, creating a surplus of market-ready cattle.
Reuters reports that CME's June live cattle futures settled 0.400 cent lower at 115.450 cents per pound, while the nearby April futures added 0.575 cent to 118.95.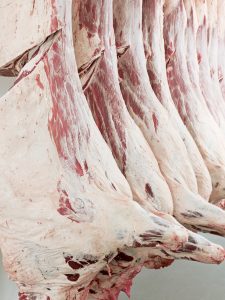 "We've got to wait about three weeks, before the offerings from the feedlots begin to slow down," said Rich Nelson, chief strategist at Allendale Inc.
Cash cattle prices continue to stagnate around $119 per cwt. in parts of Kansas, Oklahoma and Texas, according to the US Department of Agriculture.
"Compared to where wholesale beef is at, it's a clear disappointment," said Nelson. "There's a massive disconnect between wholesale beef and cash cattle."
Choice beef cut-outs climbed $1.51 per cwt. to $292.50, while select cuts slipped $0.53 to $279.00, according to the USDA.
Feeder cattle futures dipped, with CME August feeders losing 1.175 cents to close at 148.90 cents per pound.
Read more about this story here.
Source: Reuters