Strong Finish to First Half for US Beef Exports
US - US pork and beef exports were above year-ago levels in both volume and value in June, according to data released by USDA and compiled by the US Meat Export Federation (USMEF). Strong results in South Korea and Taiwan pushed beef export value to the fourth-highest total on record.

Beef exports were up 3 percent year-over-year in June to 118,677 mt. Export value ($724.8 million) increased just 1 percent from a year ago but trailed only August 2018, May 2019 and October 2018 for the highest monthly value total on record. First-half beef exports were down 2 percent from a year ago in volume (648,765 mt) but held steady with last year's record value pace at $4.03 billion.
Beef export value per head of fed slaughter averaged $325.10 in June, up 4 percent from a year ago, while first-half export value averaged $312.06 per head, down 2 percent. June exports accounted for 15.4 percent of total US beef production, up nearly a full percentage point from last year.
For muscle cuts only, exports accounted for 12.7 percent of production – up from 12.3 percent last year and the highest ratio since July 2018. For the first half of the year, exports accounted for 14.2 percent of total production and 11.6 percent for muscle cuts – down from 14.6 percent and 11.9 percent, respectively, a year ago.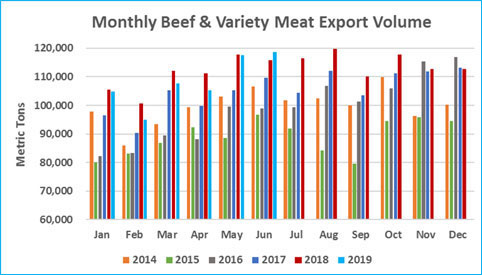 Korea, Taiwan lead beef export growth; variety meat exports rebound
Last year South Korea surpassed Mexico as the second-largest destination for US beef exports, and in 2019 it continues to close the gap on leading market Japan. Exports to Korea remained on a record pace in June, increasing 2 percent from a year ago to 25,118 mt (a post-BSE high), while value climbed 15 percent to a record $178.3 million These results pushed first-half exports to Korea 12 percent above last year in volume (126,879 mt) and 15 percent higher in value ($921.8 million). US beef now accounts for 61 percent of Korea's chilled beef imports, up from 57 percent in the first half of last year, with chilled volume increasing 7 percent to 26,537 mt.
Beef exports to Taiwan finished a very strong second quarter with June shipments reaching a new monthly high of 6,654 mt, up 40 percent from a year ago, valued at $58 million (up 46 percent and the second-highest on record). First-half exports to Taiwan were 16 percent above last year's record pace in volume (31,132 mt) and 11 percent higher in value ($276.2 million).
As noted above, US beef faces a significant tariff rate disadvantage in leading market Japan, where June exports totaled 29,794 mt, down 4 percent year-over-year, while value was down 7 percent to $179 million.
For the first half of the year, exports to Japan were 1 percent below last year's pace in both volume (157,839 mt) and value (just over $1 billion). Japan's imports of Australian beef have also slowed this year, but first-half imports from Canada, New Zealand and Mexico were up 83 percent, 37 percent and 28 percent, respectively, offering a glimpse of the upside opportunities in the market when tariff rates are lowered.
"It is very gratifying to see US beef posting such remarkable gains in Korea and Taiwan, and the $2 billion milestone could even be in play this year for Korea," USMEF President and CEO Dan Halstrom said.
"Exports to Japan can definitely achieve a similar trajectory if the US can get back on a level playing field with our competitors, so we are encouraged by the progress in the US-Japan trade negotiations."
Other first-half highlights for US beef include:
June exports of beef variety meat were the largest in two years at 28,195 mt, up 13 percent from a year ago, while value also climbed 13 percent to $79.7 million. This pushed first-half export volume even with last year at 158,466 mt while value increased 8 percent to $472.9 million. The large June increase was primarily driven by growth in Japan and Indonesia, while exports to Egypt rebounded from last year's low levels.


Though first-half export volume to Mexico was down 3 percent year-over-year to 114,541 mt, export value increased 6 percent to $539.1 million. Beef muscle cut exports to Mexico slowed in June but still finished the first half up 4 percent from a year ago in volume (70,333 mt) and 8 percent in value ($422 million).


US beef muscle cuts also have a rapidly growing presence in Colombia, where first-half muscle cut exports increased 29 percent from a year ago in volume (1,919 mt) and 36 percent in value ($11.2 million). Combined beef and beef variety meat exports to Colombia were up 1 percent from a year ago to 2,991 mt while value climbed 27 percent to $12.4 million. First-half exports to Chile, the top South American market for US beef, increased 5 percent to 6,144 mt, with value up 7 percent to $34.3 million.


The Dominican Republic has emerged as a strong growth market for US beef, with first-half exports soaring 57 percent above last year's record pace in volume (4,524 mt) and gaining 47 percent in value to $36.2 million.


Fueled by strong growth in the Philippines and Indonesia, first-half exports to the ASEAN region increased 23 percent from a year ago in volume (26,711 mt) and 8 percent in value ($132.4 million).
TheCattleSite News Desk