Planning safe grazing key to beating parasites at grass
For cattle farmers, this spring brings a range of challenges.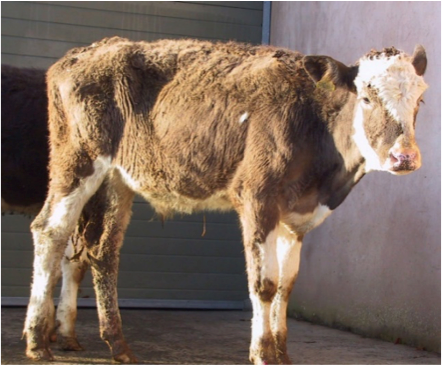 Farmers need to choose between a strategic or targeted parasite control plan for first year grazing cattle. A strategic plan entails grazing management, or early season strategic treatments, whereas a targeted approach requires regular monitoring and treatment interventions only where needed.
Housed yearling cattle not dosed in the autumn may be at risk from type II ostertagiosis towards the end of the housing period. The disease presents as intermittent diarrhoea with loss of appetite and rapid loss of body weight. Ms. Bowden warns: "Mortality in affected cattle can be high unless animals are treated promptly with a wormer effective against both inhibited and developing larval stages of the gutworm parasite, Ostertagia ostertagi, such as IVOMEC® Classic injection or Pour On, or EPRINEX® Pour On"
Prevention of parasitic gastroenteritis (PGE) in growing cattle is best achieved sustainably by annual rotational grazing (cattle/sheep/crop). On farms where this is not achievable it is recommended that before using pastures, famers assess the parasite risk and when aftermaths will become available. When making these decisions COWS3 recommends that each farm considers four points:
1. Production objectives for the type(s) of cattle present
2. Farm infrastructure, particularly in relation to pastures, grazing management and handling facilities
3. The presence of helminth parasites, such as lungworm and liver fluke
4. The efficacy of available wormers
Ms Bowden says: "To be effective, strategic anthelmintic treatments need to begin early in the grazing season, at or around turnout, to ensure worm eggs do not add to pasture contamination. Thereafter, aim to minimise pasture contamination up to mid-July, by which time the over-wintered population should have declined to insignificant levels. Treated cattle should remain set-stocked, or be moved to safe pastures when these become available."
For a targeted approach farmers should ensure that effective, regular monitoring and diagnostic procedures are in place to act promptly if required.
Farmers are encouraged to start planning lungworm prevention strategies with their animal health advisor now, particularly on farms with a previous history of lungworm.
Lungworm disease typically occurs in grazing cattle from July onwards. On farms where the disease is endemic, vaccination should be considered as an integral part of the overall worm control strategy. Otherwise, worm control strategies should balance the need for exposure to the parasite to build immunity with prevention of disease. Farmers should discuss this with their vet or animal health adviser.