UK Cheddar Value Trade Remains Positive, Volumes Up
UK - 2017 UK cheddar trade balance provided a slight improvement in both value and volume terms, although volumes remain in deficit.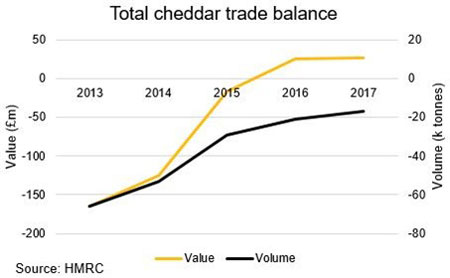 Export values continued to rise for a number of years while import values declined. However, in 2017, the value of imported cheddar jumped 26 per cent (£52m), driven mainly by Ireland.
Average import prices increased circa 30 per cent between 2016 and 2017 while export prices rose circa 20 per cent. However, the difference is close to £1k/tonne, in favour of exports.
The volume trade deficit has been improving for a number of years, as exports slowly increased while imports slowly decreased.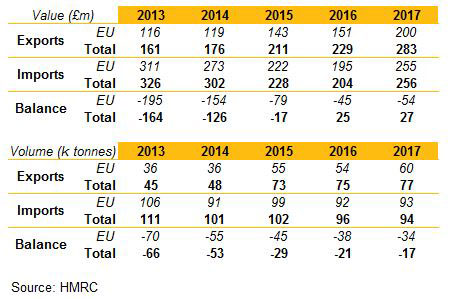 These figures, combined with increases in UK cheddar production, suggests the UK's availability of cheddar increased 2.5 per cent (8k tonnes) in 2017 compared to the year before.

As a result, the UK cheddar industry was 95.0 per cent self-sufficient in 2017, up from 93.7 per cent in 2016, and significantly ahead of the 70-80 per cent level it was delivering 5-10 years ago.
TheCattleSite News Desk