New Records for US Beef Export Value in 2017
US - 2017 was a record-breaking year for US red meat exports, with beef export value exceeding $7 billion for only the second time, according to data released by USDA and compiled by USMEF.

Beef exports totaled 1.26 million metric tons (mt), up 6 per cent from 2016. This was the fourth-largest volume on record and the second-largest of the post-BSE era. Beef export value reached $7.27 billion, up 15 per cent year-over-year and 2 per cent above the previous high achieved in 2014 ($7.13 billion).
"This was a remarkable year for beef exports, in our mainstay markets in northern Asia as well as emerging destinations in South America, Southeast Asia and Africa," said USMEF President and CEO Dan Halstrom. "The US beef industry gained significant market share in Japan despite considerable obstacles, and posted a record-breaking performance in South Korea and Taiwan. These markets are especially critical for chilled beef exports, which were up about 25 per cent year-over-year. This had a tremendous impact on carcass value."
For December only, beef export value was up 9 per cent from a year ago to $672.9 million – the second-highest of 2017 and the third-highest on record. December volume was down 3 per cent from a year ago to 113,269 mt.
Beef exports accounted for 12.9 per cent of total production in 2017 and 10.4 per cent for muscle cuts only, down from 13.7 per cent and 10.5 per cent, respectively, in 2016. Beef export value averaged $286.38 per head of fed slaughter, up 9 per cent from 2016 and the second-highest on record, trailing only the $300.36 average posted in 2014.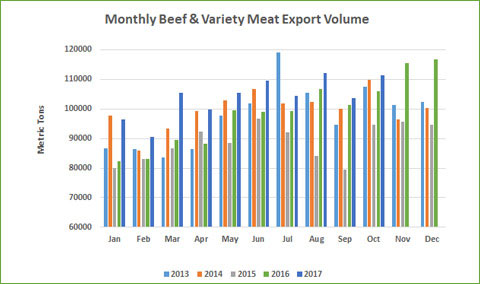 Japan leads beef export growth; value records fall in several key markets
Japan solidified its position as the leading market for US beef in 2017, with volume climbing 19 per cent year-over-year to 307,559 mt and value up 25 per cent to $1.89 billion – new post-BSE records. Chilled exports to Japan expanded even more rapidly, reaching 148,688 mt (up 32 per cent) valued at $1.102 billion (up 37 per cent) as US beef captured more than half of Japan's imported chilled beef market – a new high for US market share. Japan accounts for nearly $75 in export value per head of fed slaughter and delivers critical premiums for certain cuts. For example, Japan's imports of US beef tongue averaged $12.13 per head and imports of short plate averaged $26.44.
The US industry is marketing a wide range of beef cuts in Japan and the market holds potential for additional growth. But market access is a concern, with imports of Australian and Mexican beef subject to significantly lower duties and beef from Australia, Canada, New Zealand and Mexico all poised to gain further tariff relief through the Comprehensive and Progressive Agreement for Trans-Pacific Partnership (CPTPP).
Other 2017 beef export highlights include:
Beef exports to South Korea increased 3 per cent in volume (184,152 mt) and climbed 15 per cent in value to $1.22 billion, easily outpacing the previous year's record. Chilled US beef achieved tremendous growth, increasing 73 per cent in volume (45,153 mt) and 78 per cent in value ($405.8 million). Demand is especially strong in the Korean retail sector, where consumer confidence in the quality and safety of US beef continues to gain momentum. Korea's imports of US beef are now subject to a 21.3 per cent tariff, down from 24 per cent in 2017 and well below the 40 per cent rate in effect prior to implementation of the Korea-US Free Trade Agreement (KORUS). The tariff rate is scheduled to decline to zero by 2026.


Mexico remained the second-largest volume market (237,972 mt, down 2 per cent from 2016) and third-largest in value ($979.7 million, up slightly). It is an especially important market for US beef shoulder clods, rounds and variety meat.


Exports to Taiwan set a new value record, increasing 13 per cent from a year ago to $409.7 million. Volume was up 2 per cent to 44,800 mt. US beef holds 72 per cent of Taiwan's chilled beef market, the highest share of any Asian destination. Taiwan is a key market for secondary beef cuts such as the clod heart, petite tender and top sirloin cap.


Demand in Hong Kong rebounded from a slow start to post a strong performance in 2017, increasing 16 per cent in volume (130,726 mt) and 29 per cent in value ($884.1 million). After China's mid-year lifting of its ban on US beef, exports to China totaled 3,020 mt valued at $31 million. While eligible supplies remain limited due to China's import restrictions, the market holds significant growth potential and is already one of the highest value markets for US beef on a per-pound basis.


Record exports to the Philippines and Singapore and strong growth in Indonesia and Vietnam pushed export volume to the ASEAN region up 37 per cent to 40,954 mt, while value climbed 34 per cent to $210.9 million.


Strong performances in Chile, Peru and Colombia led the way for US beef in South America, where export volume increased 24 per cent to 28,383 mt and value was up 23 per cent to $114.8 million. Shipments to Brazil, which resumed in April after a 13-year absence, totaled 2,035 mt valued at $7.4 million.


Led by strong beef liver demand in South Africa, exports to Africa increased 78 per cent in volume (22,001 mt) and 74 per cent in value ($22 million). Since reopening to US beef in 2016, South Africa has emerged as the sixth-largest destination for US beef variety meat and second-largest for livers.
TheCattleSite News Desk