Dip in Dairy Cattle Numbers; Beef Cattle Numbers Up
NEW ZEALAND - The number of dairy cattle dipped 2 per cent from 6.6 million in June 2016 to 6.5 million in June 2017, Stats NZ said today.
The provisional figures are from the 2017 agricultural production census. Final figures will be available in May 2018.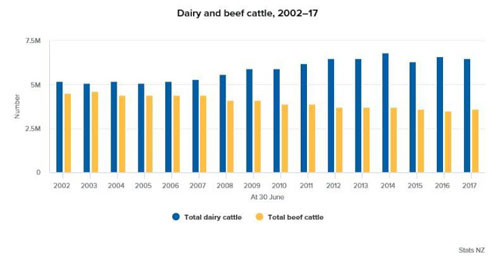 "From 2012, dairy cattle numbers have been relatively unchanged, after increasing over 20 per cent or 1.2 million between 2007 and 2012," agricultural production statistics manager Stuart Pitts said.
Total dairy cattle were at their highest level in 2014 at 6.7 million.
Beef cattle numbers increased for the first time in over 10 years, from 3.5 million in 2016 to 3.6 million in 2017.
More than 52,000 farmers provided information for the 2017 agricultural production census, which Stats NZ and the Ministry for Primary Industries carry out every five years. Smaller surveys are run in the intervening years.
TheCattleSite News Desk