We Discuss Strategy, Advanced Technological Solutions with Hipra
On the occasion of the updating of its website, Javier Sanz, HIPRA's Marketing Director, talks to us about the strategy and the advanced technological solutions that the company has developed in the field of vaccination.
1. Does the new website mark a change in HIPRA's approach to animal health and welfare?
Users who access hipra.com can discover the most innovative products and services currently available to prevent and keep their farms safe.
This new website shows perfectly what HIPRA is: a highly innovative company, a reference in prevention for Animal Health, client focused and able to offer a wide range of solutions based on the most advanced technology.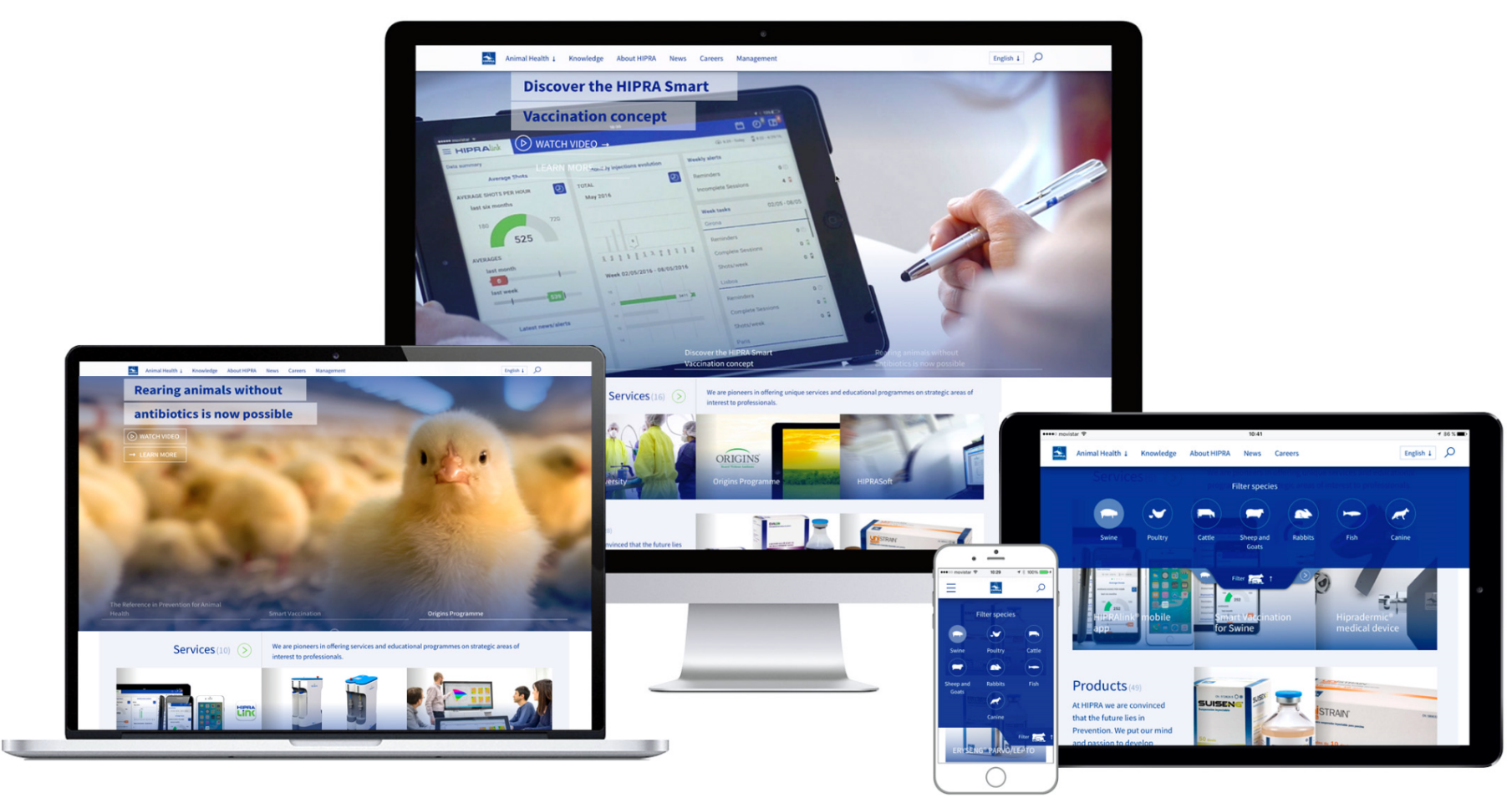 2. Can you give us an example of these "solutions based on technology" that you mentioned that HIPRA can offer? What is it exactly?
One clear example of this type of technological solution is what we have called "SMART VACCINATION" by HIPRA, a revolutionary concept that arises from the digitalisation of the vaccination process and which allows users to control, plan and analyse all stages of the vaccination process in order to ensure maximum efficiency.
At HIPRA we have digitalised this process for the first time in veterinary medicine by incorporating a chip into the label of our vaccines. This chip allows for communication of the vaccination with our Vaccination Devices. And, finally, software that interconnects with the above items and makes it possible to have all the information about the vaccination processes on any mobile device.
All these features have been designed and developed internally by HIPRA and offer our customers total connectivity between the vaccine, farms and personnel (veterinarians and farmers) working there, in a completely automatic way and in real time. In short, it is a clear example of innovation of the "Internet of Things" adapted to the field of Animal Health and represents a real breakthrough in veterinary medicine.
3. What are exactly the new features of this website? Can you explain what exactly users will find when visiting hipra.com?
The website has had a clear objective: to improve their experience and maximise efficiency in the search for information.
In this regard, visitors will be able to access all our knowledge: from the most up-to-date information on the main diseases affecting farms around the world, to all the scientific studies in which we are participating and which support the efficacy of our vaccines, as well as the blogs on diseases where we raise and reflect on the very latest scientific issues with various experts.
In addition, this new website includes detailed information on our vaccines in the form of adapted summaries of product characteristics by country which are available in multiple languages. The aim is to provide veterinarians with all the information required to correctly prescribe and administer our vaccines.
Making the services that HIPRA offers accessible to our customers is one of the cornerstones of this new website. Our unique service, DIAGNOS, the revolutionary SMART VACCINATION concept, Hipra University courses and the breeding without antibiotics programme, ORIGINS, are just some of the examples of services designed to improve the daily practice of veterinary professionals.
We are also planning to incorporate new sections and features on an ongoing basis.
4. HIPRA is embracing the use of smart technologies in vaccinations – what do you think are the main benefits? (for customers and companies?)
On the one hand, the chip that we have incorporated into our vaccines allows each bottle to be individually identified, and it is able to deduct the doses administered. From here on, we have the strongest possible commitment to the quality of our vaccines, and it is the beginning of our "vaccination assurance".
On the other hand, our vaccination devices are able to "read" our vaccines, where they not only identify each bottle, but also record the doses that are being administered on the bottles. They are "Smart Devices" which record all types of information and have a Bluetooth connection which also manages their own maintenance (they issue warnings when they require maintenance, software updates, etc.)
Finally, through the Hipralink® platform, our customers can access the Smart Vaccination digital services. They may also have the possibility of "vaccination certificates", benefiting from "vaccination assurance", etc.
5. What, if any, are the limits of smart technologies in animal health and welfare? (do you think it will be everywhere in 5-10 years' time – will this change the way animal welfare is conducted?)
Personally, I believe that the only possible (and without a doubt necessary) limits are legal regulations that guarantee animal and social welfare.
Our sector's challenge, lies in finding the correct application of technology. In other words, in detecting all those Animal Health processes which could be improved, and in finding the appropriate technology to make it possible. This is our top priority at HIPRA at the moment and, as a result, we are continuously researching and developing new products and services focused on prevention. This is where we consider that there are no limits and that everything is possible. It is part of our non-conformist and enthusiastic DNA.
6. How are customers engaging with you around the use and development of smart technologies?
It's amazing. Firstly, what has surprised us most is the response from customers. We were doubtful about the degree of technification within the livestock sector. Many people told us that the livestock sector was really far behind when it came to issues of mobility, use of new technologies, etc. How wrong they were… The percentage of adoption is really high, as is the use of the data generated. It is true that for the time being we have started with pigs and poultry which are the most advanced species, but I am convinced that this process is unstoppable.
TheCattleSite News Desk