Another Strong Month for US Beef Exports
US - US beef exports posted another outstanding performance in August, remaining well above last year's pace, according to statistics released by USDA and compiled by USMEF.

August beef exports totaled 112,069 metric tons (mt), up 5 per cent from a year ago and the largest of 2017. Export value was the second-highest on record at $679.1 million – up 20 per cent from a year ago and trailing only the record-high value ($688.8 million) reached in October 2014. For January through August, beef exports increased 10 per cent in volume (823,433 mt) and 16 per cent in value ($4.65 billion) compared to the first eight months of 2016.
Exports accounted for 12.5 per cent of total US beef production in August and 10.4 per cent for muscle cuts only, compared to 13.7 per cent and 10.3 per cent, respectively, last year. For January through August, beef exports accounted for 12.8 per cent of total production (down from 13.2 per cent) and 10.1 per cent (steady with last year) for muscle cuts. Export value per head of fed slaughter averaged $290.05 in August, up 13 per cent from a year ago. Through August, per-head export value was up 9 per cent to $275.81.
"As we head into the final quarter, 2017 is shaping up as a very solid year for red meat exports but one in which the US industry still faces significant challenges," said USMEF CEO Philip Seng. "We have new pork plants coming on line and strong cattle-on-feed numbers, which sends a positive signal to our international customers about product availability. But the international markets are increasingly competitive, so we must continue to aggressively pursue new opportunities for US red meat products in both our traditional mainstay destinations and in emerging markets."
Beef exports to Japan largest of post-BSE era; strong rebound continues in Hong Kong
August beef exports to leading market Japan totaled 31,001 mt, up 22 per cent from a year ago and the largest of the post-BSE era. Export value to Japan increased 35 per cent and broke the $200 million mark ($200.05 million) for the first time since May 1996. For January through August, exports to Japan were up 23 per cent in volume (209,502 mt) and 30 per cent in value ($1.28 billion). Japan's frozen beef safeguard was triggered in late July, increasing the duty on frozen beef imports from suppliers without a trade agreement with Japan, including the US, from 38.5 per cent to 50 per cent. The true impact of the higher duty rate will be revealed over the next few months, but August demand was not significantly affected. Frozen exports were 9,991 mt, up 15 per cent from a year ago and just 2 per cent below July. Chilled shipments accelerated at a faster rate (16,732 mt, up 62 per cent year-over-year and up 27 per cent from July), but this was already the trend prior to the duty rate increase on frozen beef.
Similar to July, beef exports to South Korea dipped slightly from a year ago in volume (17,188 mt, down 2 per cent) but were still the largest of 2017, while August value increased 19 per cent to $116.9 million. Through August, exports to Korea increased 8 per cent in volume (116,132 mt) and 19 per cent in value ($746.3 million) These totals included an impressive 88 per cent increase in chilled beef exports (to 27,378 mt) valued at $243.8 million (up 94 per cent).
After a slow start to the year, exports to Hong Kong continued to climb in August, with volume up 26 per cent year-over-year to 9,250 mt and value increasing 41 per cent to $67.7 million. January-August exports increased 14 per cent in volume (74,629 mt) and were 24 per cent higher in value ($485.5 million). Since the mid-June market opening, beef exports to China totaled 473 mt valued at just under $6 million.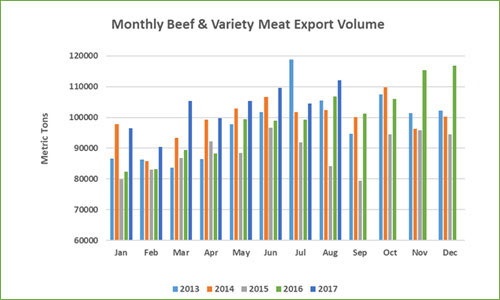 Other January-August highlights for US beef exports included:
Despite trending lower in August, beef exports to Taiwan increased 10 per cent from a year ago in volume (28,524 mt) and 20 per cent in value ($256.4 million). This included chilled beef exports of 11,854 mt (up 17 per cent) valued at $140 million (up 22 per cent). US beef holds more than 70 per cent of Taiwan's chilled beef market, the highest of any Asian destination.


Led by Chile, Peru and Colombia, beef exports to South America increased 21 per cent year-over-year in volume (18,799 mt) and 22 per cent in value ($74.5 million).


A strong August performance helped push exports to the ASEAN region up 74 per cent year-over-year in volume (26,359 mt), with value up 55 per cent to $130.1 million. Exports to Indonesia and Vietnam were double last year's level, while strong growth was also achieved in the Philippines.


Exports to Canada saw a strong increase in August, pushing January-August volume up 3 per cent in volume (77,727 mt) and value up 6 per cent to $543.7 million.


South Africa continued to gain momentum as a strong destination for beef variety meat, rising quickly to the fourth-largest volume destination for variety meat items. January-August variety meat exports totaled 9,910 mt, up 249 per cent from a year ago.
TheCattleSite News Desk