Unknown Bluetongue Serotype Building Momentum in Hungary
HUNGARY – A presently un-typed strain of Bluetongue virus (BTV) is affecting cattle farms in south west Hungary, with 28 cases now confirmed.
Hungary was affected this time last year and the virus has returned again, also being reported in Romania earlier this month.
Romania has serotype four, the same strain reported across the Balkans regions last year that moved up from Greece, confirmed on 11 holdings, again mostly in cattle, with 22 cases leaving 54 animals at risk.
Reports from the World Organisation for Animal Health (OIE) show a spate of outbreaks in the south western regions of Hungary – Tolna, Somogy and Baryana.
Hungary's initial outbreak, dated 9 September, hit a cattle operation in Tolna, with two confirmed cases.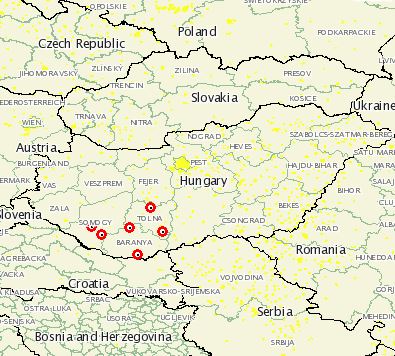 Picture courtesy of the OIE
Further Reading
You can visit our Bluetongue information page by clicking here.
TheCattleSite News Desk