Zimbabwe Foot and Mouth Situation Worsened by Wild Buffaloes
ZIMBABWE - There have been five new outbreaks of Foot and Mouth disease in Zimbabwean cattle, with the spread thought to be aggravated by contact with wild animals.
There were 87 cattle infected in a population of 9330 village cattle, in Gokwe South in the Midlands area.
The cattle were of varying ages and shared grazing and watering points. The area is adjacent to the Chirisa Game Park, and the ongoing drought situation has resulted in the communal farmers pushing their cattle into the game park to get more grazing.
The game park has resident wild bufflaloes, and contact with these animals is thought to aid the spread of the disease. In addition, dip tanks are infected, and there are now five dip tanks infected in all.
Cattle in the area had last been vaccinated in 2013. The whole district of Gokwe South has been put under quarantine with vaccination of all cattle in the interface area planned.
All areas immediately outside the vaccinated zone have been placed under high surveillance.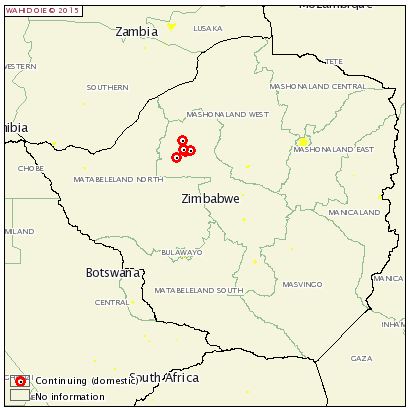 TheCattleSite News Desk