Is Britain Drinking More Milk After Retailer Price Cuts?
UK – Milk consumption is appearing to lift in the wake of price reductions from major retailers, with consumption amongst some demographics almost 25 per cent higher.
Figures from Kantar Worldpanel show that whole and skimmed milk sales lifted four and 8.5 per cent in Great Britain after some supermarkets began hammering prices in March last year.
Data up to October 2014 shows people are buying milk more often, in line with general trends for higher frequency trips to the shops, including a 24.7 per cent rise in consumption of the "pre-family" age group.
According to analysts at industry levy board DairyCo, this could mean two things. "On the surface, this could be viewed as a positive move in that more milk is being consumed," said a spokesperson.
"However, previous evidence suggests that growth in retail milk sales is predominately the result of population growth and that consumers do not buy more milk as a direct result of lower prices.
"This can be seen from the last supermarket "price war" in 2010-11 which did not lead to any significant additional growth in retail milk sales."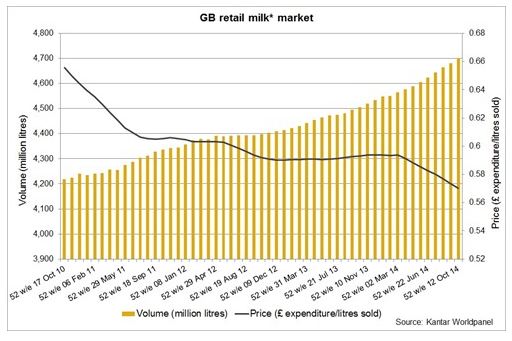 Graph courtesy of DairyCo
TheCattleSite News Desk