EU Outlook Shows UK Dairy Growth Potential
UK - The recent European Commission medium term outlook report has identified favourable prospects for the EU dairy industry but has suggested that cost-competitiveness is likely to be key in influencing which regions see the most growth.
Global consumption is expected to increase as a result of growing middle class urban populations, leading to increasing global imports over the next decade.
The report anticipates that those regions best placed to compete in this expanding market will be those which have invested in processing capacity and with lower production costs.
Regions identified as having increased production significantly over the last decade include Germany, France, Poland, the Netherlands, the UK, Ireland and Denmark.
What is interesting is that while growth in these regions is expected to continue, the rate of growth over the next ten years will slow down in Germany, France, Poland and the Netherlands while it will accelerate in the UK, Ireland and Denmark.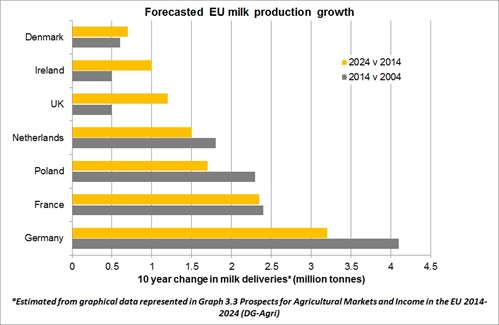 TheCattleSite News Desk