Balance Maize Rations Carefully For Best Results
UK - Greater consistency and good starch yields means there is the potential for this year's maize silage to feed well, but farmers need to be aware of rumen health challenges in the months ahead.
Early indications from over 200 maize silage samples tested by Mole Valley Farmers suggest starch yields, D value and ME are up on last year (see table).
However, silage is generally drier, lower in fibre and more acidic which could create challenges as the season progresses, according to Mole Valley Feed Solutions senior nutritionist, Dr Robin Hawkey.
"Maize naturally becomes more digestible the longer it has to ferment in the clamp which could create issues with ration balance in the New Year - particularly considering the amount of other starch sources on farm such as cereals, potatoes and fodder beet," he says.
At present, the lower digestibility of new season maize silage means farmers can get away with feeding other sources of rapid fermentable energy in the ration. For example, in cases where producers are feeding slow fermenting treated cereals, there may be the need to include rolled wheat to ensure enough fermentable energy. However as maize digestibility increases, failure to re-address this balance could lead to problems with rumen health.
"As we start the New Year and maize digestibility increases, the balance could shift the other way so there is too much fermentable energy," comments Dr Hawkey. "If this is not addressed, there is the potential for performance to be compromised due to sub acute ruminal acidosis (SARA)."
Dr Hawkey says any issues could be compounded by low maize silage fibre levels (40 per cent), meaning farmers will have to pay particular attention to total ration NDF levels.
"The addition of straw may help, but ensure straw is long enough to create enough physically effective NDF (peNDF), but not too long to be separated by the cow. Using a Penn State Separator will be crucial this winter to assess total ration peNDF," he says.
A higher average maize silage dry matter of 33 per cent, also means it's important to monitor the total dry matter of the diet. Ideally this should be around 50 per cent. Any drier and this could hinder intakes and slow passage through the rumen.
"As soon as you start to feed new season maize, be sure to monitor intakes, change in manure consistency and milk quality and regularly re-sample maize to ensure the ration is being utilised effectively," stresses Dr Hawkey.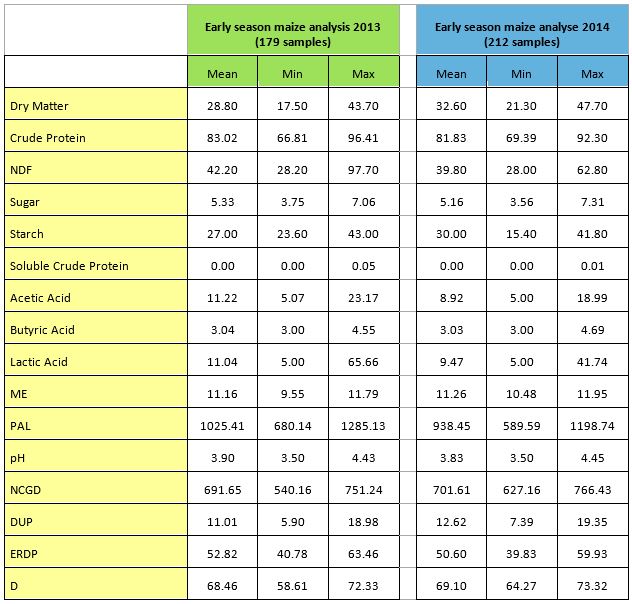 TheCattleSite News Desk