Transdermal Pour-on Solution Offers Novel Application
US - MSD Animal Health today introduced a transdermal pour-on solution which delivers consistent efficacy proven to reduce pyrexia (fever) associated with bovine respiratory disease (BRD).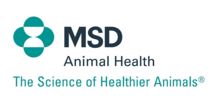 The product combines convenience with a novel delivery method that simplifies administration for veterinarians and farmers alike.
"This transdermal pour-on solution allows for a more convenient way to relieve animals from fever, improve respiratory and depression scores associated with BRD," states Siddartha Torres, MSD Animal Health.
The transdermal pour-on solution goes to work quickly and has been demonstrated to reduce fever as early as four hours after administration.
This innovative technology allows for rapid absorption of flunixin through the skin and into the bloodstream.
The efficient administration means there is no need for additional labor, head gates or restraint that is commonly associated with injectable administration, which translates to reduced cost per treatment.
Available in pre-calibrated packaging, the pour-on solution makes it easy to ensure the correct dose is given every time. The unique bottle is designed for proper application along the animal's back and the red-colored solution makes it simple to accurately and quickly measure the dose volume for each animal.
"This transdermal pour-on solution will become an important part of health programmes where the reduction of fever associated with BRD is indicated as it makes quick work of treating animals, and supports improved animal well-being," stated Martyn Phillips, MSD Animal Health. "The novel application simplifies a usually time-consuming and strenuous process, making it easier for both the animals and the people that care for them".
This new approach to reducing fever in cattle is in alignment with industry efforts to continuously improve animal care.
Transdermal application requires less handling, resulting in less stress on animals and leading to inherent health and wellness advantages.
It also offers the added benefit of needle-free administration, with no injection site lesions and a higher-value end product.