Lighter Cattle Due to Weather and Zilmax Ban
US - Zilmax withdrawal will mean cattle weights continue to stall, two leading markets experts have said.
Potent beta-agonist Zilmax provided a boost for beef production and allowed 'significantly heavier cattle' to be marketed in 2012, according to Steve Meyer and Len Steiner.
While lower feed costs will encourage feeders in 2014, the loss of Zilmax and a continuation of tight supplies will mean a production decline in 2014 may be the most marked for some years.
This has been worsened by a hard winter of cold and wet weather, bound to take its toll on cattle conditioning, said Mr Steiner.
The expert pair has stressed the role of Zilmax in adding lean muscle at a time when weight gain tapers off or fat is put on.
"Following the removal of Zilmax from the market in the fall cattle carcass weights have stalled and in the last few weeks have been below year ago levels," said Mr Meyer and Steiner in their daily livestock report.
The drop would have been more pronounced but a combination of using other feed additives, cheaper grain and placing heavier calves on feed allowed feedlots to match 2012 levels.
Mr Meyer said: "Increasing cattle weights in the current market environment will be difficult.Lower feed costs will encourage feedlots to hold cattle on feed longer but weight gains are not linear."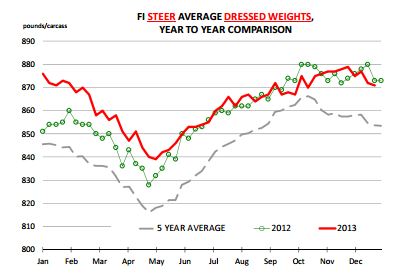 Graph Courtesy of The Daily Livestock Report
TheCattleSite News Desk