LMC: Factories May Need to Raise Quotes to Secure Supply
NORTHERN IRELAND - Top bullocks averaged 220p/kg liveweight with second rate steers selling for 185p/kg across the UK this week as factory quotes for high end stock ranged from 364-370p/kg.
Liveweight Cattle Trade
Market analysts at the Livestock and Meat Comission write that quotes from the plants this week for u-3 grade prime cattle have ranged from 364-370p/kg with the 8p/kg bonus available for cattle that kill outin spec. Similar quotes are expected next week, but numbers are tightening according to some buyers and it is possible that factories will need to raise quotes to secure supply. Regardless of whether quotes are raised or not, higher prices are likley to be available and producers should be looking for deals.
There are reports from some plants of slightly lower cow quotes next week,with factories quoting from
275-300p/kg for good quality cows. NI prime cattle slaughterings last week were similar to the previous week at 5,462 head with the cow kill back 336 head to 1,353 head.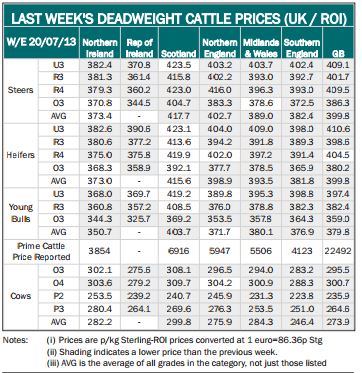 Meanwhile imports of prime cattle fromroI lastweek for direct slaughter totalled 480 head with 112 cows also imported. A total of 103 prime cattle were exported to GB for direct slaughter last week with 46 cows also exported.
Average steer and heifer prices in NI last week were almost unchanged from the previous week at 373.4p/kg and 373.0p/kg respectively while the average young bull price was back 2.7p/kg to 350.7p/kg.
The R3 steer in NI last week was 381.3p/kg, back 1.6p/kg on the previous week, while the R3 heifer price was back by almost a penny to 380.6p/kg.
Meanwhile in GB average steer prices were back in all the regions with the GB average steer price back by 2.5p/kg to 399.8p/kg. This was the first time the average GB steer price was below the 400p/kg mark since the first week of June this year.
The midlands and southern england recorded the most notable reductions in average prices paid, back by 3.8p/kg to 389.0p/kg and 3.5p/kg to 382.4p/kg respectively. The average price paid for heifers in GB lastweek was back by half a penny on the previous week to 399.8p/kg. The trade was more variable across the regions with average prices in scotland up 4p/kg to 415.6p/kg while average prices were back in all the other regions.
The most notable decrease was in southern england where average prices were back by 5.6p/kg to 381.8p/kg. The prices being paid for finished cattle in ROI have continued to come under pressure with R3 steer prices back the equivalent of 5.7p/kg to 361.4p/kg last week.
Meanwhile the R3 heifer price was back the equivalent of 8.4p/kg to377.2p/kg. This significant drop in the R3heifer price has taken it back below the R3 heifer price in NI last week.
Liveweight Cattle Trade
Finished first quality steers sold to an average of 220p/kg this week with second quality selling to an average of 185p/kg. finished first quality heifers sold to an average of 217p/kg with second quality selling to an average of 180p/kg.
First quality bullocks up to 400kg sold to an average of 188p/kg this week with second quality in the same weight range selling to 160p/kg. Heavier bullocks over 500kg sold to an average of 205p/kg for first quality with second quality selling to average of 183p/kg.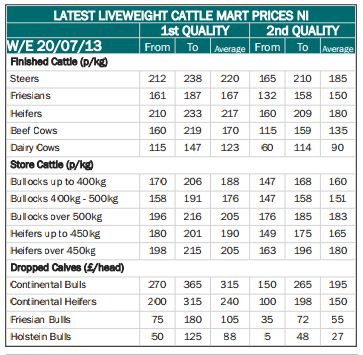 TheCattleSite News Desk