LMC: Primer Throughput up 8 per cent Last Month on April 2012
UK - April prime cattle throughput rose 8.8 per cent on April 2012 and cull cows rocketed 15 per cent year on year with subsequent effects on supply in the coming weeks, say Livestock and Meat Commission for Northern Ireland.
Deadweight Cattle Trade
Base quotes from the NI plants last week for U-3 grade prime cattle were 370-374p/kg with the 8p/kg bonus available for steers and heifers that kill out in-spec. Quotes for good quality cows this week ranged from 280-310p/kg. The plants have reported a tightening in supplies of prime cattle this week with numbers expected to tighten further as the weeks progress.
Prime cattle throughput last week was 7,293 head, back 250 head on the previous week. Throughput of prime cattle during April 2013 was 27,200 head, up 8.8 per cent on the 25,002 head slaughtered in April 2012.
Meanwhile the cow kill in April 2013 totalled 6,092 head, a 15.8 per cent increase on the 5,260 slaughtered during April 2012. Last week 484 prime cattle were imported from ROI for direct slaughter in NI plants.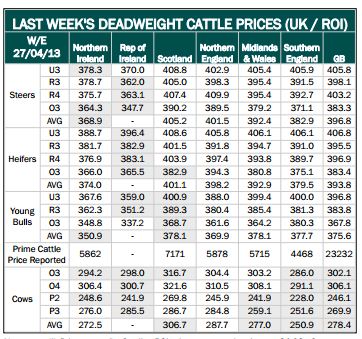 This brings the total for the year to date to 6,712 head compared to 8,052 head in the same period in 2012 (-16.6 per cent). Last week 246 cattle were exported to GB for direct slaughter.
Average steer and heifer prices in NI last week were within a penny of the previous week at 368.9/kg and 374.0p/kg respectively. The prices paid for the majority of reported grades were similar to the previous week with the biggest price movement recorded for U3 heifers whichincreased by 3.1p/kg to 388.7p/kg.
In GB average steer and heifer prices were up by 3p/kg to 396.8p/kg and 393.8p/kg respectively with average steer and heifer prices showing an increase in all the GB regions. The average R3 steer price in GB increased by 2.7p/kg to 398.1p/kg last week with the R3 steer price up in the region of 3p/kg in Scotland, Northern England and the Midlands. The R3 steer price in Southern England was up 1.2p/kg to 391.5p/kg.
Throughput in the ROI plants increased to 28,952 head last week with prices remaining similar to the previous week in euro terms. A slight weakening in the value of the euro against sterling has meant prices were back in the region of 2p/kg in sterling terms. The R3 heifer price in ROI last week was similar to the NI price at 382.9p/kg while the R3 steer price was 362p/kg. This was 16.7p/kg behind the NI price last week.
This Week's Marts
Finished first quality steers sold to an average of 224p/kg liveweight across the marts this week with second quality finished steers selling to an average of 200p/kg. A strong trade for finished
heifers saw them sell to an average of 220p/kg liveweight with second quality selling to an average of 195p/kg. Well fleshed beef bred cows sold to a top price of 213p/kg and to an average of 170p/kg.
The trade for store bullocks from 400-500kg was similar to last week with first quality selling to an average of 220p/kg and second quality selling to an average of 185p/kg. First quality heifers over 450kg sold to 208p/kg with first quality heifers up to 450kg selling to an average of 210p/kg.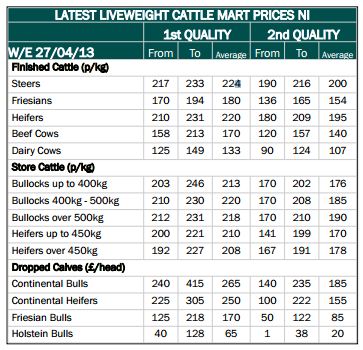 TheCattleSite News Desk