LMC: Plant Demand Remains as Throughput Lifts
UK - Live steers and heifers averaged 218p/kilo and carcass quotes were steady at around 368p/kilo as fodder shortages upped slaughter figures.
Deadweight Prices
Quotes from the plants this week for U-3 grade prime cattle have remained fairly steady at 366 368p/kg. Plants are reporting a slight improvement in the number of prime cattle coming forward for slaughter this week with feed availability becoming a problem on many farms.
The quotes for first quality cows range from 290-310p/kg across the plants with one plant quoting 275p/kg. Last week a total of 5,590 prime cattle were slaughtered in NI plants, back 677 head on the previous week when 6,267 head were killed. In the same week last year 6,089 prime cattle were slaughtered.
The cow kill last week was 1,087 head compared to 1,434 head the previous week. Imports of cattle for direct slaughter from ROI last week totalled 247 head taking the total for the year to date to 5,922 head. In the same period last year 7,698 head were imported representing a reduction of 23 per cent year on year.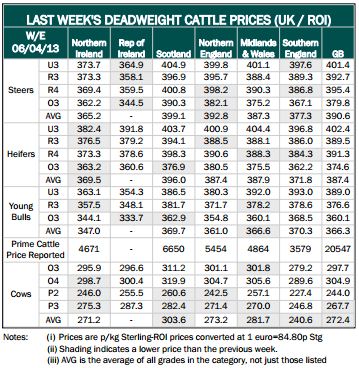 A total of 3,799 head, mostly cows, have been exported from NI to ROI for direct slaughter in 2013 to date, up from 2,886 head the same period last year. Exports to the UK for direct slaughter have also increased with 3,770 head crossing the water this year to date, up from 1,304 head in the same period last year.
The average steer price in NI last week was 365.2p/kg, up 1.2 p/kg on the previous week with the young bull price up 2.5p/kg to 347.0p/kg. The average heifer price meanwhile was back 1p/kg to 369.5p/kg. In general reported prices in NI were within 2p/kg of the previous week for steers, heifers and young bulls.
In GB last week the R3 steer price increased by 1p/kg to 392.7p/kg while the R3 heifer price increased by 1.8p/kg to 389.5p/kg. This puts the differential with NI at 19.4p/kg and 13.0p/kg for R3 steers and
heifers respectively.
The average U3 steer price has remained above the 400p/kg mark in Scotland and the Midlands with U3 heifer prices over 400p/kg in Scotland, Northern England and the Midlands. In ROI last week prices were fairly similar to the previous week with an equivalent R3 steer price of 358.1p/kg and an equivalent R3 heifer price of 379.2p/kg.
Liveweight Prices
The trade for finished cattle across the marts this week was generally similar to last week with finished first quality steers selling to an average of 218p/kg liveweight and second quality steers selling to an average of 195p/kg. Finished first quality heifers sold to a top price of 237p/kg this week with an average of 218p/kg.
Second quality finished heifers sold from 180-208p/kg (av 194p/kg) compared to 185-209p/kg (av 197p/kg) last week. The strong trade for cull cows has also continued with first quality beef cows selling to an average of 170p/kg this week compared to an average of 172p/kg last week.
Second quality beef cows sold to an average of 135p/kg this week compared to 137p/kg last week. Dairy bred cows sold from 90-130p/kg depending on quality.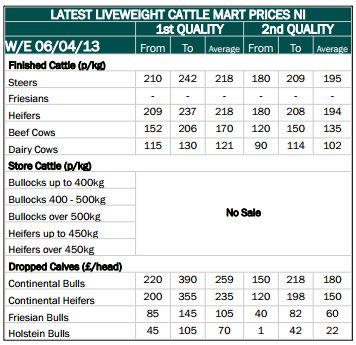 TheCattleSite News Desk