LMC: Reassuring GB Red Meat Consumption Figures
UK - Kantar data shows beef and lamb buying has not faltered following the meat labelling scandal. Analysts at the Livestock and Meat Commission analyse the market reaction.
The most recent Kantar data, which monitors GB retail purchases of beef and lamb, indicates that the consumer response to the unfolding horsemeat crisis was reasonably measured with retail expenditure on beef two per cent higher in the four weeks ending 17 February, compared to the same period last year.
This was a consequence of the combined impact of a three per cent increase in the average retail beef price and a one per cent decline in volume sales.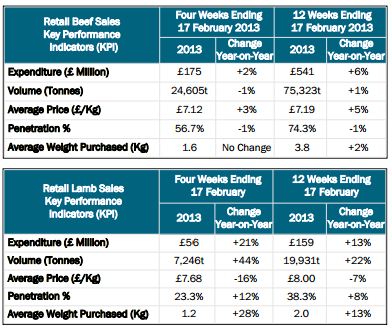 The horse DNA crisis which has been evolving since mid-January, has been primarily associated with highlyprocessed, low cost beef and ready meal products manufactured at a variety of locations around Europe. At the outbreak of this series of incidents, there were concerns that consumers
would respond with a general backlash against beef products regardless of provenance, quality or traceability.
However, as the story developed, it became clear that consumers were becoming more discerning in the beef that they purchased and to some extent, where they purchased it. The Kantar data provides some clarity on the consumer response to the crisis.
It confirms that consumers have reduced expenditure on more highly processed products. Fresh and frozen beef burger volumes were down 35.2 per cent compared to last year. Chilled and frozen ready meals were also down, all impacted by the horsemeat investigations.
When analysing the impact of the horsemeat crisis it is important to consider that its was associated with some significant product recalls and it is difficult to establish how much of the consumption change should be directly attributed to consumer concerns around the horsemeat investigations and how much was impacted by the removal of products from shelves by some retailers.
This may become clearer in the coming months. Otherwise, as indicated, consumer demand for beef remained generally stable.
Sales of frying and grilling cuts were particularly strong with a 14 per cent increase in sales year-on-year in the four weeks ended 17 February. This increase in volumes of frying and grilling was a general feature of the trade over the longer 12 week period ending 17 February.
Mince sales were generally stable with volumes steady over the four weeks to mid-February-again this is a continuation of the general trend for the longer 12 week period.
There has been a general trend of reduced consumption of beef roastings in the 12 weeks ending 17 February and this was slightly more pronounced in the four weeks ending 17 February.
This particular trend was driven to a certain degree by some switching by consumers to lamb which has enjoyed something of a resurgence at a retail level over the last year.
Average retail lamb prices were 16 per cent lower in the four weeks ending 17 February and this led to a more than proportionate increase in consumption with volume sales up by 44 per cent. In the 12 week period ending 17 February volume sales were up by 22 per cent year, so this change reflects an acceleration of that ongoing increase in sales.
TheCattleSite News Desk