Trading Agreement Will Bring Industry Shake-up
COLOMBIA – Comprehensive reform plans are in place to overhaul the entire Colombian dairy industry following an agreement between the Colombian government and the European Union that aims to develop dairy trading between Columbian and EU markets.
Through improving market structures, farm productivity and farm practice the government has said Colombia will become a growing exporter to the EU market.
An initial cash injection of € 8.6 million will be followed by a further €30 million to implement the dairy strategy which hopes to develop a sector currently worth 9.7 per cent of agricultural gross domestic product.
The first phase of the programme was aimed at small dairy businesses and introduced by Agricultural Minister Juan Camilo Restrepo Salazar and Head of Colombian delegation for the EU, Maria Antonia Van Gool.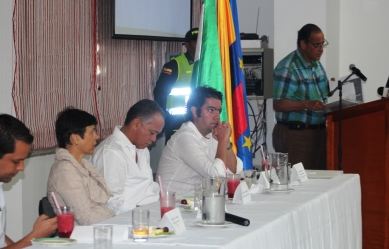 The free trade agreement and funding hopes to develop Colombian milk production and export potential for a growing global market.
Praising the agreement, Mr Van Gool said, "These joint efforts to strengthen the Colombian countryside, especially the dairy sector, will help to make the Colombian dairy industry more competitive, inclusive, productive and sustainable to suit both international and domestic markets."
The agreement will focus EU efforts around certain issues:
• Product development and business competitiveness- focus on adding value to products aimed at global and local customers.
• Improving productivity and lowering production costs through more efficient farming.
• Pasture improvement and better farming practices.
• Increasing bargaining position of producers with processors.
• Strengthening government funding mechanisms.
• Developing the monitoring and political role of the National Dairy Council.
Currently both EU and Colombian ministers recognise the gulf in efficiency between the respective sectors and for this reason ministers intend to open a long trade period of around 15 years with further safeguard clauses activating a further two years.
Arising from the agreement will be a milk powder import quota of 4,000 tons of Colombian milk power, less than 0.5 per cent of Colombian milk production.
Yoghurt, condensed milk and buttermilk are also included in the agreement with total exclusions placed on liquid milk, cream and butter.
TheCattleSite News Desk