Herd Number Increase Confirmed by Exporters
IRELAND - Export plants have been reporting strong sheep and cattle supplies.

As expected, throughput has risen due to carryover into early 2013. However pig supplies have tightened after decreases in breeding herd size.
Up to first week of March, cattle supplies at export meat plants were around 9 per cent higher at 260,400 head. AIM data for the 1st December 2012 shows an increase of almost 170,200 head in the number of cattle in the 12-24 month age bracket compared to a year earlier.
Most of the increase in availability to date has been evident in the steer category. Despite the increase in cattle supplies, the R3 steer and heifer price has increased by 3 per cent and 4.5 per cent to €4.00/kg and €4.18/kg excluding VAT, respectively.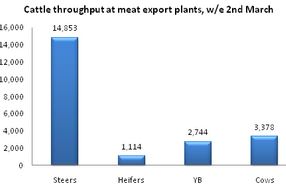 The December 2012 livestock survey showed an increase of over 2 per cent in the sheep breeding flock at 2.58 million head.
Supplies at export meat plants to date are running 32 per cent higher at 405,300 head as increased numbers were carried forward into 2013. In response to increased availability, Irish sheep prices are running 17 per cent lower at €4.09 excluding VAT.
In terms of pigs, export meat plant supplies are currently almost 3 per cent below last year's levels, reflecting higher feed costs combined with changes in welfare legislation.
For the year, the pig supply base is forecast to fall by between 3 per cent-4 per cent. The breeding herd recorded a fall of 2 per cent in the December 2012 livestock survey.
TheCattleSite News Desk